By Kellie K. Speed May. 27th, 2011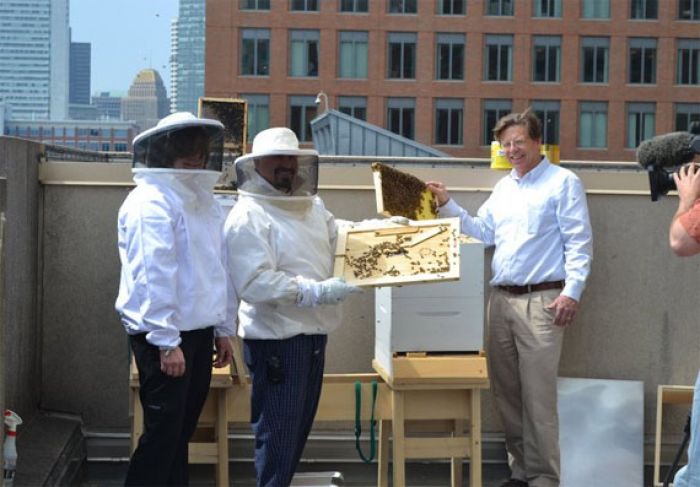 Photo Courtesy of Seaport Hotel
There's a buzz in town surrounding the
Seaport Hotel
and it has everything to do with the organic rooftop herb garden's new bee hives (90,000 honey bees checked into the Seaport a couple of weeks ago and their honey will be used to make specialty recipes).
Their new home is now in newly constructed hives that were designed especially for them on the south facing roof of the hotel. Seaport Hotel and Seaport World Trade Center's Executive Chef Richard Rayment is now working with Green City Growers, a Somerville, Massachusetts organization of organic farmers.

Their goal is to transform the existing herb and vegetable garden into a larger, organic garden. This growing area will expand Seaport Saves, the Seaport's sustainability program, and provide fresh produce this spring and summer for Seaport's Aura restaurant (Seaport Saves is an environmental program designed to increase sustainability and conservation throughout all aspects of the Seaport Hotel and Seaport World Trade Center).

The Sport Hotel has jumped on the "green" wave and now offers guests who arrive in hybrid or electric vehicles access to a complimentary charging station (the first available by a Boston hotel) along with a complimentary night of valet parking through the end of 2011.
Kellie K. Speed
As the Boston city guide editor for JustLuxe, Kellie Speed is a native Bostonian and a freelance writer/editor/copywriter with more than 20 years expe...(Read More)