By Kellie K. Speed Jun. 23rd, 2011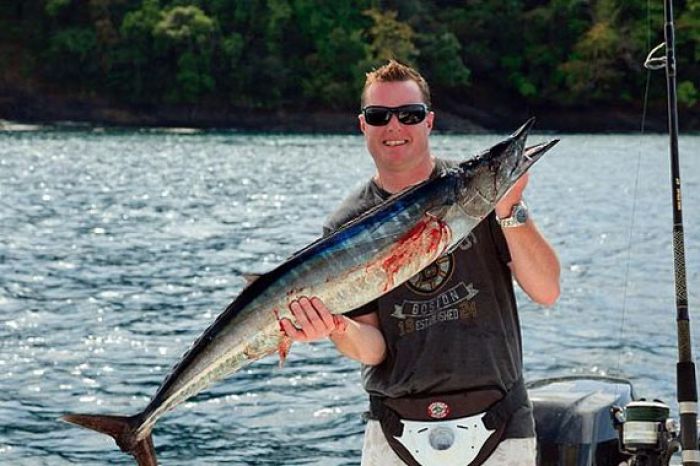 Photo Credit: Charlie Moore
When it comes to angling, Bostonians know the name Charlie Moore is synonymous with big name celebrities, a dose of insanity and some seriously mad fishing. We chatted with NESN's Mad Fisherman himself to find out his favorite spot to cast a lure, who he would like to have on an upcoming episode, and where he hangs out in Boston when he is town.
JustLuxe: When did you first become interested in fishing?

Charlie Moore: I have always had an interest in fishing. Growing up in Boston, it was one of those things where I was always around the salt water as a kid. I lived in the water. I think if you live near the ocean, you gravitate toward the beach and as a kid in New England we would go up and down the coast to do our summer thing.


JL: How did you come up with the idea of a fishing show featuring celebrities?

CM: They say the most ingenious ideas are the ones you didn't think of. I didn't think of the way it would actually play out. I had a lot of fun, was quick on my feet and entertaining. There were a bunch of celebrities who have had an interest in the outdoors and they just said they would love to go on the show. My number one email was just asking me if they could go out fishing with me. The show really took on a life of its own. It started with a few Bruins players and then it became the who's who of TV. I think fishing is just something that people really want to do.

JL: What are some of your favorite fishing spots in New England?

CM: That's like picking a favorite song or a favorite movie. I get bored very easily but if I had to pick, I would say Lake Winnipesaukee in New Hampshire. It's two hours from Boston, is surrounded by 50,000 acres and is a beautiful area that has been the setting for many movies. If I wanted to pick a place to go by myself and float around, it would be there.

JL: Where do you like to go when you are in Boston?

CM: I love the North End's atmosphere and people. Tresca is my favorite restaurant in the North End. I usually go across the street after dinner and get a cigar and walk around. Boston is a great city with so many different sports events going on. The only thing I wish is if the Patriots had their stadium inside the city, not out in Foxboro.

You've had numerous celebrities on the show. Who has been your favorite guest?

CM: I have had everyone from musicians and actors to entertainers and athletes. We had Ray Allen from the Celtics on three days after they won the championship. It was like something out of a movie. I had Adam West, who played Batman, on and I had a hard time focusing on the show because I was more focused on listening to the things he did. Some people like the shows where it's just me and my wife in South Beach where we are the typical husband and wife yelling at each other.


JL: How about a dream guest?

CM: I would say Sylvester Stallone because I love all the Rocky movies, or Al Pacino. If it were someone who was dead, it would be Frank Sinatra without a doubt.

JL: Any tips for the novice fisherman?

CM: Simplify your lure selection. If you bought 10 footballs, you can only throw one. Pick one lure that you like and get good at it. Once you are good at something, you will get more success and have more fun once you get a sense of confidence and walk with a little jump in your step.

JL: Did you ever expect the show to garner as much attention as it has?

CM: No. I had middle of the road expectations. I was driving a really bad truck at the time and I remember saying to my wife, "If only I could make $50,000 and have a truck and a boat." Then my personality kicked into the show and it got a huge following. The show really took off and it has gone further than I could imagine.

JL: What does the future hold for Charlie Moore?

CM: I hope to continue doing what I do, which is entertaining people. People watch the show for the entertainment value. I hope to continue to make people laugh because I really do live to make people laugh. The show is all good fun. It's not a reality train wreck.
Kellie K. Speed
As the Boston city guide editor for JustLuxe, Kellie Speed is a native Bostonian and a freelance writer/editor/copywriter with more than 20 years expe...(Read More)