By Kellie K. Speed Jul. 18th, 2011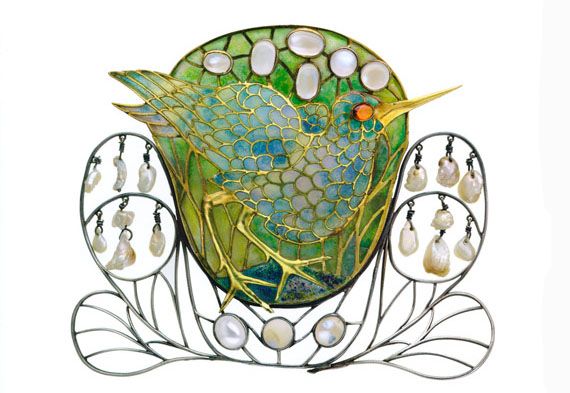 Photo Courtesy of Museum of Fine Arts, Boston
On July 19, the
Museum of Fine Arts, Boston
will debut its latest exhibit, Jewels, Gems, and Treasures: Ancient to Modern, running through November 2012. The inaugural exhibition in the MFA's new
jewelry
gallery is one of just a few galleries dedicated solely to jewelry in a US art museum.
The exhibit will feature 75 unique objects representing a variety of jewels, gems, and treasures that have been valued over the course of four millennia. Here you will be able to see a 24th-century BC Nubian conch shell amulet, Mary Todd Lincoln's 19th-century diamond and gold suite, and a 20th-century platinum, diamond, ruby, and sapphire flag brooch honoring the sacrifices of the Doughboys in World War I.


The exhibit features various cultures' take on the concept of "treasure," showcasing an exquisite array of necklaces, rings, bracelets, pendants, and brooches, as well as mineral specimens. It will also explain the significance of jewelry, which can be functional (pins, clasps, buckles, combs, and barrettes); protective (talismans endowed with healing or magical properties); and ornamental, making the wearer feel beautiful, loved, and remembered. Back in the day, jewelry was also used to establish one's status and role in society and served as symbols of wealth and power.

Throughout much of history, jewelry's role as a symbol of one's elevated status has inspired the wealthy to seek out stones that sparkle, gold that gleams, and designs that reflect the greatest artistry money can buy. To illustrate this, Jewels, Gems, and Treasures features some of the most opulent works from the museum's jewelry collection, including an 1856 diamond wedding necklace and earrings suite given by arms merchant Samuel Colt to his wife (the 41.73-carat suite, purchased for $8,000, is now valued at $190,000) and Mary Todd Lincoln's gold, enamel, and diamond brooch with matching earrings, which she acquired around 1864, shortly after the death of the Lincoln's beloved son, Willy, and then sold in 1867 to pay mounting debts. Also on view is a Kashmir sapphire and diamond brooch (around 1900); a gold and diamond necklace made by August Holmström for Peter Carl Fabergé, the famous Russian jeweler to the czars; and cereal heiress Marjorie Merriweather Post's lavish platinum brooch from the 1920s, featuring a spectacular 60-carat carved Mughal emerald surrounded by diamonds, which she purchased in anticipation of her presentation at the British court in 1929.


Don't miss fashion designer Coco Chanel's enameled cuff bracelets accented with jeweled Maltese crosses (Verdura, New York, first half of 20th century) and socialite Betsey Cushing Whitney's gold and diamond "American Indian" tiara (Verdura, New York, about 1955), which she wore to her presentation to Queen Elizabeth II in 1956 as the wife of the US Ambassador to the Court of St. James.

For more information, visit mfa.org or call (617) 267-9300.
Kellie K. Speed
As the Boston city guide editor for JustLuxe, Kellie Speed is a native Bostonian and a freelance writer/editor/copywriter with more than 20 years expe...(Read More)