By Kellie K. Speed Aug. 10th, 2011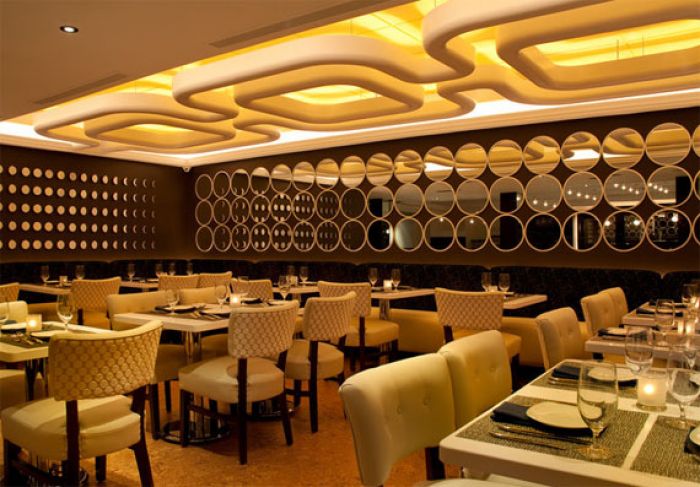 Photo Courtesy of Noche
The South End's Noche has been heating up the dining and nightlife scene since it opened here just over a year ago. Owned and operated by
Boston Nightlife
Ventures, which also owns The Tap, The Federal and the recently opened Forum in the former Vox Populi space on Boylston Street, Noche serves up sophisticated modern Latin cuisine in a sleek modern subterranean space.
The two-tiered restaurant opened in the former Icarus location just off Tremont Street, yet there are barely any reminders of its former self. Inside, the space has been completely transformed into a contemporary showcase of white tables and sumptuous white leather chairs, dark walls and lots of geometric style mirrors.

Executive Chef Scott Robertson reigns supreme in the kitchen churning out dishes bursting with flavor like Ropa Vieja (slow braised Cuban beef) and ancho-blackberry rabbit with green mango salad and a roasted black bean cake. Robertson developed his culinary style by adopting practices he learned while traveling through Europe and Central America, including stops in Costa Rica, El Salvador, France, Holland and London.

Over the years, he has worked locally at Linwood Grill & BBQ, Franklin Café, The Claremont, Brookline's Publick House, The Windsor House Inn in Duxbury, The Fireplace Restaurant, Z Square and Grafton Street Grill.


We started off with a spicy kick when our server suggested we try the angry margarita made with Patron silver tequila, jalapeno, Cointreau and agave served up in a salt and pepper rimmed glass. The white wine sparkling sangria was deliciously light and refreshing but surprisingly didn't have any fruit. Instead of bread, our server presented us with a basket of salted plantains with roasted red pepper aioli. We were immediately hooked on these amazingly addictive sweet treats. They took on an entirely different flavor once lightly salted, but we refrained from indulging in a second basket.

The crispy cornmeal fried Duxbury oysters are an absolute must here - two enormous crunchy oysters were fried up then placed atop their shells accompanied by a sweet smoked chili aioli and grilled lime. We also sampled the tasty heirloom tomato and native corn salad with queso fresco, smoked chili oil and basil vinaigrette.


Don't miss the creamy chowder combination of smoked chicken, sweet potato and corn, which may have been the best we have ever sampled. Other appetizers included Maine lobster tamales with roasted poblano cream, ahi tuna tartare and aged Serrano ham carpaccio with shaved manchego cheese.

The entrees here are where Chef Robertson's talents really shine through. The chicken, chorizo and shellfish paella is one of the best deals in town. For $25, he delivers an enormous dish (enough for three meals) overflowing with saffron aborio rice, lobster tail, mussels, clams, shrimp and green peas. The seared ahi tuna and shellfish mole is also one of his signature dishes served atop sweet coconut rice and accompanied by chili rubbed baby summer squash. The grilled 10-ounce skirt steak was cooked to perfection, sliced and served with chimichurri, black beans and rice.


Be sure to end the night right with an authentic taste of churros. Four warm sugary sticks arrive with a creamy dulce de leche sauce for dipping or try the decadently rich coconut chocolate bread pudding with creamy vanilla ice cream.

Noche is open until 2 a.m. every night with the kitchen serving food up until 1:30 a.m. The restaurant is located at 3 Appleton Street in Boston.

For reservations or more information, call 617.482.0117 or visit Noche-Boston.com.