By Kellie K. Speed Aug. 24th, 2011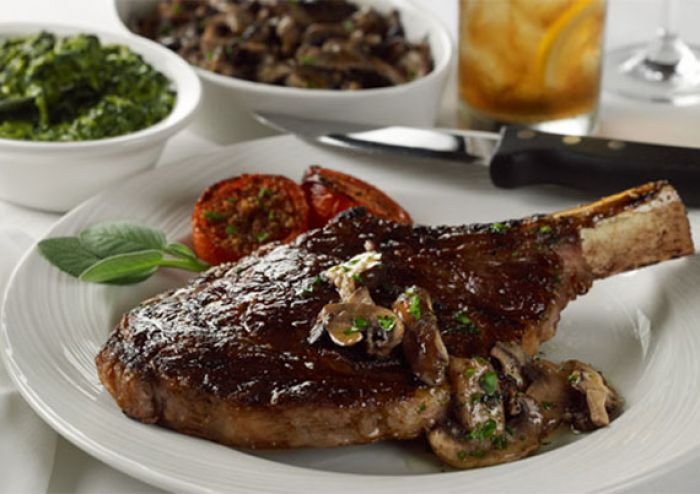 Photo Courtesy of The Palm
The Palm steakhouse has been around since 1926 and certainly made a name for itself when it debuted in Boston. Its caricature lined walls of famous guests, prominent location in the Westin Copley and fabulous steaks have garnered quite a reputation as one of the
best steakhouses in the city
.
We had dinner here recently and were seated in the lower level glass enclosed section which offered an incredible view of Copley Place. The Palm brand is currently in the process of a "refresh" of all of the restaurants, which will include new uniforms for the servers, some menu changes and additions along with a new Boston location (to an undetermined location) come the fall.

Our friendly server suggested we start off with their signature seared tuna and we were glad she did. An enormous plate of thinly cut pieces of rare tuna perfectly seared arrived with poppy and sesame seeds served atop a flavorful seaweed salad. Don't miss the enormous Blue Point oysters and shrimp cocktail that are accompanied by spicy cocktail sauce and their signature atomic horseradish sauce. Other appetizers included colossal lump crabmeat cocktail, lobster bisque and crispy calamari fritti.


Moving right along, our server told us the special of the day was a bone-in filet so we had to indulge. Perfectly seared with much more flavor with the bone on, we quickly devoured most of the dish. The prime bone-in ribeye was just as good, incredibly tender, juicy and cooked to perfection. The menu here is a la carte so we shared the heavenly three-cheese potatoes, garlicky wild mushrooms and rich creamed spinach.


There are some great Italian specialties on the menu as well, including veal martini, linguine with red or white clam sauce and chicken scallopine. There is also a nice selection of seafood dishes here such as jumbo shrimp sauté, Chilean sea bass and Alaskan king crab legs. Be sure to save room for their enormous signature layered carrot cake for the perfect ending to a wonderful dinner.


For a great deal, don't miss the Prime Bites at the bar where snacks like prime steakburger sliders, broiled crab cakes and crispy blue corn fried oysters are available for just $4.50 weekdays from 5 p.m. to 7 p.m. When visiting here, be sure to request to become a member of the 837 Club where you will receive points for every visit that are redeemable for special rewards. We look forward to visiting their new location in the fall.

The Palm is located at the Westin Copley Place, 200 Dartmouth Street, Boston. For reservations or more information, call 617.867.9292 or visit ThePalm.com/Boston.
Kellie K. Speed
As the Boston city guide editor for JustLuxe, Kellie Speed is a native Bostonian and a freelance writer/editor/copywriter with more than 20 years expe...(Read More)