By Kellie K. Speed Nov. 14th, 2011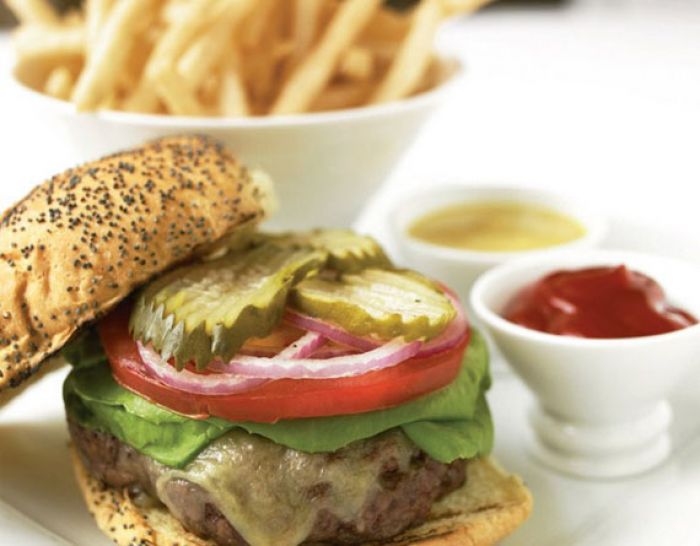 Photo Courtesy of Four Seasons Boston
There is something to be said for a big juicy burger complete with all the fixings; but when you have one with an even more indulgent side of truffle fries (who's counting calories here?), you know you have finally arrived.
That's exactly what you will find with the Bristol burger served in The Bristol Lounge at the Four Seasons Boston. We visited the restaurant for lunch recently to find out why Executive Chef Brooke Vosika's burger has been consistently named one of the best in the city year after year. Did it live up to its reputation? Absolutely.

Chef Vosika has prepared a menu that includes everything from pastas and New England seafood dishes to salads, sandwiches and steak frites. For the little ones, be sure to request a children's menu, which includes a selection of fun breakfast, lunch and dinner dishes such as French toast fingers, a "Leaning Tower" of grilled cheese and "Sammy the salad."

Our attentive server quickly greeted us with a basket of warm, fresh bread and side of creamy butter. We started off with a sampling of the three-onion soup; a hearty piping hot crock of onions arrived swimming in a savory soup that was further complemented by Flag Hill apple brandy and topped with melted Gruyere cheese. Chef Vosika has also created a culinary special for fall — a mushroom tamale filled with chanterelles, green salsa and almond purée, which can all be enjoyed in the relaxed dining room that overlooks the Boston Public Garden.


Simon de Swaan, assistant director of food and beverage, was continuously seen throughout the dining room checking on guests. Numerous celebrities and athletes stay at the hotel when they are in town so you never know who you may be seated near in The Bristol Lounge.

The roasted Berkshire beet salad was a delicious addition to the fall menu, topped with broken feta vinaigrette, curly spinach and crunchy beet chips. The Bristol burger was the winner of the menu, an enormously juicy patty sat atop a grilled bun with melted aged Vermont cheddar cheese topped with lettuce, tomato and house made pickles and a side of ketchup and Dijon mustard (The heavenly truffle French fries were lightly salted and perfectly crisp).

The lobster roll was fresh and combined with just the right amount of mayonnaise served on a thick garlic toasted bun accompanied by a side of sweet potato fries. If sweet potato fries aren't your thing, be sure to try the avocado fries topped with jalapenos served with a flavorful cilantro dipping sauce.


A visit to The Bristol Lounge would be incomplete if you didn't end it right with a sampling of dessert. We loved the rich and dense seasonal pumpkin donuts with ice cream paired up with an Irish coffee with fresh cream on top.

The Bristol Lounge hosts a breakfast buffet every Sunday from 9 a.m. to 1:30 p.m. as well as Burgers and Burgundy on Wednesday evenings. The Bristol Lounge is located in the Four Seasons Hotel, 200 Boylston Street, Boston. For reservations or more information, call (617) 351-2037 or visit FourSeasons.com.
Kellie K. Speed
As the Boston city guide editor for JustLuxe, Kellie Speed is a native Bostonian and a freelance writer/editor/copywriter with more than 20 years expe...(Read More)