By Kellie K. Speed Feb. 9th, 2012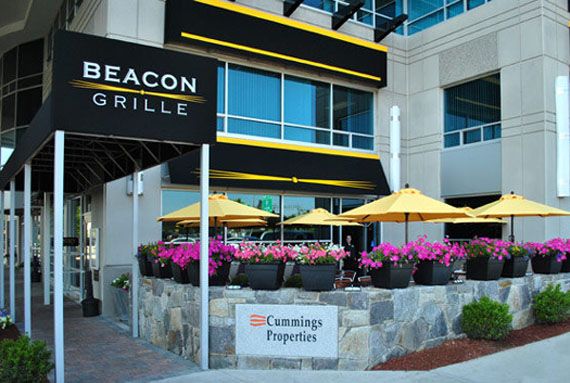 Photo Courtesy of The Beacon Grille
Imagine a restaurant that donates 100 percent of its profits to a foundation. Unheard of, you say? The folks at Beacon Grille in Woburn, Massachusetts don't seem to think so.
The restaurant, which is also dedicated to the green initiative, donates all of its profits to Cummings Foundation, which has awarded more than $500,000 in scholarships to graduates of Woburn High School. It has also invested more than $110 million to create two large New Horizons assisted living communities in Woburn and Marlborough and Cummings School of Veterinary Medicine at Tufts University. Beacon Grille has also pledge $1 million to establish the Cummings/Hillel Program for Genocide Education at Tufts University.

We visited the restaurant one recent Friday evening. Located just off Route 128, the Beacon Grille sign is extremely visible from the highway, which was probably just one reason the restaurant was filled to near capacity. We started off with a bottle of 2009 William Hill cabernet, which perfectly complemented the creamy lobster bisque that our server, Michael, said was a "must have" here. He was certainly right — the crock arrived loaded with chunks of fresh lobster swimming in a creamy bisque.


The wedge salad was large enough to share — a large chunk of fresh iceberg lettuce topped with crisp bacon, red onions, grape tomatoes and a nice chunky blue cheese dressing. Other starters here included a tempting balsamic-roasted beet salad with pistachios and roasted shallot dressing, a mixed green salad and classic French onion soup.

Moving right along, we shared the crispy calamari, a flavorful burst of sweet, crispy and tart with sweet chili, lime and balsamic glaze with cherry pepper aioli. The hand breaded onion rings sounded fantastic and we look forward to trying them on our next visit.


The appetizer menu also offered roasted butternut ravioli, ahi tuna tartare, coconut shrimp, crab cakes and asparagus fritti served with tomato basil sauce. Beacon Grille is known for its steaks and there is so much local competition nearby so we had to see if the restaurant delivered.


When the 16-ounce prime rib special arrived from the open kitchen swimming in a pool of its own juices, we knew the restaurant was on the right track. The enormous cut was cooked to a medium rare perfection and came with a loaded baked potato. The 14-ounce New York strip steak was delicious and served with roasted fingerling potatoes, sautéed spinach and topped with a nice demi glace. For sides, don't miss the lobster mac and cheese, a heavenly rich creamy and garlicky combination topped with bread crumbs.

If you aren't in the mood for steak, the menu here offers a variety of different entrees including lemon, garlic and rosemary chicken, New Zealand lamb rack, duo of stuffed shrimp, seafood stuffed sole, grilled Atlantic salmon and shrimp basil fettuccine pasta.

Desserts here should not be missed. We shared the savory apple cobbler of sliced apples, cinnamon, brown sugar and rum-soaked raisins topped with a sweet oatmeal crust, cardamom crème anglaise and whipped cream. Also on the dessert menu are a warm peach upside down cake, fried ice cream, chocolate layer cake, caramelized pear cheesecake and espresso crème brulee.

Beacon Grille is located at 400 TradeCenter in Woburn, MA. For more information, call (781) 933-3333 or visit TheBeaconGrille.com.

Find more Luxury Restaurants in Boston
Kellie K. Speed
As the Boston city guide editor for JustLuxe, Kellie Speed is a native Bostonian and a freelance writer/editor/copywriter with more than 20 years expe...(Read More)