By Kellie K. Speed Feb. 20th, 2012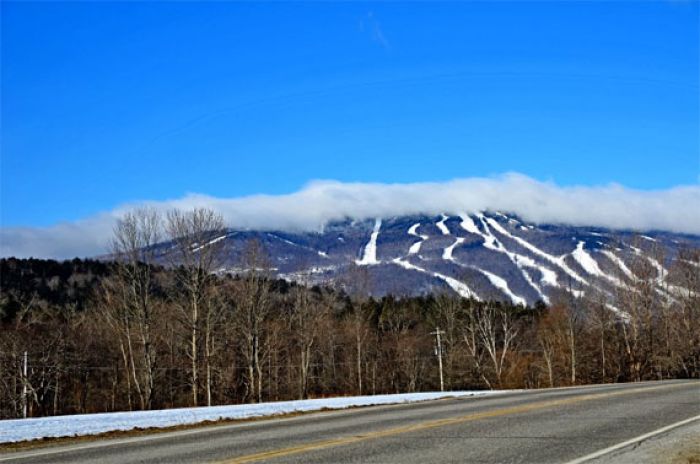 Photo Courtesy of Okemo Mountain Resort
Are you in need of a winter weekend getaway? Then head up to Vermont for a stay at Okemo Mountain Resort. Located less than three hours north of Boston, the property has everything you will need for an all-inclusive stay including fun on the slopes and the chance to pamper yourself with a
luxury spa treatment
.
My guest and I recently visited the resort for a weekend and stayed in a beautiful two-bedroom condo at the Jackson Gore Inn. This spacious location had everything you would want during a weekend getaway. The condo included two bedrooms, one with a king bed and adjacent Jacuzzi bathroom, and the other a queen sized bed with second full bath across the hall. There was also a sizeable living room with a gas fireplace and a flat screen television along with a fully applianced kitchen and separate dining area where we enjoyed cooking dinner one evening. There are also a variety of restaurants in the area to choose from ranging from Asian and Mexican to Italian and American fare.
The best part about the Jackson Gore Inn (one of the newest stays on-site), is simply waking up in the morning, heading downstairs and finding yourself right on the mountain. From this location, you don't need to take a shuttle bus to pick up lift tickets. Located steps outside the door, there is a ticket booth to buy lift tickets for skiing, tubing (which is available for rental by the hour) or tickets to the outdoor roller coaster known as Timber Ripper, which is an absolute must here.
The roller coaster starts off on an exhilarating tour through the forest that goes through Okemo's Jackson Gore mountain. It begins with a four-minute 1,600-foot climb that zips down 3,100 feet of twists and turns where you can reach up to 25 miles per hour. Each car's speed is controllable by the individual driver so you can go as fast or as slow as you please. (If you can, try not to use the brakes for a breathtaking ride that you surely won't forget).
After a fun ride on Timber Ripper, we bought tickets for an hour long session of snow tubing. There are also other action-packed sports here including ice skating, cross country skiing or snowshoeing is also available. Want to simply relax? Head over to the indoor/outdoor heated pool (so fun when it's snowing out!) with adjacent hot tub, or grab a hot coffee and relax by the outdoor fire pit. There is also a full-service, on-site spa here for the ultimate indulgence.

If you are a skier, Okemo is the place to be. Whether you are advanced or a novice, there are more than 100 trails to choose from. For the beginner, you may want to consider a private lesson or group clinic to fine tune your skills before heading up to a black diamond trail. If you are feeling really adventurous, be sure to check out the Amp Energy Big Air Bag where you can ski down a slope, up a ramp and then launch midair and land on an inflated 30'x50' bag. Sound a little nerve wracking? If you're not confident on your skis, leave it to the professionals; the weekend we were there pros show-cased scheduled jumps throughout our stay.
The four-season resort always has something going on, including skate nights, a fireworks display in the winter and a music festival in the warmer months. Okemo Mountain Resort is located at 77 Okemo Ridge Road in Ludlow, Vermont. For more information, visit
Okemo.com
.
Kellie K. Speed
As the Boston city guide editor for JustLuxe, Kellie Speed is a native Bostonian and a freelance writer/editor/copywriter with more than 20 years expe...(Read More)