By Kellie K. Speed Apr. 12th, 2012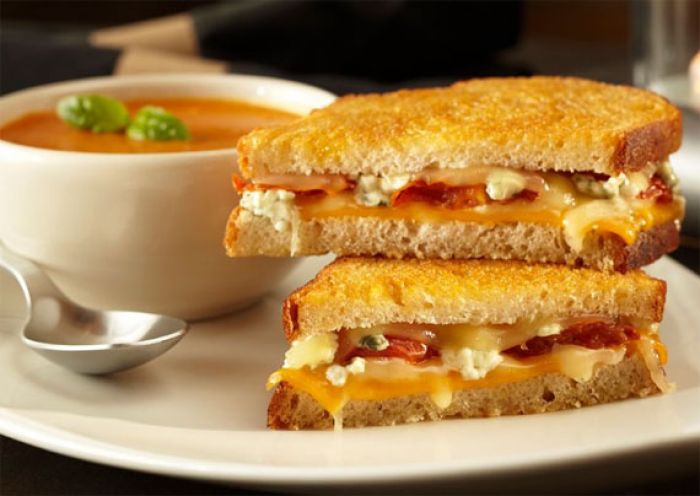 Photo Courtesy of Yard House
Boston seems to have finally caught onto the West Coast's love of craft brews as more microbrews are now popping up throughout the city. One of the best just arrived near
Fenway Park
, and this newcomer from the left coast, which is the second Massachusetts location (the other is in Dedham), has carefully poised itself to give the neighboring restaurants a run for its money come Red Sox time with its outside patio, additional bar, and two fire pits.
Located on Brookline Avenue just around the corner from Fenway Park, Yard House offers one of the biggest food and beer menus in the city. There are more than 130 items on the American fusion menu, but let's talk about the beer list first. The massive selection is displayed on two, overwhelming pages that start off with light Belgian ales before moving onto more complex dark lagers and malty bocks. Yard House even offers its own selection of craft beers brewed by Firestone Walker. Beers are categorized so you can easily pick out your favorite IPA or try a new brown ale, served in a shorty, goblet, pint, half yard or yard sized glass.
When we visited the Boston location one afternoon for lunch, the restaurant was filling up quickly. The main dining room surrounds the massive bar that houses 160 taps for its collection of microbrew drafts from around the world. Our friendly server Nicole quickly greeted us and started us off with a sampling of the Stone IPA and Ithaca Apricot Wheat beers, which we enjoyed with the spicy tuna roll. The enormous tuna roll is served with rare Ahi tuna, layered with avocado, edamame, and cucumber served with a side of wasabi soy sauce.
The chicken lettuce wraps have been our favorite since we first stepped into a Yard House in
Scottsdale, Arizona
. Tender chunks of chicken are stir fried with smoked tofu, pine nuts, and green onions that served in a crispy fried tortilla. After the lettuce wraps have been devoured, the fried tortilla can be dipped into three sauces. Speaking of Arizona, we were so happy to see Bar Manager Bobby Oeser, who we met at the Scottsdale location, now working in Boston. Working alongside him (albeit just for six weeks while the Boston restaurant takes off) was Jake, a bartender from Scottsdale who we also met on our several visits to the area. We were so happy to see them both in Boston and wish them both great successes here.
Our server Nicole told us the day's special was mahi-mahi, which sounded very appealing, and could be served grilled or blackened. The menu here is absolutely enormous and features everything you could ever imagine from soups and salads to burgers, pizzas, and sandwiches. Main dishes run the gamut, including parmesan crusted chicken, roasted turkey pot pie, spicy jambalaya, mac and cheese, miso glazed sea bass, ginger crusted Norwegian salmon, St. Louis style ribs and even a 12-ounce ribeye. For the main event, Nicole also recommended the chicken rice bowl and southern fried chicken breast and we were glad she did.
The chicken rice bowl was an extremely generous serving of bok choy, baby corn, snap peas, carrots, shitake mushrooms, celery, peppers, and broccoli served over jasmine rice. The crispy fried chicken was served boneless and skinless over spinach, corn-mashed potatoes topped off with the perfect comfort food accompaniment – a thick flavorful bourbon gravy. It truly doesn't get much better than this. If you can save room for dessert, which we did, the Kona coffee ice cream sundae is an absolute must. The enormous goblet of java chip ice cream was topped with Oreo cookie crumbles, macadamia nuts, chocolate sauce, and served with a macadamia nut cookie on the side for dipping.
The Yard House is located at the Fenway Triangle between Kenmore Square and Landmark Center, 126 Brookline Avenue in Boston. For more information, call (617) 236-4083 or visit
YardHouse.com
.
Kellie K. Speed
As the Boston city guide editor for JustLuxe, Kellie Speed is a native Bostonian and a freelance writer/editor/copywriter with more than 20 years expe...(Read More)