By Kellie K. Speed May. 24th, 2012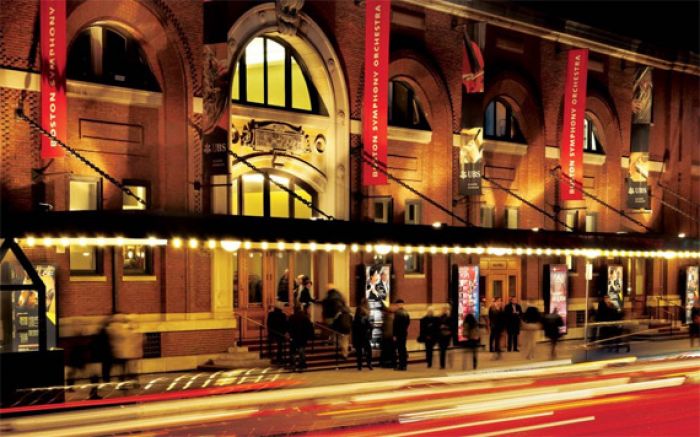 Photo Courtesy of Boston Symphony Orchestra
Nothing says "Boston" more than Fenway Park and the Boston Pops so what better way to celebrate the 100th anniversary of Fenway Park this year than for
Symphony Hall
to take on a ballpark atmosphere.
Tonight, for one night only, the Boston Pops are paying homage to Red Sox Nation by bringing in hot dog stands, Fenway-style popcorn, and a T-shirt canon blasting Pops gear into the audience. Of course, Wally, the Red Sox mascot will be on hand as well as Boston's own Dropkick Murphys to play their infamous World Series winning song "Tessie" and "I'm Shipping Up to Boston."
The sports themed "City of Champions" concert series will include The Boston Pops led by Keith Lockhart opening up with "The Star-Spangled Banner," before pro football Hall of Famer Andre Tippett narrates "Freddie the Football." The Pops will also present John Williams' "Olympic Spirit" along with a video celebrating female Olympic athletes. Be sure to keep an ear out for Josh Kantor, Fenway Park's organist, who will play some ballpark-style jingles on Symphony Hall's organ.
The Pops will also feature John Williams' "Fanfare for Fenway," which recently received its world premiere by the Boston Pops at Fenway Park's 100th anniversary on April 20. Music from the movie
Field of Dreams
will be played and various Red Sox personalities will make on-stage cameos to bat plastic balls from t-ball stands into the Symphony Hall crowds.
The Dropkick Murphys will perform "Tessie" and "I'm Shipping Up to Boston" while the Pops conclude the show with Fenway's eighth inning favorite "Sweet Caroline." For tickets or more information on tonight's show, visit
BSO.org
.
Kellie K. Speed
As the Boston city guide editor for JustLuxe, Kellie Speed is a native Bostonian and a freelance writer/editor/copywriter with more than 20 years expe...(Read More)