By Kellie K. Speed Jul. 26th, 2012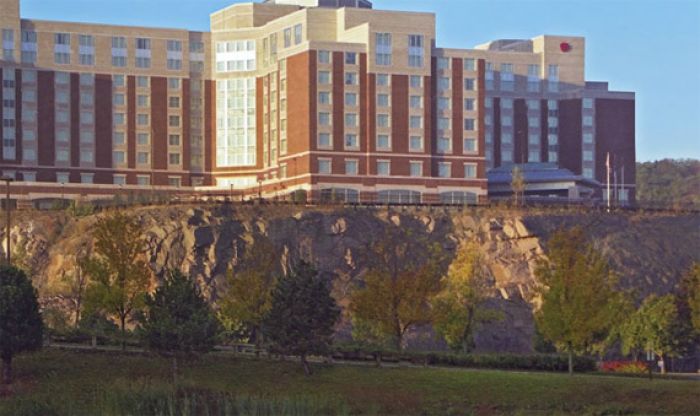 Photo Courtesy of Boston Marriott Quincy
You overindulged in alcohol last weekend. So, next weekend you can make up for it on the food side—as in an all-you-can-eat prime rib feast all for under $20. Head over on Friday or Saturday night to Hancock's at the Quincy Marriott where you will eat plate after plate of juicy prime rib served with a side salad, loaded baked potato and fresh vegetable (broccolini, please). This hidden gem is tucked away in Crown Colony but for those in the know, this is one of the best deals in town.
Executive Chef Brad Turnbull has created a menu that focuses on local dishes (think fisherman's stew) and creative comfort classics like braised Brandt Farms short ribs with mashed potatoes, sticky carrots and onion strings. Start your own feast off with a sampling of the prime rib soup loaded with tender chunks of juicy prime rib and vegetables atop a scoop of mashed potatoes. Pair up some fresh oysters with a crisp glass of pinot grigio or a cold glass of Sam Summer.
We loved the oven roasted day boat haddock served atop lobster risotto with baby spinach and topped with light flavorful citrus vinaigrette. The juicy prime rib here comes out plate after plate, upon request, with the first cut being the largest but arriving as one of the best deals in town. Other entrees include a six-ounce filet mignon with horseradish cheddar tater tots, New York strip, balsamic marinated steak tips, fish and chips, miso salmon with basmati rice and pan roasted sea scallops with cranberry leek fondue.
Hancock's is located at the Boston Marriott Quincy, 1000 Marriott Drive in Quincy. For more information visit
Marriott.com
.
Kellie K. Speed
As the Boston city guide editor for JustLuxe, Kellie Speed is a native Bostonian and a freelance writer/editor/copywriter with more than 20 years expe...(Read More)