By Kellie K. Speed Aug. 28th, 2012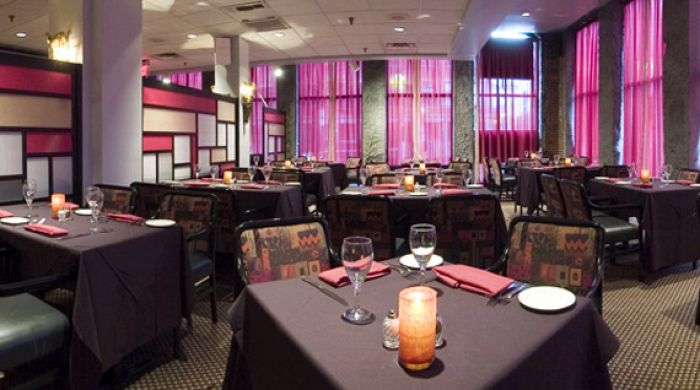 Photo Courtesy of The Living Room
You're invited to a party in The Living Room. Not your friend's messy one. We're talking the new waterfront hot spot in Boston. Get cozy on one of the comfortable plush couches and relax with a North End Cosmo or Red Sox Martini. Whether you come for dinner or drinks, you will feel right at home at The Living Room. Located just outside the North End in the Mercantile Wharf Building, the waterfront restaurant is a great spot for a quick drink, indulgent brunch or romantic dinner. We stopped by recently for brunch (complete with servers dishing up meals in their PJs – so cute!)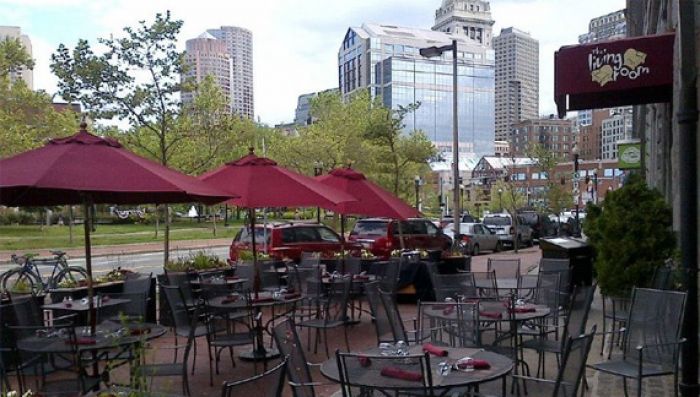 The brunch menu here focuses primarily on breakfast dishes, including buttermilk pancakes (raspberries, strawberries, chocolate chips or cinnamon apples anyone?), eggs any style and a massive four-egg omelet. We started off with a sampling of the super sweet funnel cake dusted with powdered sugar and fresh strawberries, which was quickly devoured. The buffalo chicken dumplings are a must here wrapped in a crispy wonton, lightly fried and served with a side of creamy blue cheese sauce for dipping.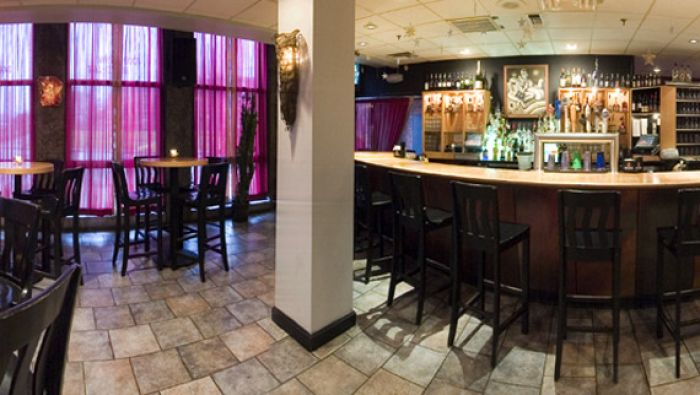 The youngsters in our party loved the crispy chicken fingers and golden waffle fries while we savored the enormous grilled chicken Caesar salad. Other lunch dishes here include a California club, juicy Angus burger topped any way you choose and a grilled portobello mushroom sandwich served on a brioche bun with grilled onions, roasted red peppers, melted Swiss cheese and topped with sun-dried tomato mayonnaise.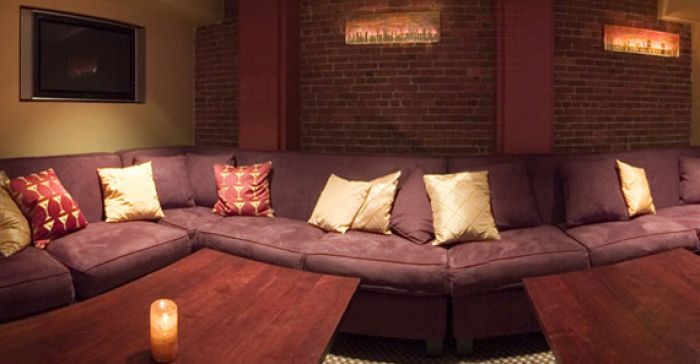 For dessert, don't miss the enormous (and we do mean gargantuan) ice cream sandwiches, which are large enough to share - two rich soft chocolate cookies surround a heaping scoop of creamy vanilla ice cream. The Living Room Boston is located at 101 Atlantic Avenue.
For reservations or more information, call (617) 723-5101 or visit
TheLivingRoomBoston.com
.
Kellie K. Speed
As the Boston city guide editor for JustLuxe, Kellie Speed is a native Bostonian and a freelance writer/editor/copywriter with more than 20 years expe...(Read More)