By Kellie K. Speed Dec. 19th, 2012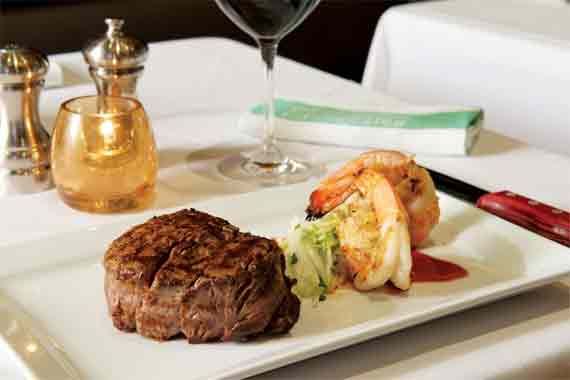 Photo Courtesy of Smith & Wollensky
It's the holidays so there is no better time than now to celebrate that promotion you didn't get, the relatives who drive you nuts, or just a chance to splurge on an indulgent, "worth-every-penny," night-on-the-town. We can't help you with the first two but here's a hint for the latter – Smith & Wollensky Atlantic Wharf. Think steaks that would impress even Fred Flintstone, an equally impressive wine list, a private wine cellar, outdoor patio, full service raw bar and a chef's table. That's just what you will find at the steakhouse's second location – this time on the waterfront.
The enormous restaurant, which opened just over a year ago between the Rose Kennedy Greenway and Boston Harbor (across from the newly opened Tea Party Museum), was overflowing with an after-work crowd the Thursday evening we visited. Our friendly server, Jessica, quickly presented us with a warm loaf of their signature (and addicting) rosemary and salt bread. We kicked off the evening with a sampling of the uber fresh tuna crudo, which arrived on a Himalayan salt block for added flavor. The jumbo crab cake here might be the best in the city, loaded with fresh crab meat complemented by cognac mustard and ginger sauces.
Now it's time to get down to business and talk about what you really came here for – perfectly marbled, USDA prime hand-cut, 28-day dry aged beef. It does not get any better than this. Picture a massive expo kitchen churning out 24-ounce bone-in rib eyes swimming in juice, served with enormous sides of whipped potatoes and creamed spinach. Sound too big for you? Then try the 21-ounce bone-in New York sirloin with a side of roasted wild mushrooms. But you can't stop there. Finish off your experience here with a sampling of colossal carrot cake served with fresh cream and paired with an Irish coffee. Trust us, every bite is worth the overindulgence.
Smith & Wollensky is located at 294 Congress Street at Atlantic Wharf in Boston. For reservations or more information, call (617) 778-2200.
Kellie K. Speed
As the Boston city guide editor for JustLuxe, Kellie Speed is a native Bostonian and a freelance writer/editor/copywriter with more than 20 years expe...(Read More)