By Debbi & William D. Kickham, Esq. Jun. 9th, 2010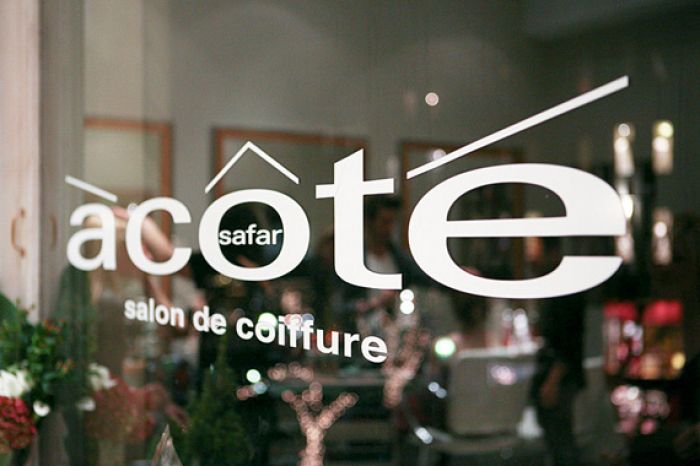 City Guides:
Seeking to make the "Best Tressed List" with a stunning haircut and color? When you're in Boston, there's only one salon for those in-the-know:
Salon Acote
. Salon Acote, a breath of fresh air on Newbury Street, features its own garden atelier (where it offers services and refreshments in summer), and has been featured in prestigious media that include
Lucky Magazine
,
Elle Magazine
,
Marie-Claire Magazine
, and newspapers such as
The Boston Globe
.
Salon Acote is a sunny salon on
Boston's
posh Newbury Street where you can get flawless haircare, listen to foreign music, enjoy a complimentary cappuccino, admire the beautiful floral arrangements, and in spring and summer, sit (and even have services) on the gorgeous outdoor patio. The team of international stylists will pamper your hair with products including Rene Furterer, the latest techniques (including hair extensions), exquisite updos, state-of-the-art hair straightening and even unusual cult products such as Moroccan Oil, a favorite of Mr. Safar. Complimentary gourmet goodies are always served on weekends too, to make your visit all the more sweet.
Salon Acote is owned by a second-and third-generation of hairdressers who hail from Marseilles, France. What does that mean? It means, quite simply, that you'll receive top-notch treatment from expert professionals who can offer you the latest-and-greatest cuts, colors, treatments, and styles.
Salon Acote (which literally in French means "the salon next to you,") caters to international students and famous celebrities such as rocker Steven Tyler of Aerosmith. Known as "Boston's Most French Salon," Salon Acote is renowned for its chic French haircuts and color. The salon even makes 'house calls' to Saudi Arabian princesses, other royalty, and simply well-heeled clients who are in town, staying at the Four Seasons Hotel Boston, who desire hair appointments in privacy. Always ahead of the trends, Salon Acote is the address for clients who want hair that stands head and shoulders apart from the competition.
COPPOLA KERATIN COMPLEX TREATMENTS
In his quest to keep Salon Acote ahead of the fashion-and-beauty curve, Mr. Safar offers the life-changing Coppola Keratin Complex Treatments, and has received nothing but rave reviews. This amazing treatment will, like magic, transform your tresses from frizzy and wavy to sleek and stick-straight. "We do between five and seven Coppola Keratin treatments per week, and our clients love this service," Mr. Safar explains. He adds: "Our clients have been amazed at how soft and sleek their hair is after a treatment, and I like to provide the service myself, each time, to assure that the results are consistent. Clients usually return every six months for another treatment, which is great for our business. Another terrific advantage is that Keratin Complex is now available in a formula just for blondes – which is a great boost for women with highlighted hair. I firmly believe that Coppola Keratin treatments are the best in the business and absolutely the best products on the market."
ADMIRABLE EXTENSIONS
Salon Acote also offers hair extensions to clients, who want the service, Mr. Safar says, for several reasons. Their hair is too short, their hair just won't grow, or they simply want longer hair. Or, they have thin hair and desire more density and thickness in their hair. Salon Acote only uses "Remy" 100% hair, which means that the cuticle lays all the same way; it is presented in the way hair naturally grows – and it won't tangle. "This means that it will look natural, and will be easy to color-match," says Mr. Safar. The hair is Italian and comes in all colors, and bonded to existing hair on the head with heated Keratin. "It lasts two- to three months, and the removal is included in the price," adds Mr. Safar. The process takes two to three hours. "If you look at the gorgeous models in cover photographs, with long, flowing tresses – they are undoubtedly extensions, and now everyone can have hair that looks just like that," says Mr. Safar. "Especially for women with alopecia, or women who have lost some of their hair due to cancer, extensions are a great way to go."
THE JET SET EXPRESS
Want to save money on your salon visit? Book your appointment for the "Jet-Set Express" at Salon Acote, and present your airline boarding pass, passport, train ticket, or subway ticket at the salon. In return, Salon Acote will offer discounts extending from haircuts with a waiting time of less than 15 minutes to gift certificates for a complimentary blow dry upon your next visit to the salon. Likewise, Salon Acote also offers 25% discounts to all travel professionals around the world – flight attendants, pilots, airline personnel, travel agents, cruise professionals, even travel writers. Just give the password "travel" when you book your appointment.
One thing's for sure:
Salon Acote
will surely offer joie de vivre on your journey.
Debbi & William D. Kickham, Esq.
Debbi K. Kickham is a professional travel journalist and veteran member of the Society of American Travel Writers, www.satw.org. She is also former Editor of Robb Report Magazine ' 'The Millionaire's Magazine,' www.robbreport.com Debbi is also former Contributing Editor to Bridal Guide Magazine, for the Travel Section. She is currently at work on her third book, a diet/beaut...(Read More)