By Kellie K. Speed Jul. 15th, 2010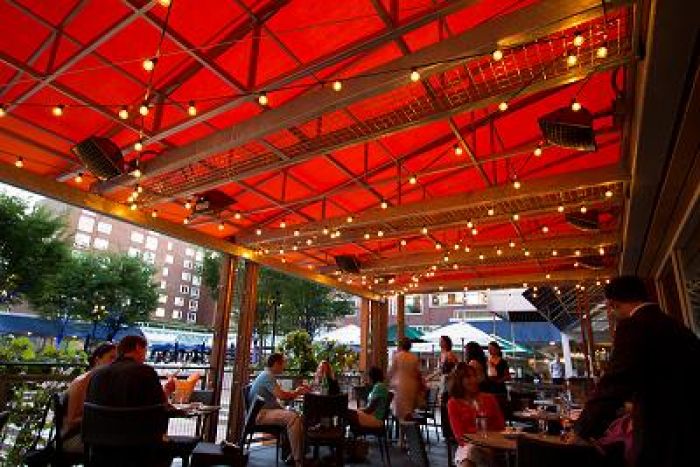 City Guides:
Just when you thought dining with Chef Jody Adams couldn't get any better, she goes and opens a stylish patio at her famed Rialto
restaurant
located in Harvard Square. Located in the Charles Hotel, the 32-seat patio was designed in the spirit of Italian al fresco dining. The beautiful, new outdoor space overlooking Charles Square courtyard, housed under a giant pumpkin-colored awning and lighted overhead trellis, is located adjacent to the
Rialto lounge
and serves both the main dining room and bar menus.
It is here you will find James Beard award-winning chef/owner Jody Adams serving up regional Italian cuisine interpreted with New England ingredients at her landmark restaurant. Chef Adams has received accolades both locally and nationally for her creativity, support of local farmers, continuous charitable work, and business acumen. Jody's commitment to supporting local farms and purveyors extends beyond the restaurant's doors. In 2008, she launched an internal educational program, Guerilla Grilling, designed to connect her staff (both front and back of the house) to the farmers and artisan producers that supply the restaurant. As a team, Rialto's Guerilla Grillers have visited local vegetable farms, cheese producers, an oyster farm and even a chocolate factory.
The new space designed by Maryann Thompson Architects, sits atop a mahogany deck, and is outfitted with Ratana woven furniture as well as large planters overflowing with herbs that Jody uses in the kitchen.
Whether you come for a glass of chardonnay and to nosh on some light bites such as the grilled littlenecks or are looking to stay for dinner, the menu here has something for everyone. Entrees include everything from eggplant parmesan, whole roasted fish and grilled rack of lamb to seared scallops, whole lobster and veal osso bucco.
The patio accepts reservations as well as walk-ins. The space is also available for private events, and will be open during the summer, fall, and spring (heated in the cooler weather).
Rialto Restaurant is located at One Bennett Street, Cambridge, MA 02138.
Kellie K. Speed
As the Boston city guide editor for JustLuxe, Kellie Speed is a native Bostonian and a freelance writer/editor/copywriter with more than 20 years expe...(Read More)