By Kellie K. Speed Sep. 20th, 2010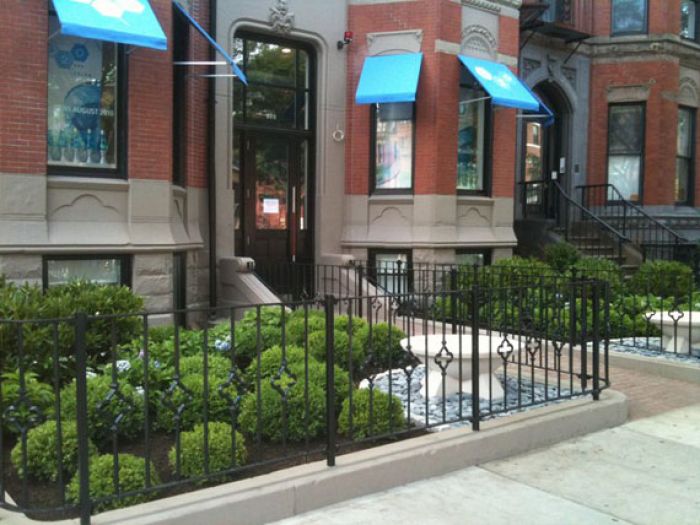 Best Boston Spas:
G2O Spa & Salon has just completed the final touches on its all new "green" location on Newbury Street. Located at 278 Newbury Street, the spa for men, women and couples offers the same treatments of its former location
(hair, nail and skincare)
but has introduced several new signature services, including Brine Inhalation Therapy and The Bali Paradise Experience. There is even a hot tub that holds six people and a rooftop terrace where spa-goers can enjoy lunch.
"We took two brownstones and combined them into one building," said Joyce Hampers, owner of the new G2O Spa & Salon on Newbury Street. "We had to follow the strict guidelines of sustainability. It had always been my dream to do a 'green' spa. G2O has six floors, including a penthouse. We added onto the building to create a lounge, hot tub, terrace and kitchen."
Inside G2O, guests will quickly realize how different it is from Emerge.
"G2O offers a more social atmosphere with services designed for interaction between both men and women," said Hampers, who also owns Emerge Spa & Salon also on Newbury Street. "Emerge is European traditional and more sophisticated with a separate men's club. We rebranded G2O to make it appear sleek, modern and trendy. The interior is more futuristic and colorful than sedate in nature like most typical spas. There are a lot of glass and chrome accents with a blue and white palette so the tone is fresh and modern."
In keeping with the green guidelines, Hampers created a well for groundwater use.
"We wanted as little impact on the environment as possible," she said. "We don't have boilers, just a small machine that does all the heating and cooling. It feels good to be able to create something good for the environment."
Hampers recognizes she is in the business of making people feel great and encouraging them to live well.
"I really wanted to create a spa along those lines that would not impact the environment," she said. "I think it is important for people to realize that they can have that extreme luxury but also still save the environment. We have been able to do that with geothermal heating and low-energy consumption lighting. The two former buildings were energy hungry but now they are environmentally sustainable functioning buildings. We used recycled materials and recycled all of the materials that we had to take out."
Finding the perfect location in Boston with the right amount of square footage to accommodate the spa was a challenge for Hampers.
"When I first started looking around, I couldn't find a space with a large enough footprint to do business," she said. "Most brownstones on Newbury Street were so small that it was impossible to do something in a space that narrow. I am amazed we were able to combine both buildings. When you step in here, you would think they were always like this."
As she relaxes in her new space, Hampers realizes she is now living her dream.
"I really love sitting at the front of the store like a regular customer and watching people's reactions as they enter the store," Hampers said. "It does my heart good to know they really enjoy it."
Kellie K. Speed
As the Boston city guide editor for JustLuxe, Kellie Speed is a native Bostonian and a freelance writer/editor/copywriter with more than 20 years expe...(Read More)