By Nicolle Monico Aug. 23rd, 2016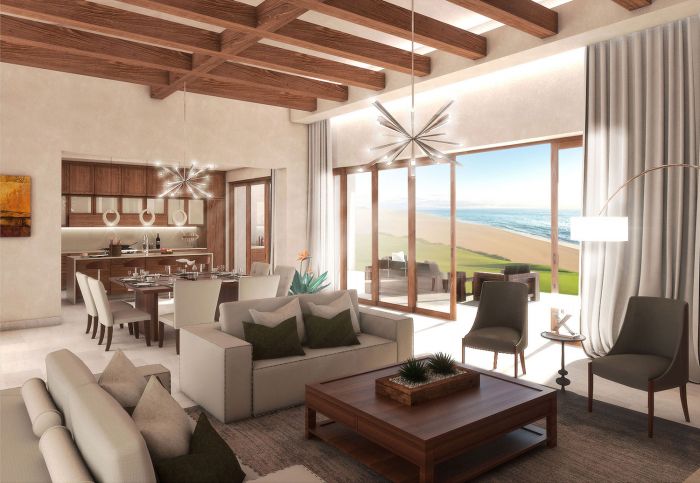 Photos Credit: Grand Solmar - Rancho San Lucas
In the past couple of years, Cabo San Lucas has transformed itself into a playground for affluent jetsetters. As the city continues to see growth in the form of luxury hotels and upscale restaurants, it would seem that now is a great time to purchase a second home in the area. Come 2017, the Solmar Group will open a new 834-acre residential community alongside its five-property portfolio.
Rancho San Lucas will include single-level homes and condos available for purchase within two categories: The Villas or The Estates. Both feature a combination of Spanish and Mexican architectural elements. Estate homes are designed as modern Mexican haciendas and start at 6,200 square feet. They come with an interior courtyard and large outdoor living areas. Located on the highest vantage point, The Villas afford owners stunning ocean, desert and golf views and come in five different floor plans with a Santa Barbara architectural style.
The project set on 1.2 miles of white sand, beachfront property will include a Greg Norman-designed golf course, state-of-the-art tennis center, a second Grand Solmar resort and a Mexican-inspired pedestrian village filled with dining and shopping venues. "We envision a one-of-a-kind development devoted to conserving the true nature of its environment and are committed to creating a unique, quality product deeply rooted in the love for the land and the Baja way of life," said Claudia Velo, Director of Marketing for Rancho San Lucas.
Nicolle Monico
Nicolle is an award-winning writer and Travel Editor using her expertise in the industry to write about luxury travel around the world. You can find her daily searching the web for the latest trends, best new hotels and most beautiful destinations to visit and share with her readers. She's been featured on The Huffington Post, Hard Assets, AMD Entertainment and Remy Martin. In 2014, she was vo...(Read More)