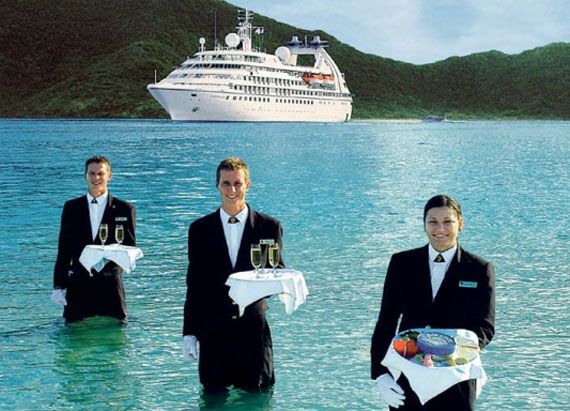 Photo Courtesy of Seabourn
If you're a reader of JustLuxe.com, you no doubt are a well-heeled, seasoned traveler, who loves the best that the luxury travel segment can offer. Your goal, we are sure, is to have a cruise vacation that combines the qualities and services of a five-star hotel with the best that cruising has to offer.
We can say with confidence that when you sail with the Yachts of Seabourn, you have reached the pinnacle of what luxury cruising is.

Sailing on Seabourn's new Sojourn is one of the most impressive sailing experiences out there. We take many cruises on many types of ships and we have to say that we were blown away by the quality of the services, staff and wonderful passengers that we met aboard the new Sojourn.



In fact, that's just one reason why we so highly recommend the Sojourn. We met more interesting passengers on this one holiday sailing than we have met in all of our cruises through all the years, combined! And what these experienced, seasoned travelers told us, confirmed what we had previously suspected: Seabourn does it right.



Seabourn knows how to service and accommodate sophisticated travelers. And Seabourn's passengers, in return, are passionate in their affection for and devotion to this superior cruise line.

Here's just one reason why: When we arrived, we checked in at Seabourn Square (more on that in a minute) and made a special request about lowfat bread and yogurt. Guest Services made a note of our request, and before you could say "Bon Voyage," one of the staffers went to a supermarket in Fort Lauderdale, specifically to buy the aforementioned items exclusively, and expressly for us.


Other passengers agreed with us that the service is not just good, it's beyond exceptional. In fact, in one amusing anecdote, we were told about one passenger who always brings about 15 of his dirty shirts aboard, because he's in love with the way that Seabourn dry cleans his garments. According to him, Seabourn's methods are cheaper – and much, much better – than any dry cleaner he uses at home!

Readers of both Travel + Leisure and Conde Nast Traveler declared The Yachts of Seabourn the "World's Best Small-Ship Cruise Line" and it's easy to see why. The intimate yachts can access areas where larger ships cannot; offer gracious service by a top-notch staff; have open bars throughout; pour fine wines at lunch and dinner; stock your suite with welcome Champagne and all this is just the tip of the iceberg.

The Square Hits It Right
One of the most innovative things about the Sojourn is its Seabourn Square area, which serves as a "town square" for all passengers. This is where a lot of the action occurs – the Square serves simultaneously as the ship's Reception Center, reading area, ship's library, internet café and coffee corner. Here, any Starbucks is put to shame, as this is the place to get every type of coffee – from espresso and cappuccino, to Irish and Mexican coffees, to frappes, milkshakes and hot chocolate.


The Seabourn Square server on the Sojourn, Ferry, offered outstanding service, and was always a pleasure. Then there's a wonderful pastry case filled with (complimentary, of course) goodies and sweets, along with several flavors of homemade ice cream. In other words, the Square is the center!

As we said, Seabourn Square also serves as the ship's library, with lots of volumes of current periodicals, including USA Today as well as major news dailies from European and Asian capitals, to keep yourself occupied on sea days. There is a large living room with tons of comfortable seating in browns, beiges and burgundies, as well as numerous internet stations.

It boasts walls of windows and decor that evokes the feeling of a small town. The ship itself resembles a five-star hotel much more than it looks like a cruise ship – if you don't look out a window, you'll swear you're at the Four Seasons, with very contemporary furnishings and a sleek, elegant ambience; the service is stellar as well.

Many of the passengers we met expressed the same sentiment – that the staff at Seabourn is the best, and that of all the luxury lines, Seabourn outperforms them all in terms of service and overall quality.


Of course, this being an all-inclusive cruise line, Seabourn also offers complimentary top-shelf wines and liquors – your dinner might include a Robert Mondavi Chardonnay, Heidsieck & Co. Monopole Champagne, or Glenfiddich single-malt scotch. (If you simply must have Dom Perignon, or other ultra premium alcohol, there's a nominal charge) And there's never any charge for Malassol caviar, whether you order it at dinner, on deck, or in your suite.

Executive Chef Graeme Cockburn told us, "We go through 4.4 pounds of caviar every day, and passengers can also have foie gras anytime." And don't forget, on some sailings the ship offers its famous "Caviar in the Surf," where waiters present a floating tray of caviar in the water for guests visiting a beach.

Designed in Genoa by T. Mariotti Shipbuilding, the Sojourn is elegant and luxurious and holds only 450 guests. One thing that impressed us was the number of large nooks and crannies where you could find complete privacy. Besides the main pool there are other decks where you could sit in the sun, where very few people ventured. The Card Room was a special place as well – at night, you could cozy up for a movie on a huge wide-screen TV all by yourself (But please don't give away our secret).


Now get ready to be amazed - do you know what the staff did for us one night? We simply requested more comfortable seating in the Card Room – "Maybe a couch," we recommended, so that we could watch a movie in comfort. When we arrived at the room about 20 minutes after making the request, we discovered that the evening staff had (literally) hauled in two of the ship's electric-powered, heavy leather recliners from Seabourn Square – simply to accommodate our request with aplomb.

And they even offered popcorn and blankets, for just the two of us. We were already impressed by the ship's staff before this, but this high standard of service left us amazed. You simply don't find that level of attention to detail, that level of concern for your every need, on other cruise lines. The ship also has a wealth of movies that you can order on demand; everything is digitized and user-friendly.

We were happily ensconced in Suite 622, which featured a roomy marble bathroom with double sinks, a separate shower and bathtub, walk-in closet, king-sized bed, flat-screen TV, living room with couch and chairs, and a verandah. We also felt privileged to have an amazing room attendant – a lovely young lady named Inta from Latvia – whose gracious and warm personality was a delight.


She was being shadowed that week by a trainee named Marina, who also possessed a terrific personality. We wanted to take these two home as souvenirs – if we could have packed them away in our suitcases. If only more establishments had staffers like these two.

For such a small ship, there is also a roomy theater providing nightly entertainment. We were especially enamored of Anastasia and Dima, the unbelievably talented Russian ballroom dancers, who always put on a fantastic show (and were very personable to boot). When these two were on the dance floor, you couldn't take your eyes off of them.

The entertainment also consisted of four extremely talented singers who belted out everything from Elton John to Broadway showtunes, to songs to accompany Midnight Mass on Christmas Eve. The ship also brought in a well-received comedian, Cary Long, as well as two violinists called "String Idols," who wowed us with their interpretations of everything from classical to Broadway music.

Ah! Spa!
Up on the ninth deck you'll find an impressive Steiner spa and fitness center. The fitness center, one of the largest we have ever seen on a ship of this size, was and filled a wealth of fitness and weight machines. The architects of this ship clearly put a lot of time and effort into making the fitness center really spacious and user-friendly.


There's also another workout room filled with Kinesis machines and free weights. Classes such as yoga and Pilates are complimentary, and you can pay extra for personal training sessions. We loved the fitness center and took advantage of it every day.

Adjacent to the fitness center is the Seabourn Spa area and salon, where you are assured of getting tremendous service. This is the largest spa facility in the entire Seabourn fleet – at 11,400 square feet. Some of the popular treatments include stone massage, seaweed wraps and facials.

The spa also offers Brazilian Blowouts (Keratin straightening of the hair); the fabulous new Shellac manicures (which some land-based spas don't even offer yet); and even a $325 Gold Facial in which a 24K gold mask is applied to the face. Hidden away on Deck Nine are alfresco spa villas where you can enjoy treatments in the comfort and privacy of your own hideaway. Hey, with services like these, who needs Canyon Ranch?


Debbi had an excellent Skinceuticals Firming Facial administered by aesthetician Theresa. This 50-minute pampering treatment ($125) included a skin cleanser; analysis; exfoliation with a retexturizing activator; hot compresses; extraction; Vitamin C mask; and massage of the décolletage.

This treatment also includes samples of Skinceuticals to take away. This treatment is ideal for women who desire luminous, hydrated, firmer skin. Deb's verdict – well, can she help it if she was mistaken for a movie star after her treatment? And for guys, there are Elemis facials just for them.

Another delightful thing – when the spa staff has free time, they setup a massage table on deck, where they administer complimentary "Massage Moments" by the pool, available in 15-minute increments. Trust us – there's nothing better than a massage where the sunlight also caresses your skin!


In all, we give the Seabourn Sojourn our highest rating, and we are sure that if you sail her, you will not – emphasize not - be disappointed. And here's something else – as one delighted passenger told us as we luxuriated in the pool: "The hardest thing about cruising on the Sojourn is… finding something to complain about."

Boy, did he – and Seabourn – get it right!

Visit www.Seabourn.com or call (800) 929-9595 for more details. Fares on our 16-day Christmas cruise started at $7,499, double occupancy.

If you noticed we didn't mention much about dining onboard, it's because we created an exclusive article just to showcase the amazing fare on the Sojourn. Click here to check it out!