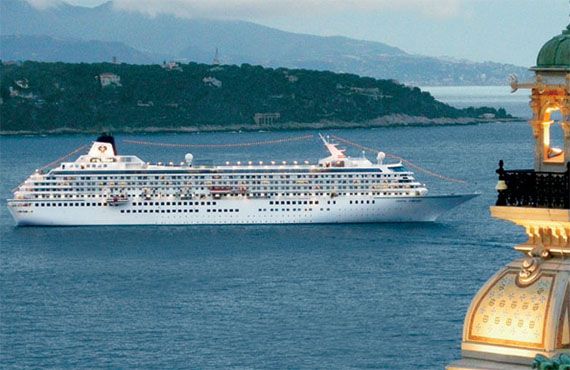 Photo Courtesy of Crystal Cruises
Just think of your favorite piece of music. Think of the multitude of positive feelings the music evokes. Now multiply by the number of days of your Crystal Symphony voyage and you will know how delightful a cruise can be.

Just as a myriad of components go in to the making of a memorable musical composition, so does an equivalent effort go into the making of a memorable voyage.

The smooth sailing begins long before you embark. Crystal's gracious staff are ready to answer all your questions, record all your personal preferences and add to your heightening anticipation. After all, when you choose a Six-Star Cruise Line, your expectations are high, and Crystal's staff comes through with the job!



As with every flawless performance, it seems effortless to the audience, and Crystal's staff have been selected and trained to meet the high standards of excellence that have brought this line innumerable accolades throughout their more than 20 years in service.

The moment you encounter their staff, you are warmly greeted and very quickly addressed by name. If this happens to be a repeat voyage, the "welcome backs" herald your return. Quite an impressive feat with a guest list of over 900 on board. This is just the start of small, exclusive ship treatment with all the amenities and none of the drawbacks of the larger vessels. That's the allure of Crystal Symphony.

Once on board, rather than be handed an already poured glass of bubbly, as occurs on some ships, you are comfortably seated in the Bistro, where properly chilled French Champagne is poured until sailing. No need to juggle your carry-ons and a flute. You can relax, and settle in, as your Symphony voyage is just beginning.
Perhaps you are beginning to experience the Crystal clear difference. As you enter your state-of-the-art stateroom, complete with all the latest electronics, a spacious bathroom including dual-vessel sinks, tub and shower, ample walk in closet and sitting, as well as sleeping areas; you are ready to move right in and let the performance begin.
The size and layout, as well as décor of the cabins and public rooms seem perfectly designed to elicit a feeling of subdued, casual elegance. The discriminating, well-traveled passengers are congenial and intriguing company.
As might be expected, the food on board is of the highest quality, Continental in style with well executed international dishes on every menu. Any special dietary need will be graciously accommodated, and all the regular menus include light, low salt, low fat and sugar free items.
Although you would be quite content with the service,
food, wine and presentation
in the main dining room, you will be stunned and amazed by the quality of the specialty restaurants. Prego, an offshore inspiration of legendary Valentino's in Los Angeles, offers inspired Italian cuisine.
If the Ship is the Symphony, this is the Opera. Memorable highlights include a five mushroom soup served in a rosemary bread shell, warm lobster and bean salad, a stellar carpaccio, impeccable pastas and risottos, and melt-in-your-mouth steak with Barrolo wine sauce. Every culinary morsel is perfectly pitched to a crescendo of rousing bravos from the adoring audience of guests who return as often as room allows.
The other specialty dining venue is Silk Road which features a sushi bar and a menu of Asian inspired items including specialties from celebrity Chef Nobu, whose eponymous restaurants pepper the globe. Here the favorites are the sushi and sashimi offerings, the lobster wok stir fry, and the Nobu Sampler Box which includes miso marinated cod, waygu beef and rock shrimp sauté. Again, diners leave with contented Buddha smiles and bows and vow to return for more authentic fare.
In both venues, the intimate rooms are jewel boxes of décor, with just the right lighting and art work to make for an elegant evening. All of the dining and bar outlets offer a superb, international wine list with specialty cocktails and wines in various venues. As of 2012, Crystal will offer their cruises as all-inclusive so a selection of alcoholic beverages will be complimentary. For the true food and wine connoisseur, the Vintage Dining Room is available for specially selected wine offerings - with food pairings - to complement the guests' selections.
One of Crystal Cruise Line's strongest assets is its enrichment program which sets the standard for the industry. To say that there is something for everyone is an understatement. Your biggest decisions of the day might well be what to choose from in their jam packed daily program and your only complaint might well be that there isn't enough time in the day for all you want to do. Their onboard lecturers are world class in every category, literally featuring Olympians in every field of endeavor.
Not only do they lecture but luminary presenters are eager to mix and mingle over coffee, lunch or dinner. The pros in fitness, art, golf, computer, piano, bridge and dance are all there waiting to offer genuine assistance with a smile.
Oh, you wanted some rest and relaxation? Then try the well-staffed Crystal Spa and the many lounge areas where the oversized, outdoor furniture lures you to lull away an afternoon. But come evening, get ready for some of the best entertainment you'll find on the high seas. Besides Broadway caliber musicals - performed by their talented cast of singers and dancers- there are world-class performers poised to dazzle you with their feats of mime, mirth, magic and more.
The Crystal Symphony is indeed a masterpiece, not only physically but most importantly in it's determination to approach excellence in every sense of the word. Just as a symphony is more than the sum of its parts, so too, the Crystal Symphony offers an experience that will exceed your expectations. So, let the curtain rise and allow the Symphony to take you on the ride of your life.
To learn more and plan your next cruise, visit
www.crystalcruises.com
.