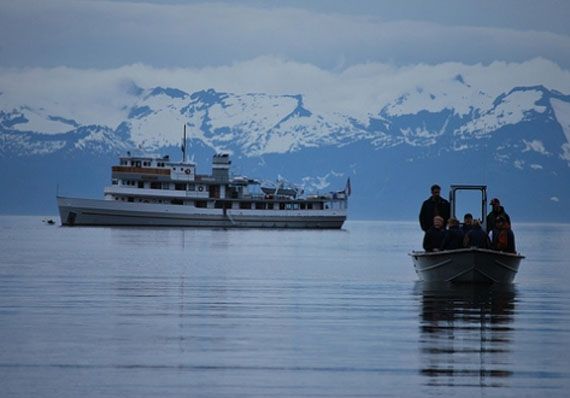 Photo Courtesy of The Boat Company
The Boat Company is an award-winning non-profit educational organization that takes small, intimate groups on luxury eco-cruises through America's last wild frontier, Southeast Alaska. Every year from May through September, these environmentally conscious cruises travel back and forth between Sitka and Juneau on weeklong journeys through the beltway of the Alaskan ecosystem.
The cruises are both entertaining and enlightening, as approximately one-third of the people onboard are members of the crew. It is this two-to-one ratio that provides each cabin holder the opportunity to create a very personalized itinerary over the weeklong excursions. The cruises consist of a stimulating mix of sightseeing, fishing and exploring the vast wilderness. Each member of the crew possesses in-depth knowledge of the area.





The Boat Company has two cruise ships, the Liseron and the Mist Cove. Built in Seattle, Wash., in 1952, the Liseron originally was sold to France and used as a minesweeper. It was acquired in 1989 and converted into a 20-passenger cruise ship with 10 cabins. The Liseron is 145 feet long and 28 feet wide. The Mist Cove, which is patterned after the former vessel, is a tad larger and accommodates up to 24 passengers with 12 cabins.

Sustainable tourism is about taking in the natural beauty of an area while minimally impacting the environment. The cruises are very popular, as all voyages for 2011 are nearly sold out. Read the testimonials of travelers who have experienced a cruise with The Boat Company to better understand the scope of the cruises.

The Boat Company is the first-ever winner of the Gold award for "Leader in Sustainable Tourism," in 2011 by the HSMAI and the National Geographic Traveler. For more information, visit TheBoatCompany.org.