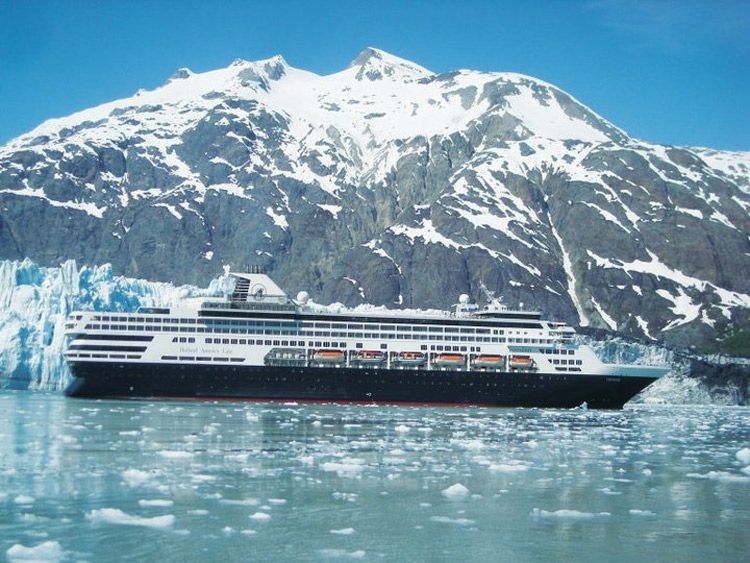 Photo Courtesy of Alchemy of the Hearth/Holland America
It used to be that the highlight of your
luxury Alaska cruise
was seeing stunning glaciers and breeching whales, but these days they offer so much more. On Holland America's new 7-night Savor Alaska Culinary Cruise, guests not only get to explore the natural wonders of Tracy Arm Fjord, Juneau and Victoria, they will also join Chef Arleen Lloyd on a culinary adventure all its own.
As Executive Chef of Alchemy of the Hearth Cooking School in San Marcos, CA, Arleen leads a team of instructors whose mission is to share the magic of cooking, baking, chocolate and candy making with home cooks and professionals alike. She's bringing her vast experience and hands-on approach to a culinary themed cruise aboard the
ms Oosterdam
for a group of 100 food-loving travelers as they cruise around Alaska's most breathtaking scenery.
The first 25 cruisers will accompany Chef Arleen as she scours the Seattle food markets in search of the freshest local produce to use during her demonstrations. The same 25 will also attend a chocolate tour of Seattle and receive a gift certificate for classes at Alchemy of the Hearth.
We got a chance to talk exclusively with the cruise planners, Karen Burnham and Bob Petersen, as well as Chef Arleen herself to get the inside scoop on all the exciting classes, cocktail parties and behind the scenes events that will take place on the highly anticipated voyage next summer.
JustLuxe: What made you want to work with Chef Arleen Lloyd?
Karen Burnham:
We met Chef Arleen at a Susan G. Komen fundraising event. She was so engaging the audience couldn't get enough of her. And the food was amazing! We knew right then and there we needed to get her on board! What was so different is not only is she a fabulous Chef, but she told the history of everything she prepared.
JL: What specialties/characteristics does she possess that makes people want to learn from her?
Bob Petersen:
Chef Arleen has the ability to connect with her audience in a way that makes you feel like she's only speaking to you. She is approachable, non pretentious, funny and a human encyclopedia of knowledge. Her vast experience in both food and travel creates the perfect combination for a wonderful experience. She has the innate ability to understand the needs of her students and can adapt her teaching style to the student's level of understanding. And her giving nature lends itself to a wonderful experience and adventure.
JL: How is the cruise set up? Will there be different classes each day of the cruise?
Chef Arleen:
Prior to the actual cruise, Karen and Bob of Cruise Planners San Marcos arranged for me to lead a tour of Seattle's Pike's Place, Uwajimaya - the Pacific Northwest's largest Asian marketplace and end the evening on a sweet note touring a local chocolatier. There will be an array of classes given throughout the cruise along with a private luncheon for the group. Everyone will also receive a $100 gift certificate good towards future classes with me at Alchemy of the Hearth's kitchen.
JL: Why do you think themed cruises have become so popular recently? Are culinary cruises the most popular of the themes?
Karen Burnham:
Themed cruises have become very popular! At Cruise Planners San Marcos California, we have been organizing themed trips for a while now because they are an excellent way for travelers to experience their specific interests firsthand and culinary cruises are definitely amongst the most popular. The heightened interest in food, chefs and what they do, has created an insatiable appetite for knowledge like never before. People are interested in their food, where it comes from and how it is prepared. And, they want to learn how to do it themselves!
JL: How does the intimate size of this cruise change the experience for the audience/guest?
Bob Petersen:
What makes this cruise exciting is for our Cruise Planners San Marcos clients, we are offering the opportunity to interact directly with Chef Arleen and the Alchemy of the Hearth team. Guests will see how a professional kitchen works and to participate hands-on in many instances. By creating an environment where everyone gets to be part of the action, Chef Arleen's classes become more relevant to the guest and the experience is bar none.
JL: What dishes and/or techniques will the guests learn during the trip?
Chef Arleen:
I plan on utilizing the freshest ingredients common to the destinations we'll be visiting. Guests will learn the historical significance of cultural influences on food, the how to of selection, preparation and how to replicate the dishes in their own homes with ingredients available within their own communities. And, there will be some adventures along the way in the form of culinary contests and exploration into recipes that are close to my heart.
JL: What are some of the "behind the scenes events" that will take place during the weeklong voyage?
Karen Burnham:
There's so much that will be going on throughout the cruise from cocktail parties, to private classes, to kitchen tours, Q&A with the chef, as well as, a private luncheon for the group.
JL: What makes the pairing of a culinary theme and travel to Alaska enticing to cruise goers?
Bob Petersen:
Alaska is one of the true last frontiers! Everything is big, bold and filled with adventure. What better way to experience this destination than through its food and people.
JL: Out of all the culinary themed cruises out there, what makes this one unique?
Karen and Bob:
Chef Arleen! She is an extraordinary teacher who can transport her students into another realm. The audience will become a part of the experience as they participate in each event. Our Cruise Planners San Marcos clients know and love Chef Arleen and many have taken classes with her.
JL: Any plans to have Chef Arleen join future cruises?
Chef Arleen:
Most definitely! Karen and Bob of Cruise Planners San Marcos and I are looking into developing themed culinary cruises to Europe, Latin America, the Caribbean and River cruises.
JL: Any exciting cruise trends you see coming up?

Karen Burnham:
A focus on the destinations, or ports of call, is the new exciting trend in cruising. People are enjoying immersion cruises whereby they stay longer and overnight in ports so their experience is expanded. River cruising is very popular as you dock right in the center of town and themed cruises are always popular.
The 7-night Savor Alaska Culinary Cruise departs from Seattle, Washington on August 11, 2013. Visit
SailWithMe.info
and
AlchemyOfTheHearth.com
to learn more.