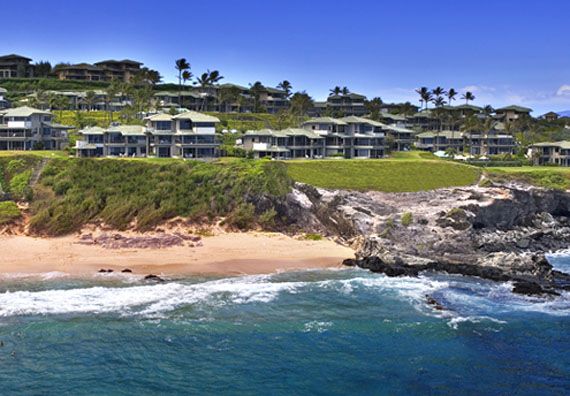 Photo Courtesy of Kapalua Resort
What's a vacation without a great hotel?
Maui offers a wealth of terrific hotels
and one of the hardest decisions you'll ever make is deciding which one to select. Based on your needs and wants, perhaps this mini guide will help.
We happily and eagerly returned to our Pacific playground last November to take advantage of the warm weather, clear skies, blue ocean and everything else that Maui offers. And it offers A LOT. From incredible restaurants serving delectable cuisine, to activities that including ziplining, jet-skiing and parasailing, to gorgeous natural beauty for walks, hikes and runs, to astoundingly beautiful resorts offering every imaginable luxury, to glorious beaches for sunning, swimming and snorkeling - Maui has it all.

Kapalua Villas at Kapalua Resort
And one place to find it all in one spot is at the Kapalua Villas - a special vacation experience located at the legendary Kapalua Resort. The setting is nestled within a 22,000-acre working pineapple plantation surrounded by emerald fairways and bordered by a dramatic coastline of lava peninsulas and secluded ocean bays.


Here, you not only get beautiful, luxurious accommodations, you get the best of both worlds: a wide range of amenities and individuality with the privacy of a resort vacation. Now a member of Outrigger Hotels, Resorts and Condominiums, the Kapalua Villas is a terrific choice if you're going to be a guest on Maui.

We stayed in Villa 34G4, which opens with a special security code (no key needed), which in itself was a great convenience. Our splendid villa offered a full kitchen with all the amenities, including coffee and a coffeemaker, plus a handsome and roomy living/dining area. The bathroom was fit for a king with an open, walk-in shower and plenty of room for two people.


Our bedroom featured a king-sized bed with wonderful linens, making nap time an added luxury. The one-, two-and three-bedroom condominiums that range from 1,200 to 1,400 square feet feature full kitchens, washers/dryers, air conditioning and daily housekeeping service.

The Premium Gold Villas offer newly remodeled kitchens and baths, granite countertops, updated furnishings, flat-screen TVs, robes and slippers, nightly turndown service and a welcome amenity. If you need more than that, then consider the three-, four- and five-bedroom luxury homes within the resort - these measure from 3,600 to 5,700 square feet. These luxuriously appointed estate homes are located in a private, gated community each with their own pool, large chef kitchens and multiple entertaining areas.


If you stay for seven nights in one of the luxury homes, the wealth of complimentary included services is astounding; including daily Hertz rental of a luxury SUV vehicle and a choice of one activity for each guest (choose, for example, from a round of golf, an in-home massage, or a zipline tour).

Also included is a Welcome Home grocery package, tropical floral arrangement, 10,000 Hawaiian Miles for Hawaiian Airlines members, Kapalua logo robe for each adult guest and a logo beach towel for each child, and many more wonderful amenities to make your stay as perfect as possible. These are amazing complimentary inclusions, by any standard.

The Hyatt Regency Maui Resort & Spa

"The Hyatt Regency Maui Resort & Spa is the resort that invented it all," says John Hernstat, Director of Sales and Marketing of the famed flagship Hyatt resort on Kaanapali Beach. This beautiful property - the largest resort on Maui - boasts oceans of amenities, including a nightly luau; the fantastic Cirque Polynesia show, the 'Tour of the Stars' on the Hyatt roof, complete with professional astronomer; tennis courts; a gorgeous pool area; and one of the best beaches on Maui, where the sun always shines and the wind hardly ever blows.

"We offer true, authentic Hawaiian aloha," says Mr. Hernstat, adding that the food and beverage here is ranked number four in the entire Hyatt company. (We couldn't agree more, just basing our ranking on the delectable fish tacos served at the resort's poolside dining venue, Umalu.)
There's even a helipad on the roof for VIPs who wish to fly to the airport. The property recently underwent a $10 million renovation to all rooms, including new linens, bedding, sofa beds, wallpaper, artwork and much more.

The best room in the house is the three-bedroom Palace Suite, a 1,600-square-foot area that costs $7,500 per night. The resort is so wonderful, one guest recently checked in for 10 weeks. He must really like this place and we don't blame him one bit.

The Sheraton Maui Resort & Spa

Attention all hopeless romantics, sophisticated citizens and fun-seeking families! The Sheraton Maui Resort & Spa is a great escape. Firts off, it's located on perhaps the best beach in Maui - Kaanapali Beach. Insiders refer to it as 'Dig Me' Beach - and dig it you will. There's superb snorkeling and warm waters that are great for easy, breezy swimming. Even if you desire more activity (parasailing, anyone?) that activity is just a few feet away.

This home-away-from-home exudes hospitality and charm. For starters, there's the on-site spa that features Absolutely Natural products and Queen Bee honey products that were created by one of the spa's aestheticians.
Then there are two great restaurants that we especially like: Black Rock Steak and Seafood and Teppan-yaki Dan, where you'll groove on the fusion. This smoke-free Starwood resort features 508 rooms and almost all of them face the Pacific.

Sundown is especially lovely here, as there's a cliff diver who does his thing, right into the drink. Watch him while you have a Mai Tai at the Cliff Dive Bar and pinch yourself that it's all real.

The Fairmont Kea Lani
The Fairmont Kea Lani in sunny Wailea is a world-class 'heavenly white' resort that is, simply, drop-dead gorgeous. Like a beautiful woman, it will seduce you with its loveliness and merit your embrace.


The stunning resort features 37 two-and three-bedroom villas measuring 1,800 and 2,200 square feet, respectively. Jessica Simpson, Owen and Luke Wilson, Kate Hudson, Calista Flockhart, Britney Spears and tons of other A-list Hollywood types have discovered that the villas at the Kea Lani offer the best of both worlds: private residences with first-class hotel services and amenities.

These beautiful retreats feature private lanai with plunge pool, barbecue grill, second bathroom, washer, dryer and well-appointed kitchen with Bosch dishwasher and granite countertops. Villa 29, for example, just a quick walk past the fragrant plumeria trees, features all of the above, including a walk-in closet and all new upholstery, bedding and drapes, as do all of the other villas. Even better - all the villas have no minimum nights required - and come with a complimentary convertible or luxury car, jeep or minivan!


During whale season, you can probably sit on your lanai and watch the show as well. The villas can also provide a private barbecue in their respective courtyards - guests can choose from a menu that they can cook themselves or the chef will come and prepare the meal firsthand.

"Yum" is the word. You can choose from freshly caught walu or opah, Maui Cattle company beef, served with an array of upcountry Maui vegetables, fresh produce, cheeses from a local dairy, and warm taro or Portuguese sweet rolls. On-site you'll also find first-class amenities that include a spa; hair salon; restaurant Ko featuring cuisine of the Hawaiian islands; and Nick's Fishmarket for an outstanding meal under the stars. You want star quality? It's at the Kea Lani - in more ways than one.

Westin Kaanapali Ocean Resort Villas

In the mood for six swimming pools? Then head over to the Westin Kaanapali Ocean Resort Villas that provide an adult pool plus five others (including a children's pool with a huge pirate ship in the middle of it); along with a fabulous Italian restaurant on the premises; a terrific market offering a wealth of local goodies; a Heavenly Spa; and luxurious accommodations.



The rooms are ideal for families and honeymooning couples and all have Jacuzzis. We toured #5213, which, at 440 square feet, features Westin's famous Heavenly Bed, a sofa bed, DVD player, flat-screen TV and kitchenette with dishwasher and full-sized refrigerator. This guest room can open up to create a two-bedroom villa. All rooms also feature a grocery-stocking service - for just a five dollar fee you can have all of your favorite yummies brought to your room, so that you'll have everything you need from the moment you arrive.


The vast resort also offers shuttle service to the Westin Maui (the hotel further down the street in Kaanapali); and a 'Stay one, dine all' signing privilege at the Westin and the Sheraton and their spas. For a custom service fee, the property can also have a chef visit your room and create a custom dinner to your specifications. There's also a special lounge area at the resort, which is ideal for guests who have to check out at the normal time, but have a late flight and still want to partake of the pool and beach. Enjoy!