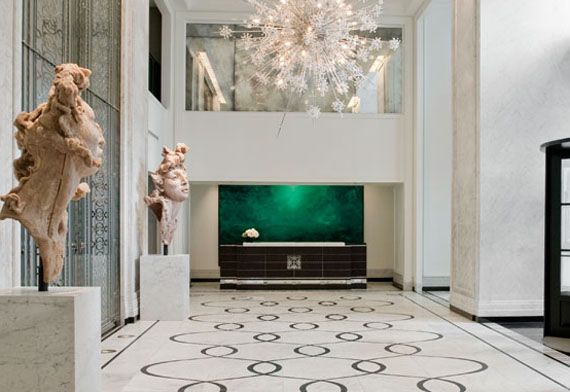 Photo Courtesy of The Elysian
Architect Lucien Lagrange designed the newly-built 60-story and 188-room
Elysian hotel
, which opened in December 2009. With Chanel, Dior and Art Deco inspired design, Lagrange brought ultra-luxury and style to Chicago's fine dining and even finer living scene.
Its heated courtyard is unusual for the States and more reminiscent of European hotels, but the sheer height of the building and spaciousness of the rooms (average accommodation is 890 square feet) reminds you that you are in North America, where size matters.



I absolutely loved the art pieces, specially commissioned for the hotel by interior designer Simeon Deary's team. The beautiful foyer with huge chandelier and two striking sculptures that resemble Greek fauns is a perfect place for special occasions and, indeed, there was a wedding photo-session in full swing when we first entered the hotel.



The platinum and champagne-colored suites and Chanel jewelery inspired lighting soothe the nerves after a day spent shopping in the near Magnificent Mile strip of Michigan Avenue. You don't even have to go that far for Marc Jacobs though - its boutique is on the ground floor of the hotel.

There's a decent size balcony and fireplace in every room and the television that can be switched on in the mirror in the bathroom is best enjoyed while soaking in the tub.



The Roman bathhouse-themed Spa & Health Club features sauna, steam rooms, Jacuzzi and offers a wide range of treatments from beauty and massages to a barber suite for men.

The gym has enough equipment to make you sweat out the previous day's indulgences while the Pilates and Gyrotonics studio offers a few classes as well as private training. The beautiful mosaic tiled swimming pool is positioned a little awkwardly - you have to cross the gym and the spa reception area - but it's worth the effort.



You don't need to leave the hotel if you want to treat yourself to an amazing dinner. The Wood Fired Burger with cheddar, rosemary, red onion and fries in the Balsan bistro was one of the most delicious burgers I've ever had. Run by Chef Danny Grant, Balsan has strong ties with local producers and sources seasonal ingredients from 65 local farms for the ever-changing menu.

The RIA restaurant next door, also run by Chef Grant, is more of a sophisticated and formal dining experience. It was awarded two stars by the 2011 Michelin Guide and the prices are steeper than at Balsan. However, every Sunday night you can experience the best of both restaurants for a bargain price of $29 per person when RIA is closed and Balsan does a special set menu.



We had Winter Lettuce (endive & walnuts), Tuna Crudo with blood orange and scallions, Suckling Pig with pearl onion and baby carrot, Lobster and Scallop with fennel and citrus butter, with Caramel Profiteroles in chocolate sauce ending our great fine dining treat.



The Elysian is definitely worth its name - in Greek mythology the paradise for souls of heroic and virtuous nature was called the Elysian Fields. The Elysian hotel also offers 52 private residences for people who wish to stay there permanently. They must not only be of a heroic, but also of a wealthy nature, as most of the residences are worth more than $1 million.

Elysian Hotel
11 East Walton Street
Chicago, IL 60611
312.952.2713
elysianhotels.com