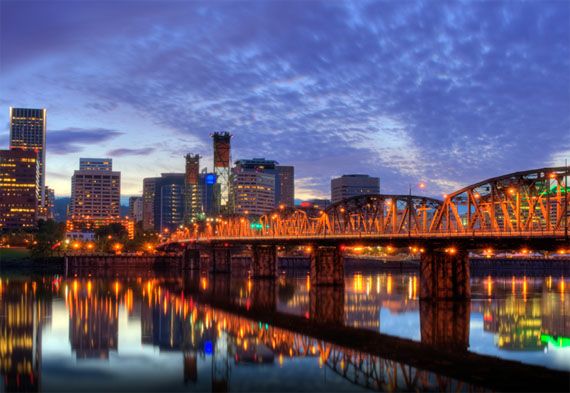 Photo Courtesy of Kimpton Hotels
Something about Portland makes it odd, and delightfully so. One mural I spotted during a recent stay proclaimed, "KEEP PORTLAND WEIRD." It's a cosmopolitan city with an intense love for the outdoors, a commitment to keeping its cuisine quirky and inspiring, and a pride for its "crunchy" art scene.



From the Asian food truck lots to the warehouse dance halls, Portland is one place to ponder and play in. Here are two of my hotel finds worth calling your home base while in the Northwest's funkiest town.
This historical hotel, part of the Kimpton collection, sits prominently in Portland's downtown district, among elite shopping stores, fun boutiques and nightlife venues. My favorite features of the hotel follow.


Art Matters
For art aficionados, a stop at the Hotel Monaco is a must. Each floor of the property showcases a local piece of artwork and the artist's biography. "Art Lives Within" is Hotel Monaco's signature story, and I was impressed by the hotel's commitment to house such an array of works. One guest service staff manager eagerly gave me a tour of a few floors, highlighting his favorite pieces. Continuing the passion for art beyond its doors, Hotel Monaco offers a Curator on Call who can lead guests on private tours of the city's most cherished art galleries.



Keeping it Comfortable
So often, I find urban hotels struggle to find ways to make guests feel cozy and cared for, like guests in a home rather than ants to track and shuttle. Hotel Monaco does a superb job of making stays more intimate and inspiring. Besides the local art works that blanket the hotel, I enjoyed the complimentary bike rentals (Portland is known for its urban bike routes). In the lobby, an impressive array of coffee and teas is served daily. Piano accompaniment and the roaring fireplace brought elements of home to my stay (Although, I'm yet to wake in my own place to a fireplace crackling and a pianist requesting my song suggestion!).


Lean and Green
True to Portland style, Hotel Monaco has a strict commitment to the environment. This has earned the property a Green Seal Silver Certification from the distinguished Green Seal non-profit organization. A few dozen hotels nationwide hold such a certification, as the distinction is difficult to achieve, as well as uphold. Increasingly, I value a property that is environmentally aware because this aligns with my own lifestyle beliefs. I have a little smile on my face knowing Hotel Monaco uses all recycled paper, soy based inks and donates unused amenity bottles to local charities, among two dozen other initiatives.

The Pampered Pooch
Few hotels treat pets as well as their human guests. The Hotel Vintage Plaza calls their in-resident pooches and cats, of any size or weight, "VIPs" (Very Important Pets), and it's clear why. Pets have access to the in-room mini bar's Frosty Paws doggie ice cream and treats, and are encouraged to join their owners at the daily wine hours. Raising the bar in their pooch prominence, the Vintage Plaza has its own Director of Pet Relations, Georgie, who assists with pet massage bookings, pet sitting services, pet playtimes and more.



Wow Wines
At the Hotel Vintage Plaza, wine is the centerpiece of connecting guests with a truly Portland experience. The vineyards, wine events and wineries calling Portland home have blossomed in the last decade. Hotel Vintage Plaza encourages the exploration of its city's wine culture with a comprehensive wine program, including evening wine hours, personalized wine tour itineraries and Wine Wednesdays, featuring boutique wines. I loved the hotel's private label Oregon Pinot Noir and was equally impressed by the wine cork-recycling program. If I attend the Portland Indie Wine and Food Festival next year, I can't think of a more ideal hotel to compliment the trip.



A Pearl of a Place
One of my favorite aspects of a hotel located within a city is its proximity to the doorstep of urban adventures. The Vintage Plaza rests on one of Portland's most happening hot spots, the Pearl District and affords any guest to navigate the city easily by foot. I discovered an adorable (and popular) burger joint, Little Big Burger, on my way from Powell's City of Books, a Portland legend. I also had the pleasure of staying at the Hotel Vintage Plaza during "First Thursdays," where I found galleries and artists displaying new works and openings all throughout downtown.
Hotel Monaco Front Entrance
Hotel Monaco Lobby
Hotel Monaco Guestroom
Vintage Plaza Front Entrance
Vintage Plaza Garden Spa
Vintage Plaza Starlight Room