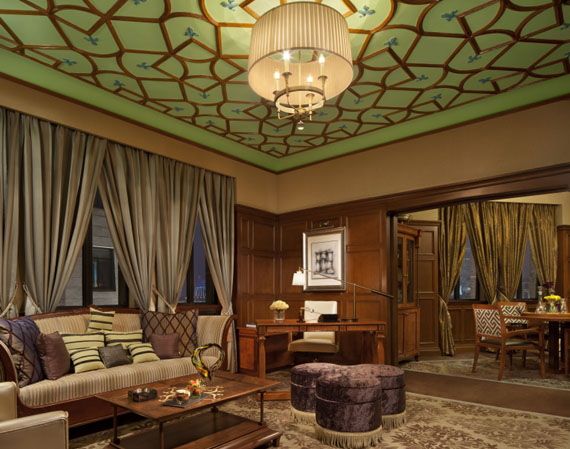 Photos Courtesy of Fairmont Hotels
Theme suites can be a mixed bag but the Nine Nations Suites in Shanghai's Fairmont Peace Hotel are meant to be true expressions of some of the world's great nations and cultures. The Nine Nations Suites, several of which were a part of the original hotel—then known as The Cathay Hotel-- when it opened in 1929, were the creation of the founder Sir Victor Sassoon. Sassoon, a businessman from a famous banking family, was a bon vivant who lived in Shanghai and often hosted known figures such as Charlie Chaplin, Bernard Shaw, and Noel Coward, who wrote "Private Lives" while in residence. It was a heady time to live in Shanghai as the city rose to global prominence. The Cathay Hotel was considered the top luxury hotel in the city for decades.
The new suites, designed by leading hospitality interior design firm HBA / Hirsch Bedner Associates, reflect the international nature of The Peace Hotel and the spirit of 1930s luxury travel. The Chinese, Indian, English and American suites have been preserved from the original Peace Hotel, and the French, Italian, Spanish, Japanese and German suites have been redesigned by HBA in keeping with the original concept of presenting different national and historical styles.
Each suite has a living room, dining room, bedroom and bathroom. The suites have spectacular views of the famous Bund and the Huangpu River across to Pudong. Each suite has its own charms:
The American suite has a vintage Hollywood glamour theme.
The English Suite goes Victorian with paneled walls, brick fireplaces and molded plaster ceilings.
The Chinese Suite features an Imperial dragon design on the scarlet ceiling, complemented by red lacquer furniture offset by gold-colored walls.
The Italian Suite evokes modern Italian design and has a marble bath room has a deep claw-foot tub with a bath-side LCD screen and a whirlpool.
The Japanese Suite has tatami mats, shoji screens and furnishings suggest traditional Japanese design motifs.
The French Suite presents an Art Nouveau style with classically figured wall paper, walnut carved furniture and luxuriously designed fabrics.
The Spanish Suite features rich patterns and solid wood furniture and a bathroom with a claw-foot tub with bath-side LCD screen and a whirlpool.
The Indian Suite has intricate filigree plaster work on the walls, ceilings from which hang extravagant pendant lights and rich Indian carpets on the floor.
The German Suite incorporates elements of German minimalist design, highlighting strong natural materials with an emphasis on functionalism.
For more information, please visit fairmont.com
Fairmont Hotels


English Suite at the Peace Hotel

Chinese Suite at the Peace Hotel

French Suite at the Peace Hotel

Spanish Suite at the Peace Hotel

Indian Suite at the Peace Hotel

Italian Suite at the Peace Hotel