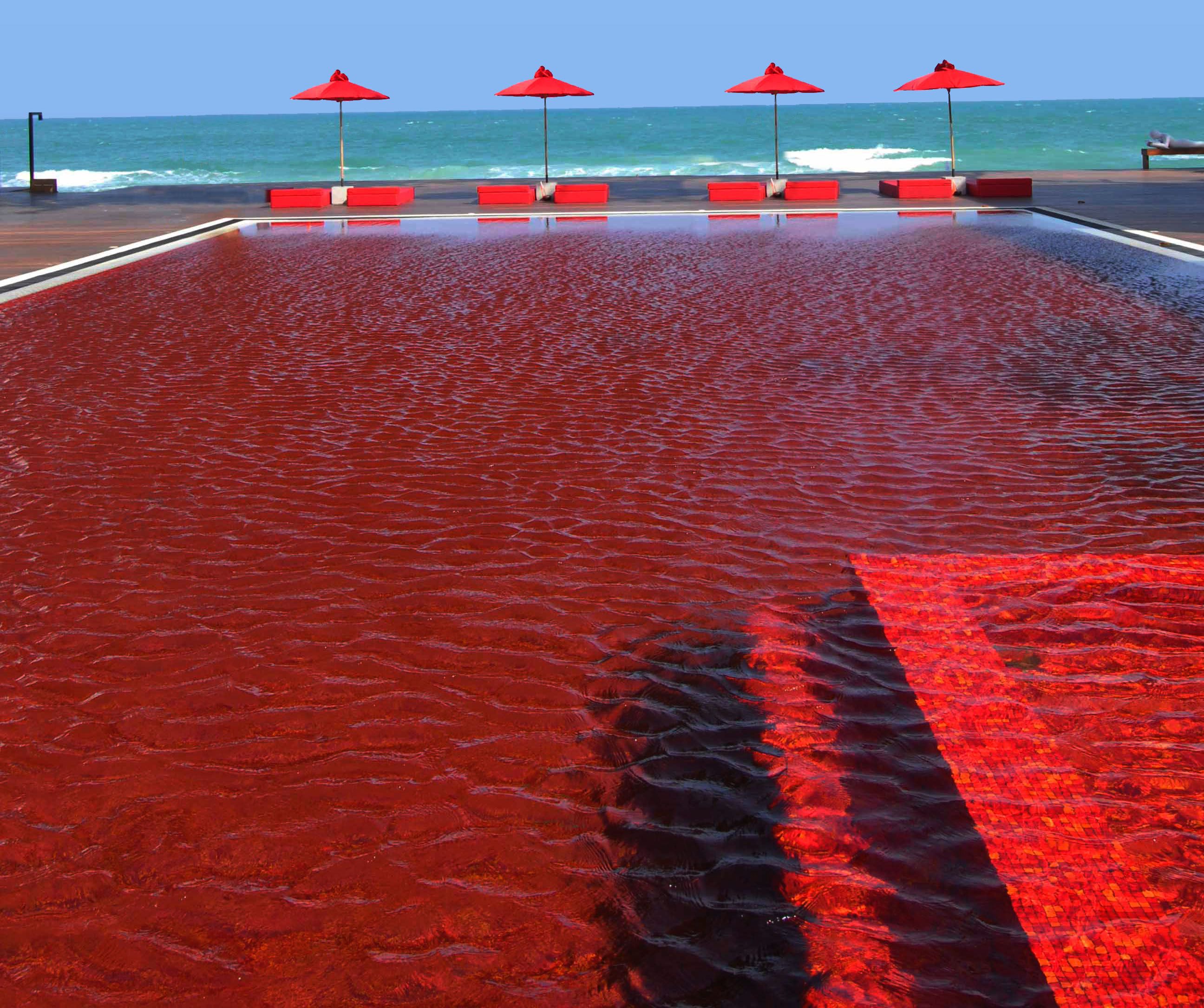 Photo Courtesy of The Library
Nothing quite says "summer" like going for a nice relaxing swim. But with these
hotel pools
, don't be too quick to jump in. From gravity-defying swim spots set atop skyscrapers to illusive infinity pools, prepare your inner daredevil for a dive. Making a splash for their unique take on the classic swimming pool, our picks for some of the world's most insane hotel watering holes are sure to keep you on your toes.
Photo Courtesy of Holiday Inn Shanghai
Holiday Inn Shanghai Pudong Kangqiao, China
At what just might be the world's most precariously positioned pool, there is no need to make waves to turn heads (we'd be scared to!). Designed by a team of architects and aerospace experts, this suspended glass-bottomed pool is set sky-high above bustling Shanghai. The first of its kind in China, the pool is sworn to be safe, though a little uncomfortable to look at. Hung 24 stories above the street, the pool was built so guests could hang out and feel relaxed, even among the chaos of the city. Wonder how that is working out...
Photo Courtesy of Marina Bay
Marina Bay Sands, Singapore
At more than double the height of our first pool, the Marina Bay Sands hotel in Singapore thought it was a good idea to place their pool at a whopping
57
stories above the ground. You are looking at an
infinity
pool no less, although if you teeter off the side it might be better called an eternity edge. Pitched above the horizon, with panoramic views and an edge that seems to slide right into the abyss of the skyline, the hotel is absolutely picturesque. A shocking lack of anything remotely resembling a safety harness however makes this pool a daredevil's lair. While the inviting lounge atmosphere is prime for unwinding, swimmers with the slightest fear of heights might find loosening up here challenging.
Photo Courtesy of Hotel Villa Honegg
Hotel Villa Honegg, Switzerland
Chill out at this Swiss swim spot that might suit Santa when it comes to warmth, but is certainly not for the faint of heart. The resort not only reaches arctic temperatures mid-winter, but also hangs off the side of an ice-crusted mountain, making the pool a two-for-one-deal for adventure seekers. While the surrounding views might be pretty enough to distract swimmers from potentially losing a toe or two to the biting cold, it did not distract the hotel from taking precautionary measures and building another pool indoors, with heat and an underwater music system (just for consideration).
Photo Courtesy of the Hilton
Hilton Auckland Hotel, New Zealand
At the Hilton's glass-fronted swimming pool, go down under and say hello to Auckland's "only underwater viewing point," according to the hotel. Jutting out from the hotel's 4th floor, the suspended lap pool offers in-depth views of the harbor so guests can fancy themselves swimming with the sharks, if they so please.
Photo Courtesy of Alila Uluwatu
Alila Uluwatu, Bali
Calling all cliff-scaling swimmers! Well, not really since this is located in a pristine resort. You can't argue that this is a spectacular infinity pool nonetheless, with a heart-skipping view. Adventure seekers will enjoy the feeling of seeming to float in space above the horizon. In actuality of course, the pool is an illusion, and is probably as dangerous as a Jacuzzi (and equally relaxing). With 164 feet of serene waters great for soaking up the sunset, the scariest part of the scene might be the Hannibal-looking cabana overlooking the pool; the "cage" is actually a star-gazing spot for patrons.
Photo Courtesy of Swala Retreat
Sanctuary Swala Camp Retreat, Tanzania
What is a safari vacation without a splash in a local watering hole? Located in Tarangire National Park, though exclusive, this pool is not exactly private...the spot is quite popular among prestigious patrons for whom the area is home. And who exactly are these natives? Large herds of elephants, wild-eared foxes, and tree climbing lions, to name a few. Hope you don't mind a few blood-thirsty animals roaming about.
Photo Courtesy of Ubud Hanging Gardens Resort
Ubud Hanging Gardens Resort, Bali
In this Balinese paradise, letting cares slip away should hardly be problematic. Especially at the resort's two-tiered infinity pool that appears smooth enough to slip right into the surrounding jungle. Contouring the landscape, the elevated swimming hole gives guests a Tarzan-style spot to take a dip; tree scaling tactics thankfully are not necessary.
Photo Courtesy of The Library
The Library, Thailand
Nothing says "creepy" like the crimson colored pool at Thailand's contemporary hotel, The Library. Set steps from Chaweng Beach in Koh Samui, the red water of the courtyard swim spot may look more like a shark massacre than a relaxing place to take an evening dip, but don't lose an arm and a leg trying to decide whether to get in. The red water of the pool is not really sinister, but is a design quirk that keeps with the cutting-edge aesthetic of the hotel.
Photo Courtesy of Perivolas
Perivolas Santorini, Greece
Widely considered one of the world's most photogenic pools, while the Perivolas pool in Santorini seems the perfect ocean swim spot, props to the pool for its ridiculous ability to melt into the view. Set atop ancient cliffside ruins, the famous infinity pool that has graced many a magazine cover, rivals the equally iconic (but much colder) Aegean Sea below.
Photo Courtesy of San Alfonso del Mar Resort
San Alfonso del Mar Resort, Chile
Swimmers might feel less like playing Marco Polo and more like they're caught in a giant game of "Where's Waldo" in this South American pool that covers nearly 20 acres (that's more than 20 Olympic sized pools). Thankfully, no need for Michael Phelps muscles in this whopping watering hole that holds 66 million gallons. The hotel offers sailboats, jet skis, and scuba-diving gear to patrons, so doing laps around what the
Guinness Book of World Records
has not only named as largest, but deepest (115 ft.) pool, should not be an Olympic feat.