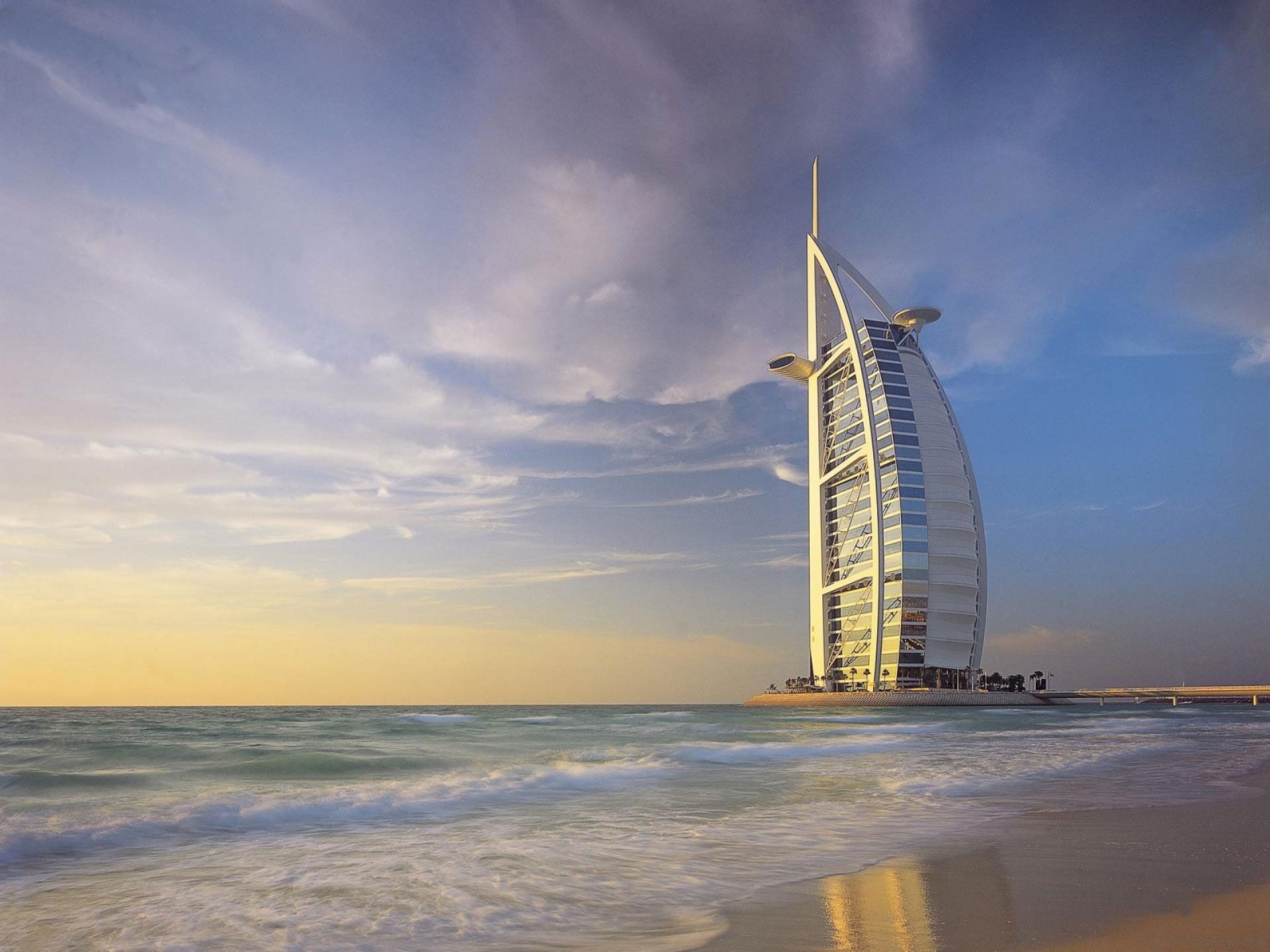 Photo Credit: Burj Al Arab
The luxury hotel space is competitive but players are stepping up to the plate to keep up with rapidly evolving consumer demands. Here we investigate some on the cutting edge and what's ahead. Last month, in conversation with Robert Cheng, Group VP Marketing of the prestigious Peninsula Hotels Group, despite the plethora of exciting initiatives in the pipeline for the company, we found ourselves continuously drawn back to a particularly prevalent discussion on technology, innovation and their place in the luxury hotel space.
Keeping the balance between innovation, customization and still maintaining that personal touch – which so often sets high-end hotels apart from the rest – is always top of mind, according to Cheng, and the risk of taking technology too far is always present. Nevertheless, the increasing use of technology across the board in the luxury hotel space is a trend which is impossible to ignore – and the appetite for futuristic additions to the luxury hotel experience is palpable, particularly from the lucrative millennial set.
Photo Credit: Rangali Island Resort
As Jérôme Destors, Director of Hotel IT at technology firm Amadeus, stated in its report Hotels 2020 – Beyond Segmentation: "Unique, connected, informed are just three watchwords that define the hotel guest, both today and in the future. Hence, understanding a customer is a strategic imperative for hotels in today's world. We are operating in an era of unprecedented change. Brands that don't recognize and respond to this run the risk of falling behind the competition permanently."
So the question today is two-fold – how are luxury hotel providers currently innovating and what can be learnt from their pioneering advances and; what does the future hold for the hospitality space?
Photo Credit: The Peninsula Tokyo
Two Heads Are Better Than One
First and foremost, when we hear 'future', often we think digital, smartphones, space travel. But innovation can also be more than just technology on its own. Cutting-edge concepts that challenge the norm and offer new, exciting and exclusive options for the luxury consumer are often borne from forging inventive partnerships with like-minded entities and breaking new ground.
The Peninsula Hotels Group, for its part, has "never been afraid of technology" says Cheng, and has employed a dedicated research & development team for 30 over years to constantly scan innovations occurring across the globe and trial and adapt viable technology and concepts to suit the group's properties. But a perfect example of the aforementioned balance between technology and a personal touch materialized when the group established an innovative and exclusive partnership with online luxury fashion retailer and publisher NET-A-PORTER.com earlier this year. The tie-up saw the two collaborate to create a series of stylish mini guides to the world's most dynamic gateway cities.
The exclusive style savvy bite-sized guides were published on the respective hotel's section of The Peninsula website (peninsula.com), and featured in the travel section of NET-A-PORTER.com's fashionable The Edit magazine (net-a-porter.com/peninsula) during the week of launch.
Photo Credit: The Ritz-Carlton, Bali
According to Cheng, the duo will reunite again shortly to publish the next five in the series during New York Fashion Week in the Fall. But, as he hinted last month, "There's more to come there, so stay tuned!" The Marriott Group is also pushing ahead, with research emanating from its 10,000-square-foot Innovation Lab and an Innovation Team, which is continuously brainstorming about what the hotel of the future will entail. These meetings of innovative minds have since resulted in a range of out-of-the-box tie-ups such as a recent expansion of its partnership with TripAdvisor to add Marriott's global hotel portfolio to the TripAdvisor Instant Booking platform from this summer, capitalizing on the increasing shift in consumer behavior to trust recommendations from fellow guests over straight advertising.
Marriott and Netflix also officially announced a deal last month, which will allow guests to log in or subscribe to the streaming service via Internet-connected guest room TVs across several Marriott properties. "Our collaboration with Netflix responds to changing consumer preferences in the way our guests access and watch content, while recognizing the leading role Netflix is playing in driving this transformation," Matthew Carroll, Marriott's VP of brand management, said in a statement.
Photo Credit: Starwood Hotels & Resorts
Back To The Future
Starwood Hotels & Resorts Worldwide has, similarly, joined the ranks with the launch of its own high-tech design lab – Starlab – at its headquarters in Stamford, CT earlier this year. The company has gone on to become the first to offer keyless hotel room entry, allowing guests to check in via their iPhones (or Apple Watch), and the group began trialing a robotic bellhop , dubbed Botlr, across its Aloft hotels in Cupertino and Silicon Valley in August last year.
Botlr, a three-foot high robot in the vein of R2-D2, allows guests to send request items – ranging from toothbrushes, smartphone chargers, magazines, newspapers and even snacks – from their smartphones, which can then be delivered by Botlr within two to three minutes. When the robot reaches the guest's door, the system calls the room, alerting the guest to the delivery.
Starwood is also in the midst of a roll-out for its smart-mirror concept, which offers guests immediate access to the weather, news and sports scores with a touch of the mirror's surface. A Bluetooth connection can also be accessed to link the guest's phone so they can see their Twitter feed and other alerts directly on the mirror, which is powered by Panasonic technology.
Photo Credit: Oculus
No doubt the Starlab innovation team has also had plenty to do with Starwood's recent interest in the Oculus Rift virtual-reality headset – bought last year by Facebook for $2bn – which Starwood reportedly aims to roll out to its Element gyms progressively in the near future. The Amadeus report confirms that while technologies such as augmented reality and mind control headsets are already with us and are set to spread, "developments such as gesture interfaces and 3D mobile phone displays could also be common by 2020".
Gesture interfaces for one, have the potential to drastically change how we view and interact with information and although the technology does exist – gestural interfaces have been developed by firms including Microsoft's Kinect and Oblong Industries – this is still largely undiscovered territory for the hospitality industry. Facial recognition though, is in the early stages of roll-out across the hospitality industry, with Universal Studios Japan one of the first hotels to make use of the technology in partnership with NEC via its NeoFace® Watch solution.
Photo Credit: NEC
NEC NeoFace® Watch
NeoFace Watch uses cameras installed in and around the hotel to recognize the faces of guests, check registered guest information, identify VIPs and undesirable guests, and alert the hotel staff Alerting staff to the arrival of a VIP (via mobile or otherwise), before they check in allows the hotel staff to implement smoother and more appropriate check-in procedures, according to the firm. The recognition takes less than a second and it can be integrated with the hotel's loyalty and customer relationship management system so that customers can begin to be catered to in a tailored fashion as soon as they step through the door.
However, it is essentially an opt-in program and guests decide whether if they want to be part of the hotel's database. "Ultimately, we're not selling facial recognition, we're selling enhanced customer experience that's enable by face recognition," explained Allen Ganz, senior account development for the biometric division at NEC North America when queried. Indeed, according to reports, the customer response has been positive to date and some 500,000 guests have been enrolled in the Universal program since June 2014 with the numbers growing steadily.
Photo Credit: Marriott
Mobile Aspirations
While there are many opportunities available for further evolution, mobile is one area where luxury hotels have excelled of late. Marriott International introduced a new feature to their mobile app this month with Mobile Request, which operates by offering guests a chat function to make real-time requests at individual hotels and to have immediate responses and interaction. Additionally, a drop-down menu also allows guests to request services and amenities, such as extra towels and pillows.
Initially available to 46 hotels worldwide, the new feature will eventually be rolled out to all Marriott hotels this summer and will be available to the 50 million members of Marriott Rewards, the company's loyalty program. Dubai Marriott Harbour Hotel & Suites in the UAE, Amman Marriott Hotel in Jordan and Cairo Marriott Hotel & Omar Khayyam Casino in Egypt were some of the first hotels to get the app.
Photo Credit: Four Seasons
Following in the footsteps of Ritz-Carlton, Starwood, and Marriott, The Four Seasons also just released a new mobile app, a multi-functional global app which acts as a 'do-everything concierge', catering to guests' every whim – from checking in and out, to ordering room service, housekeeping and laundry, to requesting a car from the valet. Guests can also book luggage pickup and airport transfers or use the content-rich application to peruse local recommendations on individual destinations, curated to their 'moods'.
Unlike other hotels, The Four Seasons has also set itself apart by not only offering the app across its 94 properties across 39 countries, but also making it available to all users, not just those in the loyalty program. The luxury chain also plans to release a Simplified Chinese version of the application next month (August 2015), and a special version tailored to the preferences of Chinese travelers will reportedly be issued by the end of the year. Four Seasons also has plans to provide the app in additional languages down the road, starting with Arabic. However, it's interesting to note that Cheng reveals that the Peninsula Hotels Group opted out of the app race – on purpose – to cater to its niche customers' preferences.
"On purpose – we did not do a native app," he says. "Because we felt that we wanted to make sure that we were at the guests' disposal in terms of them being able to get access from their mobile device, but our guests didn't want extra real estate on their phones dedicated to a Peninsula App, so we did the next best thing and gave them a mobile-optimized site."
Photo Credit: Belmond Governor's Residence
Switching Off
On this note, it's clear that while looking to the future is essential – listening to the customer is paramount. Not all customers check into a luxury hotel to be catered to by technology and stimulated by curated content and box-breaking collaborations. Some of them may just want to switch off.
As Jonathan Ford, Founding Creative Partner at Pearlfisher recently pointed out – a survey by BCG claims that 51 per cent of US luxury consumers are now looking for 'these enriched experiences' over product, and a new and growing experiential luxury movement is tapping into this. "Consumers are seeking new ways to take time out, slow down, contemplate and appreciate," he says. So, while some hotels are speeding ahead into the future, other luxury operators are experimenting with the opposite and leaning towards a more traditional, yet inspired, offering by allowing guests to truly power off and enjoy the serenity.
Photo Credit: Villa Stéphanie
Villa Stéphanie
German luxury resort Villa Stéphanie is one such operator which offers its guests the option to activate an Internet kill switch in each guest room – marking one of the first times a hotel has offered such a 'digital detox'. Check into the Villa and the flick of a switch activates a Wi-Fi grid blocker, which will actively block approximately 96 percent of Wi-Fi signals, and limit texts and tweets.
Eco-hotel, The Adrère Amellal, near Siwa in Egypt has gone a step further and actually banned mobiles from public areas of its premises to ensure that its up-market hotel guests – which have included Prince Charles and the Duchess of Cornwall – are not bothered by ringers, texts or loud phone conversations while on vacation.
The resort – which also has no electricity – only allows mobiles inside the bedrooms, and is made entirely from traditional materials such as salt-rock and palm leaves, relying entirely on torches, beeswax candles and stars to illuminate its 40-rooms, which reportedly start at £460-a-night.
Photo Credit: Adrère Amellal
The Adrère Amellal in Egypt
While these customizations may not be the initial images that spring to mind at the sound of the word 'future' – it's far from a long shot to imagine that in years to come, luxury hotels may choose to go down one of two paths – one, leveraging innovative partnerships and technology to trail-blaze modernity, or the other – to offer their guests an opulent and organic respite from a world which is increasingly connected and buzzing around the clock.
One thing, however, is for certain. Wherever luxury hotels choose to innovate next – it will be exciting, because a segmentation is in process – and, as the Amadeus report suggests – it's all based on personalization, where the guest is given choice over almost every aspect of their hotel experience.