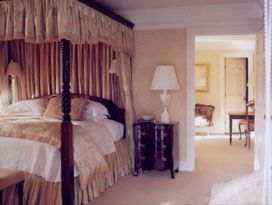 Luxury Hotels:
It starts with the bed. Ah, bed, the glorious bed that we experienced in Suite 50 at the Mayflower Inn. If you've ever wanted to be cushioned in a cocoon of comfort, the Mayflower Inn is hard to beat. My husband Bill and I snuggled down in one of the softest, thickest, feather beds we'd ever experienced - and it set the tone for our entire stay.
I had read all the reports about the Mayflower Inn a few years ago - everyone raved about this Mobil Five-Star property, one which is also a Relais & Chateaux (offering their signature five C's: Courtesy, Charm, Character, Calm and Cuisine-
relaischateaux.com
). The Mayflower Inn doesn't disappoint in any way - the entire property oozes unabashed elegance. It offers 21 rooms and nine suites that are all romantic retreats. It's a quaint, quintessential New England country inn worth exploring.
Our suite, located in a private newly-built home on the property, featured a library of books; a decanter of wine and Granny Smith apples to welcome us; two fireplaces; two full bathrooms outfitted with double marble sinks, a scale, Red Flower amenities (the best!) and needlepoint rugs; robes and slippers; a canopy four-poster bed; Regency wallcoverings; fine antiques; and more tassels than you can shake a swatch at. It was a homey haven, indeed.

Located in the idyllic town of Washington, Conn., the spa is less than two hours from New York City, and a three-hour ride from Boston. Nestled among 58 acres of gardens, this property offers luxurious accommodations in a picturesque setting, surrounded by 3,000 acres of nature preserve. The property is also one of the few in the country to receive the Mobil Five Star award for both its inn and spa - making it a truly distinctive destination. Read more about the fabulous Spa here.

Lunch and Munch
The food at the Mayflower Inn is sensational. One of the great advantages of visiting the Mayflower Inn's restaurant is that you get a choice of two menus - the spa menu, as well as the Relais & Chateaux menu, so you can experience the best of both worlds and never feel guilty. On our first night, my husband Bill and I fell head over heels in love with the spa-cuisine Bibb salad - a mélange of lettuce, crisped scallions with a hint of blue cheese - we ordered not one, not two, but three of them our very first night, they were so delicious, and just 94 calories each. It preceded our entrees of roasted salmon and Nantucket scallops followed by a chocolate lava cake with a chocolate-hazelnut liquid filling. Scrumptious.


The next afternoon at lunch, I again order the Bibb salad, with a salmon paillard done to perfection. That night we stuck to the spa menu - minted sweet pea soup (122 calories); heirloom tomato carpaccio (94 calories); salmon en papillote (369 calories), a 130-calorie cr?me brulee and a 110-calorie berry tart. I felt so virtuous that the next afternoon, all in the name of journalism, of course, I felt obligated to try the homemade tarragon sea-salt chips that accompany the lobster roll, and the handcut Parmesan and rosemary French fries. Decadently delicious.

No matter what you order, it's going to be divine, and worthy of that Mobil Five-Star rating. The inn also works closely with local organic farmers and seafood purveyors to create an authentic and imaginative dining experience.

Check It Out

Mini-luxe two-night getaways start at $1,750. Mini-luxe three-night escapes start at $1.950. Above and Beyond three-, four- and five-night all-inclusive packages start at $4,800. Room rates range from $520-$800, while suites range from $850-$1,600. Through Dec. 31, 2009, you can take advantage of the "Stay Four Nights and Get the Fifth Free" package, which is offered Sundays through Thursdays, and require a five-night minimum stay. Rates for this start at $520 per night.

I highly recommend going in Fall, to view all the wonderful foliage surrounding this inimitable escape. It's ripe for discovery!

For more information call (860) 868-9466.

Read our review of the Mayflower Inn Spa here.

By Debbi K. Kickham and William D. Kickham. Esq.
JustLuxe Contributors
Marketingauthor.com

The Mayflower Inn

The Mayflower Inn

The Mayflower Inn

The Mayflower Inn

The Mayflower Inn

The Mayflower Inn