By Katherine Bond Feb. 1st, 2011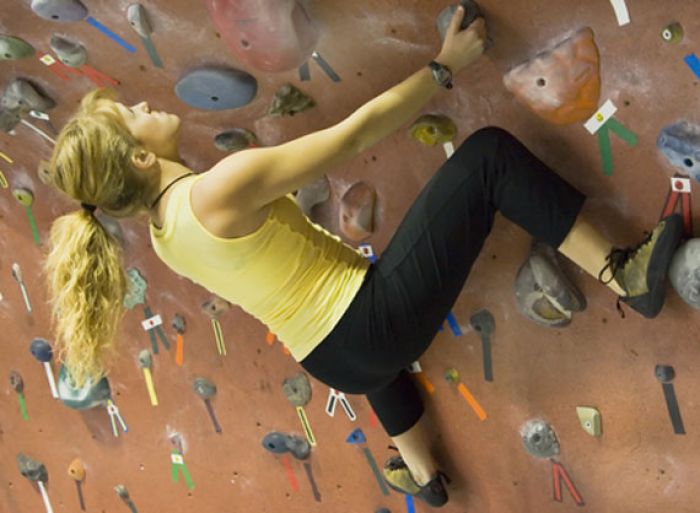 If there's anywhere to go to become fit, it's Orange County. The OC continues to glow with media attention and buzz as one of Southern California's hottest areas for hot bods. For the start of the New Year, I decided to gather up some the OC's best offerings for obtaining the
ultimate physique
. Here are my favorite finds:
Rock On
Lifting and pulling weights and dumbbells always seemed dull to me. I've discovered that rock climbing is a superb way to buff up my arms and enjoy a thrill. Orange County's Rock City Climbing is so convinced you'll love suspending from a rock face that the intro climbing class, Climbing 101, is free to new members.

Rock City Climbing's indoor facility is a massive room cloaked floor to ceiling with "rock walls" dotted with colorful knobs and foot holds. A range of offerings, from Bouldering and Spotting to Crack Climbing, keeps novices and pros fans of the "City." For extra adrenaline boosts, try the Sport Climbing Class, which keeps participants moving quickly between belaying, catching falls, and clipping in. Despite being in the warm Southern California region, Rock City Climbing will soon offer Ice Climbing. Grab your pick!
Learn more at www.rockcityclimbing.com.

Mind over Matter
Many fitness professionals advocate that achieving a healthy physical state is related to having a healthy mental state. Now, just thinking yourself thin may actually make one thin, according to a new technique hailing from Europe: Virtual Gastric Band Therapy. Instead of the invasive gastric band surgery which physically inserts a constraining band over the stomach, the Virtual Gastric Band Therapy uses the visualization of the surgery to achieve the same weight loss goals.

In the OC, William Engle, a Certified Clinical Master Hypnotherapist with over 26 years experience in the field of Hypnosis, is leading the region in this relatively new technique which substitutes the scalpel for sessions. Thus far, clients are raving about the results, which also come with a price tag much easier to swallow.
Learn more at www.virtualgastricbandorangecounty.com.

Calorie (burn) Camp
Boot camps have become more commonplace than joggers with iPods, it seems. Yet, OC Boot Camp has an approach that sets it apart from the other herds of huffing exercisers in boot camps; it's just women. The four-week, five or three day a week programs are designed for women of all fitness levels. Even better, each camp session is a whirlwind of fitness experiences, from Sport Yoga to hiking, Spencer Pilates to obstacle courses. Whichever camp one selects, OC Boot Camp gives a Pre-Camp Evaluation to each participant, which includes a medical history review and a few simple measurements. OC Boot Camp claims that it's not uncommon for participants to drop three to eight percent of their body weight within a month-long camp. Sign me up!
Learn more at www.ocbootcamp.com .
Katherine Bond
Katherine Sutton Bond is a freelance travel and luxury item writer for Justluxe.com. She's traveled the world and sampled some of the leading hotels and destinations of the globe. She often covers luxury events and technology. ...(Read More)