By Eric Rosen Apr. 13th, 2011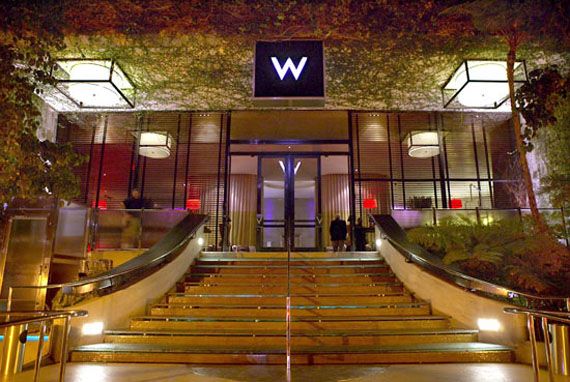 W Los Angeles-Westwood
Do you ever get the feeling that you always have a much better time when you travel to other cities than you do when you just stay at home?
When we travel, we feel like much more interesting people; we visit museums, we eat at great restaurants, we see the best new shows, we take in a concert or two, we try new activities and we meet interesting people. Sometimes when we're stuck in L.A., we just feel, well, stuck.


Well, we refuse to feel boring any longer and thankfully to help us out, the W Los Angeles - Westwood has just launched a daring new program called the WIP Platinum Membership Program. This elite membership club for non-hotel patrons means we can take advantage of all the interesting facets our dynamic city has to offer.

Sort of like the W's "Insider" program, the elite WIP (which stands for "W Important People") Platinum program includes use of the hotel's "Whatever/Whenever" concierge service, exclusive access to special events and food and beverage perks at the hotel.


Specifically, among other perks, WIP Platinum Members are invited to use the WET pool whenever they like; and Monday through Thursday, as well as during the Summer Cinema Series, WIP members receive complimentary full-day cabana rentals. On the Friday and Saturday, members get discounted cabana rates and up to two complimentary chaise lounges on Saturday and Sunday (except during the hotel's Summer Sunday pool parties).


Use of SWEAT gym's state-of-the-art exercise equipment at any time of day is also included. The gym has all the usual cardio equipment tricked out with individual built-in plasma cable TV's, as well as additional complimentary amenities such as bottle water, lemon-scented towelettes and clean workout towels.


In the winter, the package includes complimentary skate rentals at CHILL for up to two guests each visit. Perhaps the best perk? Free valet parking, including overnight stays (which means you might just make back the membership fee in just a few well-timed visits).

Now for the discounts: WIP members will get 25 percent off the best available rates on "Spectacular" class rooms at the hotel, plus an automatic upgrade and free WiFi during their stay. They receive 20 percent off dining at any of the hotel's restaurants and bars, as well as preferred seating options when booking with 24-hour notice.

They also get a 20 percent discount off the Bliss products used in the hotel's Bliss Los Angeles spa. Finally, members are invited to exclusive WIP Platinum members-only quarterly events, along with other special private events held at the hotel.


Not just anyone can join, though. You have to fill out an application and, if accepted, pay the $1,800 annual membership fee. When (not if) you do get accepted, though, as a new member, you receive a fabulous welcome packet that includes offers for one-time benefits including a one-night stay in a "WOW" suite, breakfast for two at the hotel's tony NINETHIRTY restaurant, one "blissage" spa treatment at Bliss, a personal yoga session, a personal workout session, and two tickets to an event at the Geffen Playhouse. Two cardmembers are allowed per membership.

Find out more information here or go right to the application page.

Just remember, only a limited amount of memberships are available each year, and the W Los Angeles's Membership Committee only reviews applications and selects new members just once a year, so be sure to get your application in when the process begins in May.

See you at the cabana!

W Hotel - Westwood
930 Hilgard Ave.
Los Angeles, CA 90024
310.208.8765
www.wlosangeles.com
Eric Rosen
Eric Rosen lives in Los Angeles and writes about food, wine, travel and adventure... usually in some combination of the four. He regularly contributes to Los Angeles Confidential Magazine, Condé Nast's HotelChatter and Jaunted, TravelAge West, Palate Press, Frontiers, Edge and Wandermelon. His work has also appeared in the L.A. Times. When he is not exploring the Los Angeles dining scene, Er...(Read More)