By Eric Rosen Jun. 3rd, 2011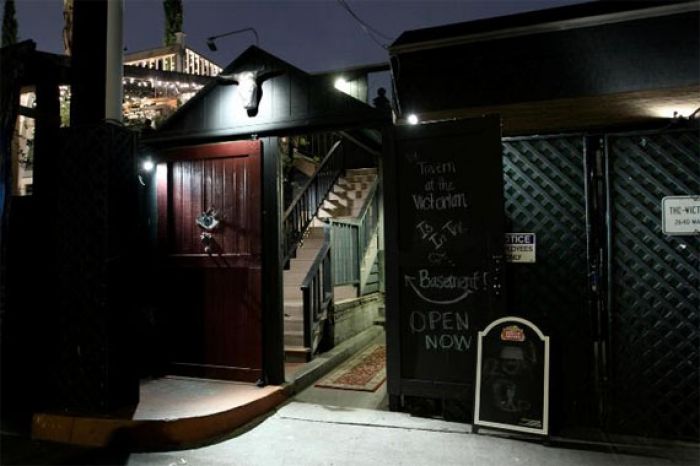 Photo Courtesy of Basement Tavern
When it comes to drinking dens, Los Angeles has no shortage of throwback
speakeasies
. It's almost as though Angelenos like to pretend it's Prohibition again, guzzling classic cocktails in hidden watering holes with like-minded drinkers.
It's a hint of illicit danger in the air mingling with the scent of home-brewed bitters and farmer's market garnishes lining the tops of the bars. Most of these warrens of sophisticated inebriation tend to be on the Eastside and downtown, populating the cement stretches of Hollywood, Downtown, and everywhere in between.


But sometimes when we're on the Westside, we need a clandestine tavern to soak our sorrows, so one of our recent favorites is Basement Tavern on Santa Monica's Main Street, which brings a breath of fresh, salt-tinged sea air to the speakeasy scene. Unlike our Eastside mainstays, the vibe here is decidedly less conceptual (read: more fun, laidback and lively). And unlike its fellow mixology meccas, Basement Tavern actually has a bit of
history to it since it's in the basement (of course) of the Victorian House, an 1891 mansion.

Though the Victorian House has been one of the city's premier event venues for ages, it's only been about a year now that it's gotten new life with the advent of Basement Tavern. That doesn't mean you won't still find a friendly ghost or two hanging around (one is named Delia and she's the spirit of a woman who used to live here, while we hear the other is a man who hangs out in the building's nether regions watching over the comings and goings with benevolent bemusement).

There's nothing like a cocktail with a phantom twist - and we kind of like to think of them as the ghosts of awesome nights out past.

What To Drink
You'll find us here on Tuesdays, when the parking lot is full of L.A.'s finest food trucks - though on the other days of the week, we still stop by for one of the simple bar dishes they serve up like the tacos al pastor with pico de gallo, or the lamb kabobs with mint cucumber raita and harissa aioli. Always with a side of truffle parmesan fries, please.


All that's just a preamble to the hand-crafted cocktails like the Basement Manhattan with rye, Dolin sweet vermouth, and Merryvale Antigua; the C'est La Vie with Pearl Vodka, mint, citrus, berries and Champagne; and the Chuck's Cup with tequila, Baron Jäger, kiwi, and a volcano salt rim.

We get a group of Westside imbibers together and rent out the glass-enclosed "fishbowl" room where we also get to test out beta versions of new Wii games thanks to the owners' connections. And there might be some karaoke involved, but usually we're just there to hear the local bands that come to play several nights a week.

For those who get a little claustrophobic in subterranean spaces, there's also a beautiful martini bar with crystal chandeliers on the ground floor and a patio out front with twinkling lights strung from the massive overhanging trees.

Sunday Fun Day
This summer, Basement Tavern is also drawing in the crowds with a quirky-themed party on the first Sunday of each month. June's theme is "80s Movies Starring Tom Cruise," with an emphasis on...wait for it...cocktails. Of course. No throwing bottles in the air and hustling at pool, though, you hear? However, if you make a move on Elisabeth Shue, we won't stop you.


Those feeling the need, the need for speed, that is, can come as Maverick and Goose - preferably pre-sweaty volleyball scene - and we're sure that one or two real mavericks will tighty-whitey it up as Joel from "Risky Business." Extra points for anyone coming as Tom Cruise and Shelley Long from the Tijuana-set "Losin' It." Don't pretend you've never seen it. We know you have.

Though we haven't heard of any specialty cocktails for that evening, we can tell you that on Sundays happy hour goes all day and includes $5 well cocktails, $5 house red and white wines, $3 bottled beers and $5 Delia's Elixir - the house specialty cocktail named for the resident ghost, which includes Buffalo Trace Bourbon, agave syrup, raspberries and lemon.

Booze and Tom Cruise? That's just what Sunday in Santa Monica is all about.

Basement Tavern
2640 Main St.
Santa Monica, CA 90405
310.396.2469
Facebook.com/BasementTavern
Eric Rosen
Eric Rosen lives in Los Angeles and writes about food, wine, travel and adventure... usually in some combination of the four. He regularly contributes to Los Angeles Confidential Magazine, Condé Nast's HotelChatter and Jaunted, TravelAge West, Palate Press, Frontiers, Edge and Wandermelon. His work has also appeared in the L.A. Times. When he is not exploring the Los Angeles dining scene, Er...(Read More)