By Eric Rosen Jun. 24th, 2011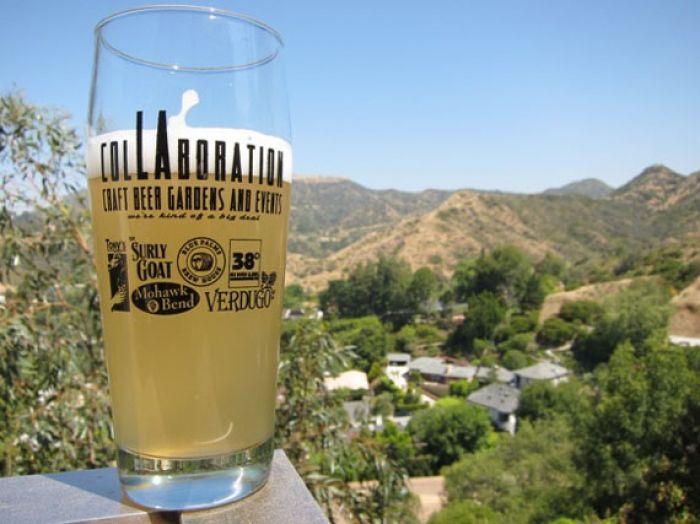 Some of our favorite beer bars are tapping the kegs and setting out the tables for another installment of their pop-up summer beer garden series:
ColLAb
. And you know beer always tastes better outdoors in the sunshine.
The event is being thrown on three different Saturdays in July: the 9th, the 16th and the 23rd. All three will take place right on the Sunset Strip in West Hollywood on a lot across from the Roxy Theater.


The participating bars include some of the best spots to sip suds across Los Angeles; places you'd find us socializing over frosty mugs (or tulips if we decide to go Belgian that evening) with friends, and new acquaintances, alike.

Those that are joining in are Blue Palms Brewhouse in Hollywood, Alhambra's 38 Degrees, from Burbank, Tony's Darts Away, Glassell Park's Verdugo Bar and The Surly Goat in West Hollywood (both owned by the same folks).

Among the special beers and ales being offered in the pop-up garden are those from some of California's finest craft brewers, such as Alesmith, Russian River, Craftsman, Green Flash, Bruery and Port/Lost Abbey. However, guests will also be able to quaff brews from farther afield such as Grand Teton, Unibroue, New Belgium, Maui and Dogfish Head.

Plus, the pop-up beer garden is honoring Belgian Independence Day on July 23 (It's actually on July 16, but they're taking some license with the celebration - we just wanted to give you a heads up since we know Belgian Independence Day is always on your calendar) with a few special features including a mostly Belgian line-up of on-tap beers, and a limited-edition, custom-made ColLAb glass co-sponsored by Duvel that guests can buy and use to drink that day.

Each of the beer garden pop-ups will run from noon to 9:00 p.m. Guests gain admission by purchasing a $10 ColLAb beer glass (which can be used for entry at any of the three events - you only need to purchase it once), though the special Duvel/ColLAb glass is $15. The beers will run between $5-6 per pour. Glasses are available for online pre-purchase at ColLAboration.la.

Gezondheid! Yeah, that's Belgian for "cheers." But you already knew that.

Date: Saturday, July 9, 16 and 23
Time: 12:00 p.m. - 9:00 pm
Address: 8950 Sunset Blvd., West Hollywood, CA 90069
Admission: $10/15 per ColLAb beer glass
Eric Rosen
Eric Rosen lives in Los Angeles and writes about food, wine, travel and adventure... usually in some combination of the four. He regularly contributes to Los Angeles Confidential Magazine, Condé Nast's HotelChatter and Jaunted, TravelAge West, Palate Press, Frontiers, Edge and Wandermelon. His work has also appeared in the L.A. Times. When he is not exploring the Los Angeles dining scene, Er...(Read More)