Jun. 30th, 2011
Celebrate The Fourth of July in Los Angeles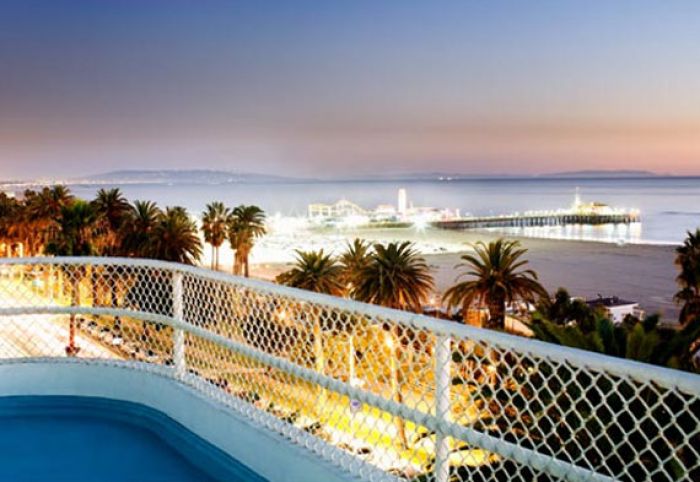 Photo Courtesy of the Shangri-La Hotel
Family fun, barbecues, days at the beach, night skies filled with fireworks...is there any day that more quintessentially embodies summer than the
Fourth of July
? Well stock up on sparklers and get ready for some burgers and blueberry shortcake, because here are some of the most happening places around L.A. to celebrate this Independence Day.
Chaya Venice
Celebrate July fourth down by the water at one of our Westside favorites with a list of specials, as well as their usual Happy Hour extended from 5:00-11:30 p.m., plus live music from "The Gumbo Brothers" band starting at 7:00 p.m. The menu of fourth of July-themed Euro-Asian dishes whipped up by Executive Chef Shigefumi Tachibe will include red and white daikon-wrapped spicy tuna and California roll, a half-pound Kobe beef burger with truffle fries, Angus rib-eye chop steak with Port wine sauce and creamed spinach, and roasted organic sweet white corn on the cob.

Chaya Venice
110 Navy St., Venice, CA 90291
310.396.1179
TheChaya.com



4th of Jul-High at Hotel Erwin
You can be at eye level with the fireworks up and down the coast at Hotel Erwin's outdoor rooftop lounge, High, this fourth of July. They'll be serving goodies like chicken, beef and vegetable skewers, sushi "nachos" with Sriracha aioli, pulled pork sliders with fennel slaw; and for dessert, grilled peaches and cream and roasted grapes and grilled pears with whipped goat cheese and tarragon. Spend your daylight hours there from noon until 5:00 p.m. for $40 per person, including entrance, all you can eat and one free drink. The same conditions apply for the 6:00 p.m.-close entrance fee of $80. The fourth also marks the official launch of High's grill menu with specialties like the duck confit burger, and an heirloom tomato and watermelon salad.

Hotel Erwin
1697 Pacific Ave., Venice, CA 90291
310.452.1111
HotelErwin.com
RSVP at 424.214.1004 or high@jdvhotels.com



Red, White & Blueberry at Magnolia Bakery
We recently learned that July is National Blueberry Month (we're not even joking), so to commemorate it and the birth of our nation, Magnolia Bakery is rolling out a roster of baked treats to celebrate this colorful (and antioxidant-packed) little berry. The specials include their classic Fourth of July cupcakes with patriotic decorations, a red velvet cupcake topped with blueberries, and of course, a pie heaped with tons of fresh-
baked blueberries. Grab one to go and you'll be the hit of whatever barbecue you're attending.

Magnolia Bakery
8389 W. 3rd St., Los Angeles, CA 90048
323.951.0636
MagnoliaBakery.com



Clambake at Rush Street
What's more all-American than an old-fashioned clambake? That's why you'll find us kicking off Independence Day weekend, Spicy Watermelon Margarita in-hand, at Rush Street's New England-style seafood clambake. Chef Dave Northrup will be serving up new menu specials like a crab-stuffed blackened salmon, and crispy beer-battered fish tacos. The party lasts all weekend with DJs and dancing upstairs on Friday and Saturday nights, bottomless Bloody Mary's for Saturday and Sunday brunch, and dinner and drinks specials all day and night on Monday.

Rush Street
9546 Washington Blvd., Culver City, CA 90232
310.837.9546
RushStreetCulverCity.com



Stars & Stripes at the Shangri-La Hotel's Suite 700
For one of the best views up the coast, and a bit of upscale caché as well, head to Santa Monica to enjoy the fireworks from the Shangri-La Hotel's Suite 700 private pool deck (seen in main photo). Here, Fourth of July means a special menu from the Chef de Cuisine, tailor-made for an all-American celebration of barbecue and fine dining. There will be the classic Shangri-La sliders, house-made mini corndogs with habanero ketchup and salsa verde, fresh-made crab cakes with harissa spicy mustard and pico de gallo hot dogs topped with golden-caramelized onions. Menu items will start at $9 each and the $50 per person fee includes two cocktails and one order of the sliders. The hotel suggests purchasing admission in advance.

Shangri-La Hotel
1301 Ocean Ave., Santa Monica, CA 90401
310.394.2791
Shangrila-Hotel.com



Tavern's Takeout Menu
But why eat out on July fourth when you can take the party home with you? Suzanne Goin and Caroline Styne are preparing an entire take-out menu for the Larder at their popular Brentwood dining room, Tavern, specially designed to take along for a poolside grill-fest or a beach cookout. There will be platters including one with summer fruit, a plate of slow-roasted salmon with cucumber yogurt, St. Louis-style barbecue pork ribs with barbecue sauce, as well as various sandwich platters; plus a la carte burgers and sides including classics like potato salad, and pasta salad. For dessert, there are cookie and pastry platters and "build your own red, white & blue shortcakes" with cr?me fraiche. Just note that orders require at least 24 hours advance notice and delivery is available for orders over $100.

Tavern
11648 San Vicente Blvd., Los Angeles, CA 90049
310.806.6460
TavernLA.com
.

Los Angeles Map

.
.

Luxury Hotels in Los Angeles

.

Eric Rosen

Eric Rosen lives in Los Angeles and writes about food, wine, travel and adventure... usually in some combination of the four. He regularly contributes to Los Angeles...