By Eric Rosen Jul. 8th, 2011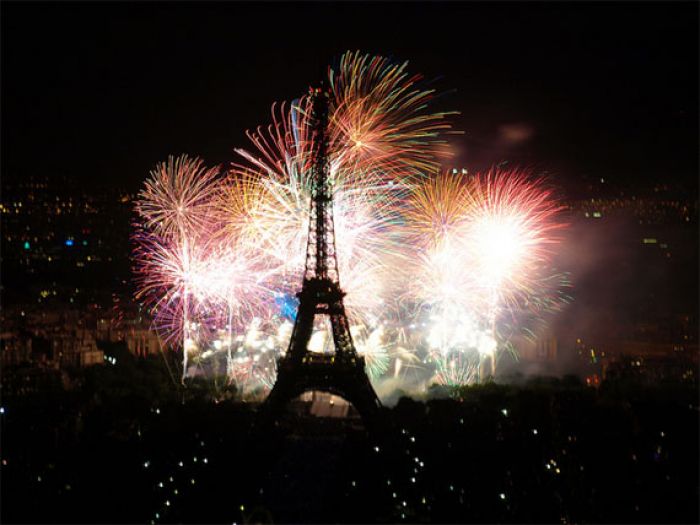 French cuisine is the most famous in the world, so it only makes sense that French restaurants around Los Angeles are celebrating this Bastille Day (July 14, but you Francophiles new that already, of course) with prix-fixe feasts and edible treats worthy of a king. Just as long as there's no guillotine around...
BREADBAR
Bastille Day goes all day long at BREADBAR this July 14 at both the Century City and West Hollywood locations. It all starts with a French breakfast of coffee drinks or Parisian hot chocolate along with a selection of French pastries and baked goods like almond croissants and signature white or dark chocolate baguettes; though save room for a quiche or a croque monsieur. For lunch and dinner, there are simple classics like French onion soup, salade Niçoise, moules frites, and duck confit with lentils and kale, plus macarons for dessert. Bon appétit!

Century City: 10250 Santa Monica Blvd., Los Angeles, CA 90067, 310.277.3770
West Hollywood: 8718 West 3rd St., Los Angeles, CA 90048, 310.205.0124



Cliff's Edge
Most people think Cliff's Edge is just one of the most romantic restaurants in town (we've found ourselves dining on the leafy patio on a recent summer evening...or two); but co-owner Pierre Casanova (yes, that's his real name) is actually a Corsican by birth and breeding like another famous Frenchman heavily involved with La Revolution. So, the restaurant is pulling out all the stops and showcasing their new, heavily French-influenced menu off on Thursday with good food, fine wine, and all kinds of la folie. In a fun twist, guests who show up in French costume (no berets and baguettes, we want to see a full-on Marie Antoinette or Robespierre) get a free glass of rosé. Fear not though, every time the bartenders are inspired to shout "Vive la France!" everyone will be treated to a glass of the stuff. There will also be free cake (as in "let them eat..."), French movie clips playing, and French music both from the past (Piaf, probably) and present (Yelle?). No cover, just don't lose your head before then.

3626 Sunset Blvd., Los Angeles, CA 90028, 323.666.6116



Comme Ça
We usually don't need an excuse to hit one of our favorite, understatedly cool French brasseries, but we also won't turn down an opportunity to enjoy David Myers' cooking at Comme Ça. That's why we were excited to learn that, in honor of Bastille Day, Myers is offering a three-course prix-fixe menu for just $40 per person - which you just can't beat with today's euro exchange rate. The menu will only be available during dinner service and will feature classic French cuisine such as soupe à l'oignon with gruyere, steak frites, and crispy skate grenobloise with haricots verts, lemon, capers and brown butter. Then for dessert, there's crème brûlée, apple tarte tatin with vanilla bean ice cream, and chocolate brioche bread pudding. The bar will also be mixing up two specialty cocktails called La Fête Nationale and Le Quatorze Juillet that evening for $8 each.

8749 Melrose Ave., West Hollywood, CA 90069, 323.782.1104



Fig + Olive
Just around the corner on Melrose Place, Fig + Olive is a little piece of Provence right in the heart of West Hollywood; so naturally they're feting la journée de la Bastille in true French Riviera style with a special tasting of wines from Provence, live music, and a special prix-fixe menu created by Executive Chef Pascal Lorange. The complimentary wine and cheese tasting is being presented by Vins de Provence at the restaurant's communal table, and will feature six to seven specialty wines including some fabulous rosés. The two-course prix-fixe for $50 will include dishes like a fig and gorgonzola tartlet with prosciutto, walnuts, tomato and arugula; striped bass papillote with zucchini, eggplant, fennel, tomato, thyme and saffron and chive mashed potatoes, and more. Come anytime from 4:30-7:30 p.m. for the wine-tasting (though there will be ongoing tastings featuring rosés every Thursday through August during the restaurant's "Aperitivo" from 5-7 p.m.), and dinner from 5:30-10:30 p.m.

8490 Melrose Place, West Hollywood, CA 90069, 310.360.9100



La Cachette Bistro
Chef Jean François Meteigner is a native of France, so we'd expect nothing less than a celebration of his favorite dishes from the homeland on the anniversary of its independence. This year at his Santa Monica bistro he's serving up two classics: a succulent Oyster Bar manned by Christophe Happillon and fluffy French crepes courtesy of his friend, Crepe Master Pierre Denichou. Service is available from 6:00 p.m. on, and DJ Lyesse will be spinning music that evening. You can enjoy the special treats out on the patio that evening, as well as in the restaurant, and the regular menu will be available as usual.

1733 Ocean Ave., Santa Monica, CA 90401, 310.434.9509

We'd usually be jetting off to Biarritz for our summer sojourn right around now, but with all these events, who needs to leave L.A. to celebrate Bastille day right? Liberté, egalité, fraternité pour tous!
Eric Rosen
Eric Rosen lives in Los Angeles and writes about food, wine, travel and adventure... usually in some combination of the four. He regularly contributes to Los Angeles Confidential Magazine, Condé Nast's HotelChatter and Jaunted, TravelAge West, Palate Press, Frontiers, Edge and Wandermelon. His work has also appeared in the L.A. Times. When he is not exploring the Los Angeles dining scene, Er...(Read More)