By Eric Rosen Aug. 5th, 2011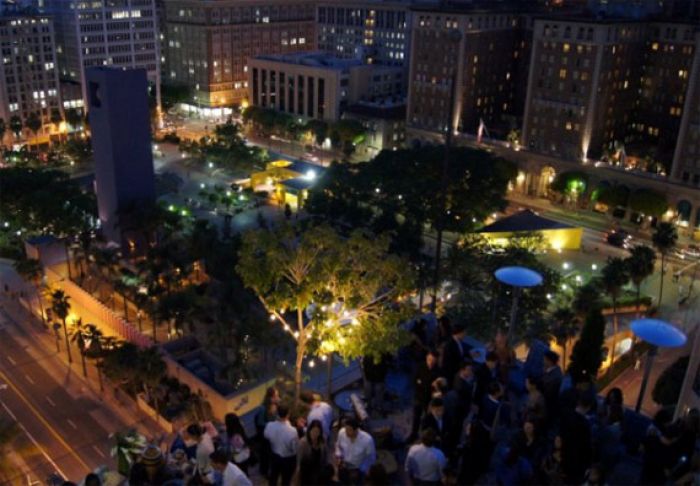 The Perch LA. Photo Credit: Eric Rosen
It's August...which means a whole month of perfect outdoor dining opportunities in the city of angels. Just because most of summer has already flown by doesn't mean you can't still enjoy the best weather of the season and some of the
city's best food
in some of its most amazing alfresco restaurant spaces. Here are a few recent openings (and reopenings) that will have you longing for fresh air and open skies long after summer has gone.
Deck 33 at the Custom Hotel
8639 Lincoln Blvd.
Los Angeles, CA 90045
(310) 645-0400

There's nothing like a summertime supper poolside, so when we're hankering for some spontaneous outdoor dining, we head to the westside's newly-renovated Custom Hotel (it's looking quite hot these days with a makeover reminiscent of the glam days of air travel) to get some sun and fun at Deck 33. Chef Katsuo Nagasawa (friends call him Naga) has taken over the stoves, and is serving up signature Pacific Rim dishes like "shellfish cigars" filled with shrimp, scallops, yuzu pepper, green curry and mango salsa; Dungeness crab cakes with black bean salsa, fried leeks and ruby grapefruit; and pizette with grilled fennel and spicy Kurobuta pork. All for us to enjoy on comfortable lounge furniture with just the right amount of shade or sun before splashing around in the pool to work off the meal. It's like having a lunch-cation. And yeah, we're claiming credit for coining the term.



Mohawk Bend
2141 W. Sunset Blvd.
Los Angeles, CA 90026
(213) 260-0265

We love Tony's Darts Away in Burbank. But, well, it's in Burbank. That's why we were excited to learn of the opening of Tony Yanow's newest venture in the more hipster-ified environs of Echo Park. It's still a drive from our usual haunts, but at least it's not in the Valley. Here at Mohawk Bend, in what used to be the nearly century-old Ramona Theater on Sunset Boulevard, Yanow has opened a brewpub dedicated to two of our favorite things: on-tap artisanal beers (over 70!), and a menu of gastropub faves like thin-crust pizzas (several of them gluten-free), fish and chips, burgers made with exotic meat combinations like duck and pork with green tea-smoked duck bacon, fresh-shaved fennel and apple, with matchstick togarashi fries. Best of all, we can enjoy all this new deliciousness either on the front patio with the excitement of Sunset passing by, or in the back dining room whose skylights and strategically placed plants and trees make you feel like you're eating in your best friend's (really stylish) backyard with orange leather chairs and colored-glass luminarios.



Malibu Inn
22969 Pacific Coast Hwy.
Malibu, CA 92065
(310) 456-1160

The Malibu Inn is a legendary coastal California hangout thanks to a history dating back to the 1920s when Golden Age Hollywood luminaries like Harold Lloyd and Gloria Swanson would patronize the establishment. Since it moved east across from the Malibu Pier in the 1950s, it has hosted epic performers like Eric Clapton and Tom Petty, as well as the entertaining but less-than-epic Kid Rock. These days, the old place is looking spruce and lively, with a vintage twist thanks to a renovation by young designer Andrew Alford, and a great new menu by Top Chef All Stars competitor Angelo Sosa that includes watermelon gazpacho, and a pulled pork sandwich with pickled dill and shallots. The expansive patio with mood-setting lights strung from the trees and a nostalgic old baby-blue VW bug in the corner is the perfect place to enjoy tasty treats and tunes in the evening with the waves of the Pacific crashing in the distance.



The Perch
448 S. Hill St.
Los Angeles, CA 90013
(213) 622-2929

The only thing better than dining outdoors, is dining outdoors with a view. When we crave the sense that we're in an actual cityscape, we head downtown to the all-new yet already thronged rooftop terrace at Perch, a just-opened hotspot on the fifteenth floor of the historic Pershing Square Building that has recently been transformed into a French bistro cum cocktail lounge. The tasteful appetizers here include chicken cordon bleu poppers and shake & bake frog legs, while the wine list skews mostly French, lending the whole experience a sophisticated but not snooty aesthetic. Plan ahead for your evening if you want to catch sunset out here though, since it's already getting crowded most nights.


Photos Courtesy of (in order) Custom Hotel, Mohawk Bend, Malibu Inn, and The Perch
Eric Rosen
Eric Rosen lives in Los Angeles and writes about food, wine, travel and adventure... usually in some combination of the four. He regularly contributes to Los Angeles Confidential Magazine, Condé Nast's HotelChatter and Jaunted, TravelAge West, Palate Press, Frontiers, Edge and Wandermelon. His work has also appeared in the L.A. Times. When he is not exploring the Los Angeles dining scene, Er...(Read More)