Sep. 19th, 2011
dineLA Fall 2011 Restaurant Weeks October 2-7 and 9-14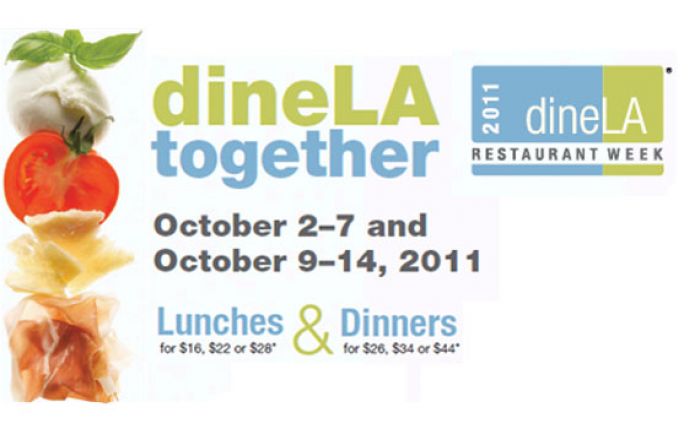 Photo Courtesy of dineLA
Angelenos might not be able to mark the advent of autumn by a brisk chill in the air thanks to fine sunny weather that lasts well into November, but at least they can note the passing of the seasons with two weeks of
dineLA Restaurant Week
. It's a citywide institution closing out its sixth year this fall with an unprecedented 307 participating restaurants.
The Dates

As with the past several cycles, Restaurant Week will actually take place over two weeks, and, to give diners an extra chance to experience the city?s fantastic restaurants, it will now include two Sundays as well rather than just the usual Monday-Friday work week. This time around, the dineLA Fall 2011 Restaurant Week will take place from Sunday-Friday, October 2-7 and October 9-14.

How It Works

As usual, there are three categories of restaurants from least expensive to most expensive. They feature prix-fixe three-course meals including appetizer, entrée and dessert that will cost you $16-$28 for lunch, and $26-44 for dinner. It looks like this:


$ - Deluxe Dining: Lunch $16 - Dinner $26

$$ - Premier Dining:  Lunch $22 - Dinner $34

$$$ - Fine Dining: Lunch $28 - Dinner $44

This season?s new participating restaurants include Chef Ricardo Zarate?s buzzy new Peruvian eatery, Picca, Mediterranean-inspired East-Coast transplants Fig & Olive on Melrose Place and Mr. C Beverly Hills, and Scarpetta at the Montage Beverly Hills from budding celebrity Chef Scott Conant.

Once you?ve worked your way through the newcomers, take this chance to head back to some of the city?s old classics including the 55-year-old Casa Vega, as well as sophisticated AOC, trendy Cleo, celebrity-packed Craft Los Angeles, pasta-rific Drago Centro downtown, cozy Eva on Beverly Boulevard, contemporary Asian Lukshon in Culver City, Santa Monica?s Stella Rossa Pizzeria, The Foundry on Melrose, and plenty, plenty more.

The Strategy

Restaurant Week is about both experiencing new restaurants we haven?t had the chance to try otherwise, as well as returning to old favorites we haven?t visited in a while. To pull that off, we go for the top-tier Fine Dining category since those tend to be the most interesting and sought-after restaurants ? ones that often require reservations made weeks, if not months, in advance. Though the special meals have limited menu options, they tend to be a good cross-section of the signature dishes.


In whatever time we have left, we scan the roster of Premier restaurants. Though it?s the second-tier price category, it usually has some fantastic restaurants on our wishlist. This time, for instance, it includes Café Pinot, Gladstone?s Malibu, Le Saint Amour, Night + Market, Osteria La Buca, Lazy Ox Canteen, Sotto and Wilshire ? some of our favorites that span both the city and the culinary spectrum.



Another great way to decide where to eat is to look at the menus each restaurant makes available on the Restaurant Week website. That way, you can look in advance and see if what a chef is serving sounds appetizing, or if you should wait until the next Restaurant Week to try out the menu. 

Our final piece of advice is to use this as an opportunity to go to some new neighborhoods, try restaurants you might have only heard about before, and eat food you wouldn?t normally have the opportunity to try. It?s all about pushing beyond your comfort zone and discovering sides to the city you might not have experienced before, while supporting our local dining community.

Stay And Eat

Many of the top hotels around town are also offering Restaurant Week specials (find the whole list HERE) so that Angelenos and out-of-town visitors alike can make a mini culinary staycation out of it. Participating properties include the JW Marriott at LA Live, the Montage Beverly Hills, the SLS Hotel, the Four Seasons Los Angeles at Beverly Hills, Shutters on the Beach, the Fairmont Miramar, the Peninsula Beverly Hills, the Standard Downtown, the W Hollywood, and several more. Start making your reservations and letting out your waistlines for two weeks of eating and indulgence.


.

Los Angeles Map

.
.

Luxury Hotels in Los Angeles

.






Eric Rosen

Eric Rosen lives in Los Angeles and writes about food, wine, travel and adventure... usually in some combination of the four. He regularly contributes to Los Angeles...