By Julie Hatfield Dec. 5th, 2011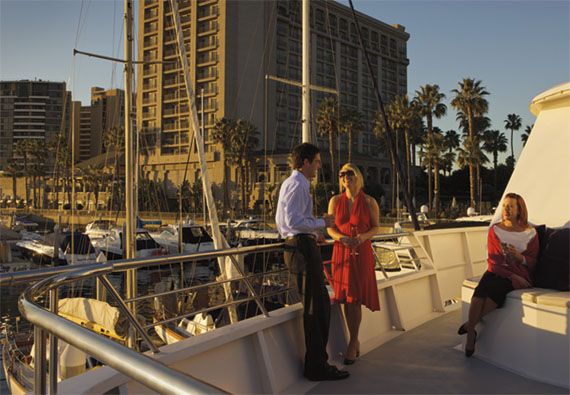 Photo Credit: Ritz-Carlton/Timothy Leland
So you've had a lovely
vacation in New Zealand
, Australia, Hong Kong, or Vietnam; but now you're facing the grueling, tiresome, seemingly endless flight back to Boston, New York, Baltimore, or Atlanta (you get the idea).
What to do? How can you find a way to break the trip up, pamper yourself with another exquisite travel experience, and arrive home feeling like royalty? My husband and I have found the answer: book a night in Los Angeles and sign up for a "Lavish Layover" at the Ritz-Carlton Marina del Rey.



Lavish Layover is offered by the Ritz-Carlton Hotel at just a very few cities that connect to other countries which require long flights (ours from New Zealand was 12.5 hours). The first step in booking the package is to give the Ritz our airline information before we leave home. They take it from there, making certain that our stopover is hassle-free every step of the way.

When we arrived at LAX in Los Angeles, hardly knowing what day it was, we were greeted outside the baggage claim by a driver who allowed us to collapse into his sleek black sedan, with tinted windows (so no one could see my husband's unshaven face). He quickly drove us, jet-lagged and hungry, the four miles to the Ritz. There, well before the official check-in time, we checked in. Our deluxe room on the 11th floor was just outside the Club Lounge. This club, for the privileged few, offers, free of charge, a fabulous breakfast, a varied lunch buffet, hors d'oeuvres at an open bar (which is open all day long) at cocktail hour, and dessert sweets later in the evening. Had we needed a late check-out because of our connecting flight home, the Lavish Layover package includes that, too.



The Marina del Ray Ritz-Carlton fronts on a lovely harbor in a setting that makes it hard to believe we are somewhere in the middle of the downtown chaos that is usually L.A. Gently rocking boats can be seen from the patio outside the main restaurant of the hotel and also from our 11th floor room with tiny balcony. The room was totally quiet so that if we needed to sleep immediately after that flight, we could have. We were tempted to take a nap when we arrived, but the Ritz offered too many temptations. We jumped into the enormous heated outdoor pool and tried out most of the machines at the fitness center (We passed, however, on a game of tennis on the hotel's courts).

The Club Lounge offers two workstation areas with computer terminals and a printer. With a cocktail from the bar at our side, we caught up with the slew of e-mails that had gathered in our inbox while we were in New Zealand. After working on the Internet, we dined by the fire in the hotel's restaurant bar, using the $25 credit that is part of Lavish Layover for each guest room.



Finally we fell into bed for a fabulous night's sleep on a soft mattress instead of scrunched into the uncomfortable airline seats en route to Boston. As part of the Lavish Layover package my husband had his pants pressed and shoes shined overnight, free of charge.

Our flight to Boston the next morning was so early that we had to be picked up at 6:45 a.m. That wouldn't allow for much breakfast unless you are on the same floor as the Club Lounge, which opens at 6 a.m. and offers to Lavish Layover patrons warm quiche, smoked salmon, bagels and cream cheese, cereals, fresh fruit, juices, cappuccinos, lattes, croissants and much more. It was a better breakfast than anything we had enjoyed in New Zealand.

Anthony Hicks, the driver of a black Cadillac DTS, was waiting for us at the Ritz front door when we went down to the lobby. He had checked to see whether our flight was on time and already knew the gate for our plane. If our flight had changed he would have notified us through the hotel before we left.



We were on a luxurious cloud as we floated into the airport for our final flight home. Our only regret with the Lavish Layaway is that it doesn't last long enough. We didn't have time to enjoy Fisherman's Village one mile away from the Ritz, or shopping on Rodeo Drive 11 miles away, or the J. Paul Getty Museum 13 miles from Marina del Rey. But arriving in Boston rested, restored, well fed and with pleasant memories of Los Angeles in our thoughts after another day of flying was well worth it. We felt we'd been on a glorious weekend trip after a couple of short flights rather than 20 grueling hours in the air.

The Lavish Layover Package at the Ritz-Carlton Marina del Rey is valid through December 31, 2011 and starts at $455 USD, with Club Level rooms starting at $585 USD. To learn more, visit RitzCarlton.com.
Julie Hatfield
Julie Hatfield, former Boston Globe fashion editor and society editor, is now freelance travel writer for the Boston Globe, Hemispheres Magazine of United Airlines, USA Today Food & Wine, Denver Post, numerous newspapers around the country including the (San Francisco) Bay Area News Group, national travel magazines and travel websites such as visualtraveltours.com and LiteraryTraveler. She is the ...(Read More)