Dec. 8th, 2011
Holiday Pop-Up Shops and Gourmet Gifts Around Los Angeles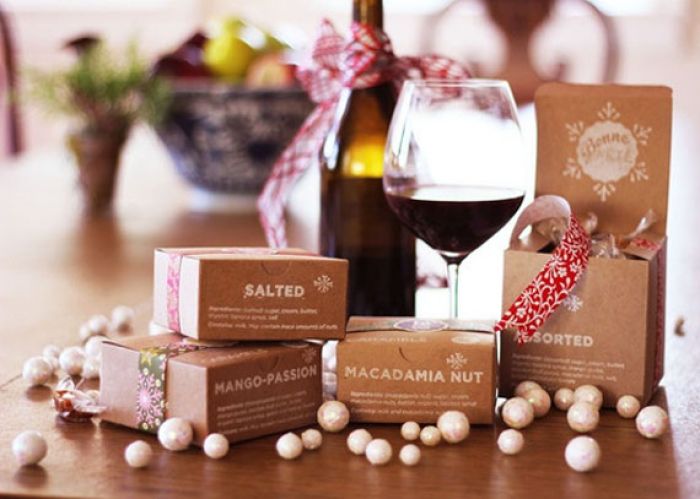 Photo Courtesy of Le Bon Garcon
Thanksgiving has come and gone, your relatives have returned home, and the madness of Black Friday and Cyber Monday has subsided. That means it's time to get down to some serious
holiday shopping
.
Instead of going for all-out bling or jet setting vacations, think unique this holiday season, and hit up this combination of pop-up shops and old favorites for limited-edition gifts with a distinctly L.A. twist.

Pop-Up Shop @ Andaz by Alpha



The hip, local brand Alpha is opening a special holiday pop-up shop at the Andaz West Hollywood this December. This is the hotel's first pop-up concept, and is a select array of both practical and whimsical items meant to part of an innovative shopping experience that serves both locals and out-of-town guests alike. Some of the unique items we were peeping earlier for stocking stuffers included signature candles available in special fragrances, a Lego set of the Guggenheim Museum, Urbanears headphones, and Jack Spade iPhone cases. The shop will be open from 9 a.m.-noon and 3-8 p.m. daily for the month of December, so you better get in there before it disappears.

8401 W. Sunset Blvd., West Hollywood, CA 90069, (323) 656-1234, westhollywood.andaz.hyatt.com

Artisanal LA's Holiday Pop-Up Shop



Why spend all day driving from shop to shop searching for those yummy treats each of your foodie friends likes when you can just find every gourmet goodie in one spot? On Sunday, December 11, from 10 a.m.-6 p.m., Artisanal L.A. will be hosting its second annual pop-up shop at Old Town Pasadena's Armory Center for the Arts, and will feature some of the city's best local, sustainable and handmade comestibles. This year's lineup will include cooking demos, workshops, and over 50 vendors such as BareBlendz, fruit + flour, I Heart Pies, Mother Moo Creamery, Orgasmo de la Boca and more. Admission is $5 and you can buy tickets at ArtisanalHoliday.EventBrite.com.

145 N. Raymond Ave., Pasadena CA 91103, artisanalla.com

Caramels From Le Bon Garçon



Even Oprah herself loves these salty sweets. They're made right here in Los Angeles by Justin Chao, a graduate of the elite École Gastronomique Bellouet Conseil in Paris, and a former apprentice at the Michelin three-star Le Meurice. Chao makes his caramels in the French tradition, and is committed to using only the finest all-natural ingredients combined by hand slow-stirring, and lending these bonbons a supple, rich texture. Best of all, they're sold directly online, so no need to brave the holiday shopping crowds to order a box of the mango-passion fruit, macadamia or salted caramels...or better yet, a sampler of all three.

lebongarcon.com

Panettone from Mr. C Beverly Hills



What could be more festive for the holidays than a panettone cake, the traditional Italian Christmastime pastry? Nothing fancy or fussy here, just good, old-fashioned, simple ingredients like flour, butter, sugar, eggs, raisins and vanilla. Now you can spare yourself (or your mamma) the labor and simply pick one up from Mr. C Beverly Hills — the new hotel from the Cipriani family — so you can be sure they know how to bake one of these! This two-pound delight will set you back $45, but its holiday wrapping will keep it fresh for months, so no need to wolf it down in one sitting...unless your relatives are stressing you out.

1224 Beverwil Dr., Los Angeles, CA 90035, (310) 277-2800; mrchotels.com

One-of-a-Kind Petrossian Caviar Gifts



Whenever we're shopping for our favorite gourmands, we inevitably hit this West Hollywood caviar emporium for some of their unique and delicious specialties. This holiday season, Petrossian is unveiling not one, but two new caviar products that will only be available to Petrossian customers. Petrossian Caviar Powder is made from 100% Transmontanus Caviar, and is meant to be used as a seasoning or special garnish much like shaved truffles. Just add a sprinkle to any dish, even scrambled eggs, to give it that extra touch of magic. The other new product is Petrossian Papierusse, sheets made from 100% Transmontanus caviar that can be used as garnish, such as on top of a flatbread or as a spread on a sandwich. Both keep for at least three months, so you can enjoy your holiday present well into winter.

321 N. Robertson Ave., West Hollywood, CA 90048, (310) 271-0576; petrossian.com

Sugar Plums, Spice and Everything Nice at Ritz-Carlton Spa, Los Angeles



Though it should be at least a little crisp and cold here in Los Angeles, so far fall has meant Santa Ana-like windy, hot conditions; and all that crazy weather can take a toll on your pores. To combat skin fatigue, the Ritz-Carlton Spa downtown has concocted a panoply of deliciously pampering spa treatments based on traditional holiday treats and boosted by some free radical-fighting antioxidant powerhouses, of course. The Sugar Plum Facial is jam-packed with minerals and vitamins that relax fine age lines and wrinkles, while the Cranberry Pomegranate Body Treatment uses a natural cranberry and pomegranate sugarcane polish and hydrating lotion application to soothe your skin. We'd go for the Egg Nog Pedicure, though, since it includes 50 minutes of rejuvenating foot attention (just what we need after a massive round of holiday shopping) and a glass of the holiday libation.

900 W. Olympic Blvd., Los Angeles, CA 90015, (213) 763-4400, ritzcarlton.com/losangeles
.

Los Angeles Map

.
.

Luxury Hotels in Los Angeles

.

Eric Rosen

Eric Rosen lives in Los Angeles and writes about food, wine, travel and adventure... usually in some combination of the four. He regularly contributes to Los Angeles...