Jan. 6th, 2012
Eight New Los Angeles Restaurants and Bars to Try in 2012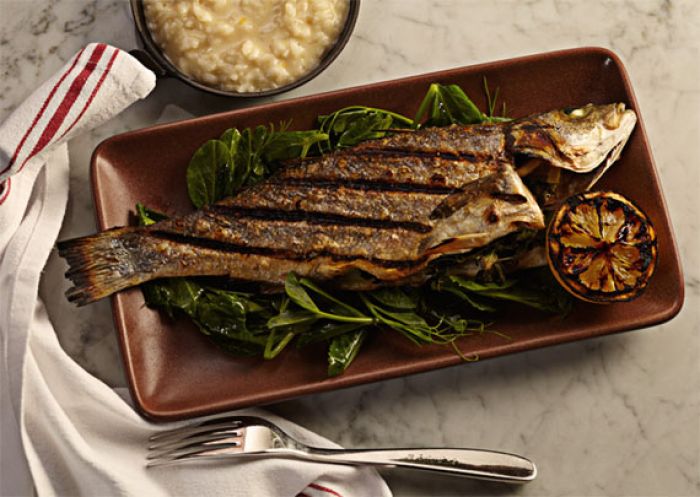 Photo Courtesy of Papilles
It's a new year, and there are tons of new
restaurants and bars around Los Angeles
to try in 2012. So make a New Year's resolution to eat out, and book a table at one of these great new places.
Bagatelle

This Euro-flavored New York import is finally landing in Los Angeles right on La Cienega's crowded restaurant row. It won't just be for party girls and their socialite boy toys, though. This incarnation will have Scott Quinn, formerly at Bouchon Vegas, as its chef. We haven't gotten a peek ourselves at the chandeliered lounge-like space or the Franco-centric menu, but you can bet it will be the see-and-be-seen scene for some time to come.

755 N. La Cienega Blvd., West Hollywood, CA 90069; BistrotBagatelle.com




Batch

Though it still holds a place dear to our hearts, downtown brasserie Church & State has had a spate of bad press and French Revolution-like scandals (sans guillotine, of course) in its young life; so it's no wonder two refugees from there decided to open their own slick restaurant far, far away in Culver City this month with a menu of mouthwatering delicacies like short ribs in chocolate-stout beer mole; pumpkin-squash salad with dandelions, guanciale, lentils, goat cheese and salsa verde vinaigrette; and the much-discussed Drunken Sow cocktail with bacon-infused bourbon and cinnamon bitters.

8631 Washington Blvd., Culver City, CA 90232, (310) 202-8631; BatchRestaurant.com




Casa Azul Cantina

Combining the fine dining atmosphere and gourmet tradition of Beverly Hills' Frida along with the casual, accessible fare at Frida Taqueria, Vicente del Rio has opened a new cantina in the heart of Westwood Village that specializes in upscale Mexican regional cuisine and will feature dishes like ceviche with shrimp, avocado, jalapeno, onions, cilantro and lime juice; a mixed seafood carpaccio plate; slow-cooked Michoacan-style pork loin carnitas; and poblano chiles rellenos with melted cheese, among other dishes. Definitely try the house specialty, the chicken mole poblano.

10853 Lindbrook Dr., Los Angeles, CA 90024, (310) 209-0666; CasaAzulCantina.com




Franklin & Company

It's been ages since we visited Beachwood Canyon and Franklin Village thanks, largely, to a dearth of exciting new restaurants. But with the opening of Franklin & Company, a gourmet-style gastropub from the man behind The Oaks Gourmet market next door (Franklin's in the old Prizzi's Piazza space), you might just find us heading for the hills to enjoy specialties like blue cheese tater tots, fried oysters Rockefeller, ahi tartare tacos, an Alaskan cod po'boy, mesquite-smoked pulled bourbon chicken sandwich and the vegetarian shepherd's pie.

5923 Franklin Ave., Los Angeles, CA 90068, (323) 463-1552; FranklinAndCoTavern.com




Freddy Smalls Bar & Kitchen

We think of West L.A. as the Midwest of Los Angeles — you know, the part we always pass over on the way to somewhere else. We might just have to make a pit stop, however, to try this new "bar and kitchen" conceived of by the founder of The Counter with Chefs Charlie Parker and Jeremy Fox (formerly at Ubuntu in Napa) consulting on the menu and cocktails by Seven Grand's David Fleisher. We hear the Stumbling Cowboy with Wild Turkey Rye 101 and homemade sarsaparilla is worth a sip, and that the bites to nibble include Point Reyes blue cheese deviled eggs, the homemade charcuterie plate, grilled Monterey squid with romesco, and a Reuben sandwich with marrow. 

11520 Pico Blvd., Los Angeles, CA 90064, (310) 479-3000; FreddySmalls.com




Livello

It's taken a while, and a few test kitchen runs at Breadbar, but the new restaurant concept at the L'Ermitage Beverly Hills is finally ready to make its debut with Matsuhisa-trained Chef Joseph Elevado in the kitchen. His menu of Italian-Asian cuisines will include mind-bending dishes like salmon two ways with smoked bacon roe, a toasted bagel, cream cheese and dill, and applewood-smoked sashimi with wasabi cr?me fraiche and lemon soy; sea urchin and fluke sashimi with olive oil, citrus Ilocano sea salt and shiso; and free-form oxtail ravioli with edamame in a veal reduction. Take your time pondering the options over a new "classic" cocktail at the Lobby Lounge and Bar like the Port Old Fashioned with Sazerac Rye, Fonseca Bin 27 Port, angostura and Regan's orange bitters; or the Xulio with Sauza tequila, agave nectar, pineapple, lime, lemon, habanero-infused mescal and black pepper.

9291 Burton Way, Beverly Hills, CA 90210, (310) 278-3344; LErmitagebh.com




Neat

Mixologist extraordinaire Aidan Demarest is already on to his next project (after the Spare Room), a tiny little liquor-fueled enclave in the wilds of Glendale that takes a break from the current cocktail cacophony and serves premium spirits neat (get it?) with a selection of mixers for the particular cocktail the guest wants so that he can mix it himself, and even sample the liquor on its own to appreciate its full character. Especially at the start of a new year, we're all about Thoreauvian impulse to simplify, simplify, simplify, so you might even find us venturing to the Valley to quaff the libations here.

1114 N. Pacific Ave., Glendale, CA 91202, (818) 241-4542; TheNeatBar.com




Papilles

We'll say it again: you won't find us logging much time on Franklin, but we'll be dining in East Hollywood strip mall this month as we try Santos Uy's (Bacaro and Mignon) new "bistronomy" restaurant, which takes its name from the French word for taste buds. The whole idea behind bistronomy is to make the freshest, best prepared food accessible and affordable to the masses, and to that end, Uy's chef, Tim Carey (who did time under Tony Esnault at Patina), will be dishing up weekly changing prix-fixe menus (three courses or more) of seasonal dishes like a Tahitian squash velouté with pomegranate seeds, braised veal cheeks with artichoke-fava ragout, and torchon of duck foie gras, all accompanied by a small, carefully selected French wine list along with two weekly options by the carafe, just like you'd find in France.

6221 Franklin Ave., Los Angeles, CA 90028, (323) 871-2026; Papillesla.com


.

Los Angeles Map

.
.

Luxury Hotels in Los Angeles

.






Eric Rosen

Eric Rosen lives in Los Angeles and writes about food, wine, travel and adventure... usually in some combination of the four. He regularly contributes to Los Angeles...