By Jared Paul Stern Jan. 5th, 2012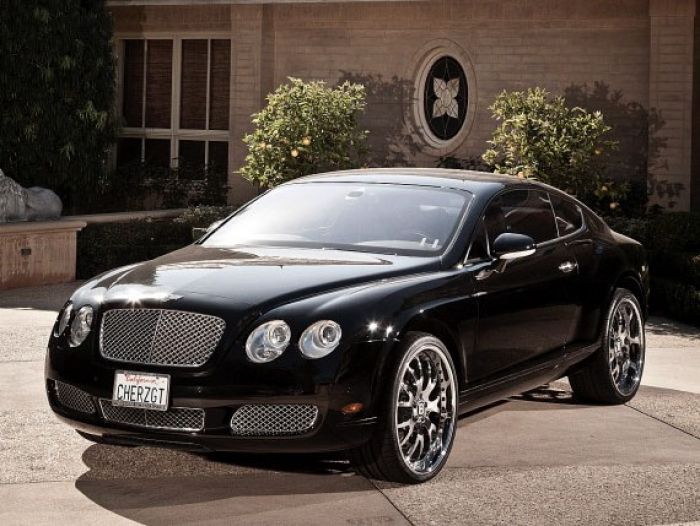 Photo Courtesy of Bonhams
This 2005 Bentley Continental formerly owned by entertainment legend Cher is the starring lot in Bonhams' sale of
entertainment memorabilia
in Los Angeles.
The vehicle, complete with "CHERZGT" vanity plates, estimated at up to $120,000, is part of the collection of Dr. Arnold W. Klein, who has reportedly fallen on hard times as of late. Klein is the noted Beverly Hills dermatologist, philanthropist, and "ultimate Hollywood insider," and was a close personal friend to Michael Jackson and several other celebrities.

In addition to Cher's impressive wheels, Klein's collection includes one of Jackson's trademark black fedoras, estimated at up to $10,000; a Versace leather jacket (est. $1,800-2,500) once owned by Jackson; a pair of diamond and onyx cufflinks once owned by Elizabeth Taylor (est. $5,000-7,000); a gold Cartier pen, also from Taylor (est. $2,500-3,500); a harmonica used by Bob Dylan (est. $1,000-1,500) and four lightsaber collectible prototypes from the Star Wars series signed by Carrie Fisher (est. $800-1,200 each); as well as a large archive of Hollywood celebrity images, personal letters and cards related to Annette Benning, Clint Eastwood, Tom Ford, Stephen Spielberg, Sylvester Stallone, Barbra Streisand and Sharon Stone, among others (estimates range from $700-1,000).

The auction will take place on January 23, with a preview on preview from January 20-22, 2012 in Los Angeles. Look for the illustrated auction catalog in the upcoming weeks at Bonhams.com/us.
Jared Paul Stern
Jared Paul Stern has written for the Wall Street Journal, New York Times, the New York Times' T magazine, GQ, WWD, Vogue, New York magazine, Details, Hamptons magazine, Playboy, BlackBook, the New York Post, Bergdorf Goodman magazine and Luxist among others. The founding editor of the Page Six magazine, he has also served as a judge for everything from the International Best Dressed List to the Fo...(Read More)