Jan. 12th, 2012
dineLA Winter 2012 Restaurant Weeks in January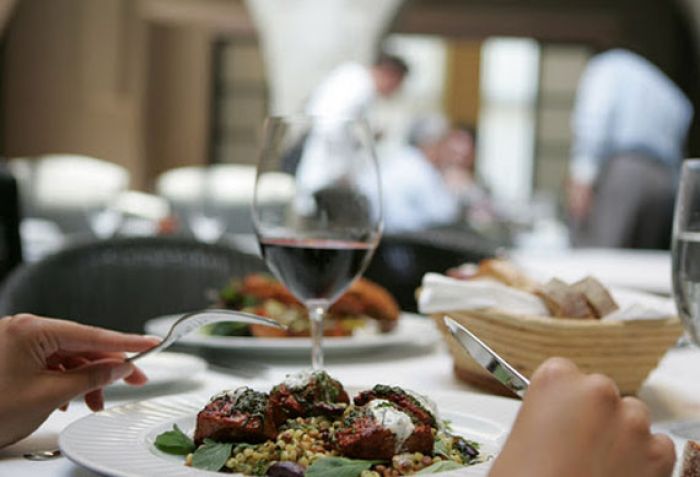 Photo Courtesy of Campanile
If one of your New Year's resolutions was to eat better in 2012, we've got a great way for you to start out the year.
Marking its fifth anniversary in Los Angeles, dineLa Restaurant Week returns this winter from Sunday through Friday, January 22-27 and January 29-February 3, 2012. Since its inception, Restaurant Week has become a citywide institution, and includes over 300 of the area's finest eateries this time around.

How It Works

As in the past, there are three categories of restaurants from least expensive to most expensive. A prix-fixe, three-course meal including appetizer, entrée and dessert will cost you $16, $22 or $28 for lunch, and $26, $34 or $44 for dinner. Here's how the breakdown of pricing works based on what category of restaurant you dine at:


$ Deluxe Dining: Lunch $16 - Dinner $26
$$ Premier Dining: Lunch $22 - Dinner $34
$$$ Fine Dining: Lunch $28 - Dinner $44

This season's participating eateries include a mix of charter members like BLD, Katsuya and Valentino along with a slew of exciting newcomers like the Spice Table, Mercato di Vetro, Il Covo, Larry's, Ray's and Stark Bar, Malibu and Vine and Canter's Deli. 

Come And Get It!

Diners will also find the roster of participating restaurants packed with old favorites like Café Montana, Duke's Malibu, Little Next Door, Taste on Melrose, The Roof on Wilshire and The Misfit among the budget-minded Deluxe Dining options. The Premier Dining category has even more standouts like BLVD 16, Cafe del Rey, Eva, First & Hope, Koi, Le Saint Amour, Lukshon, Mezze, Picca, Playa, Sotto, The Lazy Ox Canteen, Waterloo & City and Whist. While the high-end Fine Dining selection includes some of the city's most exclusive venues including Bouchon, Campanile, Craft, Culina, Drago Centro, Jar, Lucques, Michael's, Mr. C Beverly Hills, Petrossian (which we hear will feature an all-foie gras menu), Spago, Tavern and The Lobster. (photo courtesy of Malibu & Vine)

Plan Ahead

We've developed a highly refined strategy to getting the most out of your Restaurant Week experience. First, plan ahead since tables tend to book up quickly across the board and especially in the top-tier Fine Dining category due to the limited time frame and because those tend to be the most sought-after.



Since most of the restaurants post menus of what they will be serving on the Restaurant Week website, a great way to decide where you'll be enjoying your meals is by taking a look at the options in advance to see which restaurants get you salivating. You can give yourself some breathing room by asking if the restaurant plans to extend the special menu all month long — as many have done in the past — so that you can be sure to get to the ones who are only participating for the two weeks of the event first and then hit the other places on your list at your leisure. (photo courtesy of Katsuya)

In whatever time you have left, scan the roster of Premier restaurants. Though it's the second-tier price category, it usually has some fantastic restaurants that will be on your wishlist. Some even have menus that, at least to our eyes, look even better than some of the Fine Dining options.

Our final piece of advice is to use this as an opportunity to go to some new neighborhoods, try restaurants you might have only heard about before, and eat food you wouldn't normally have the opportunity to try. It's all about pushing beyond your comfort zone and discovering sides to the city you might not have experienced before while supporting the local restaurant community.

Dine & Stay


Many of the top hotels around town are also offering Restaurant Week specials (find the whole list here) so that Angelenos and out-of-town visitors alike can make a mini culinary staycation out of it; and many of them are partnering with Malibu Wines to offer guests a complimentary tasting voucher for a wine tasting for two, two souvenir logo wine glasses, and a $10 gift certificate towards the purchase of a bottle. 

Participating properties include the Malibu Beach Inn, Mr. C Beverly Hills, Shutters on the Beach, The SLS Hotel at Beverly Hills, the Peninsula Beverly Hills, the London West Hollywood, the Hyatt Regency Century Plaza, the L'Ermitage Beverly Hills, the Andaz West Hollywood, the Four Seasons Los Angeles at Beverly Hills, the Redbury @ Hollywood and Vine, and several more for every budget category.

So start making your reservations and hitting the gym so you can fully indulge in two weeks of great dining experiences with dineLA's Restaurant Week. (Photo courtesy of Waterloo & City)
.

Los Angeles Map

.
.

Luxury Hotels in Los Angeles

.

Eric Rosen

Eric Rosen lives in Los Angeles and writes about food, wine, travel and adventure... usually in some combination of the four. He regularly contributes to Los Angeles...