By Victor and Mary Feb. 15th, 2012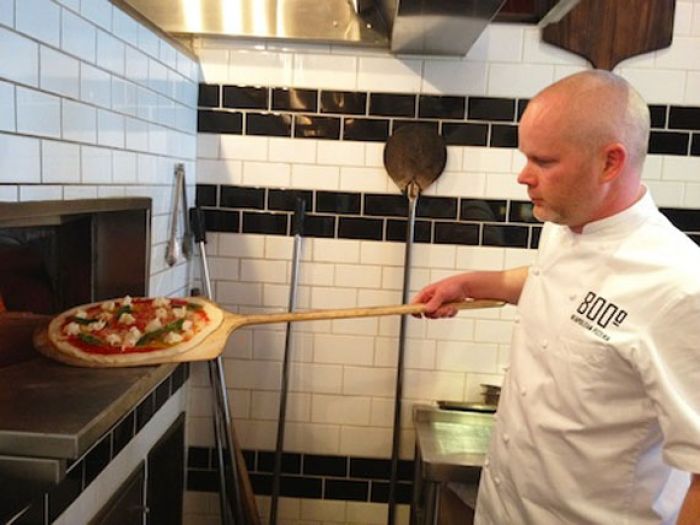 Photo Credit: 2Sense-Los Angeles/800 Degrees
When posed the question over a lunch of his artisan pizza, "Why Neapolitan?" Chef Anthony Carron offers a quick, yet refined response. The state of American pizza has become a race to the bottom. The cheapest cheese, most flavorless crust, and crap (journalistic license here) littered on top. Hence the title of this piece which happens to be an apt précis of where Chef Carron, creator of
Los Angeles
' 800 Degrees Neapolitan Pizzeria, is coming from...and going.
A lot of stories out there should be catalogued under an American Dream; Chef Carron's tale appears to be another. St. Louis born, he grew up making freshly picked blueberry pancakes at his parents' diner. Drawn to
fine dining
fare, but having received no formal training, Carron first worked gratis for Michael Mina to get his foot in the door. Prior to teaming up with Adam Fleishman, Allen Ravert and the group behind Umami Burger, he traveled the world as Mina's executive chef — opening restaurants all along his way.
Experience in fine dining gave him the insight to create a model for 800 Degrees that maintains luxury at a low cost. Carron prides himself in utilizing American made ingredients that maintain the traditional Italian approach. Sourcing his charcuterie from Fra'Mani and Molinari in San Francisco, and with custom made Di Stefano burrata, Carron proves his pizzas are an idyllic vessel for small amounts of very expensive ingredients. At 800 Degrees, what might take center stage at a high-end restaurant, gets chopped up, topped on a gourmet pizza and costs $5-$6.
With lunch lines out the door, efficiency plays a factor in making Carron's vision a success. Employing a set up similar to Chipotle, a pizza ordered at 800 Degrees makes it through an assembly line and onto your tray in less than 60 seconds. Carron took us through the process himself, sharing his extended trip to Naples and the skills he acquired through Neapolitan pizza training in Marina Del Rey.
We became privy to the specifications of the Neapolitan crust. He demonstrated how true Neapolitan pizza starts with hand firming and stretching the dough, only a slight pie toss at the end for good measure. Toppings of your choice are then adorned. Neapolitan's choose, as does Carron, pizza without cheese: The Napoletana — sauce, shrimp, anchovies, capers and smoky Calabrian chilies for heat. Lastly, the pies meet a wood-burning oven, which Carron refers to as a living, breathing creature. "Pizza making is a life long learning experience...you must balance the wood, moisture, heat. It's all a balance."
We couldn't agree more, finding Carron's 800 Degrees to be a fine balance of old world authenticity and modern inventiveness. Additionally, LA is the perfect place for Carron's Neapolitan style, as he states "the light nature of the crust makes it ideal for those active in Los Angeles." Visit
800DegreesPizza.com
to learn more.
2Sense-Los Angeles
2Sense-Los Angeles
2Sense-Los Angeles
2Sense-Los Angeles
2Sense-Los Angeles
2Sense-Los Angeles
Victor and Mary
Couple and business partners, Victor and Mary, blog and manage La Bonne Maison, a chef-driven catering and event planning company in Boston. Victor and Mary are avid eaters, travelers and outdoor-enthusiasts. As regular contributors to JustLuxe.com they offer their unique perspectives on restaurants, hotels, luxury products, and wellness… they're always on the search for a new angle to cover o...(Read More)