By Katherine Bond Jul. 6th, 2012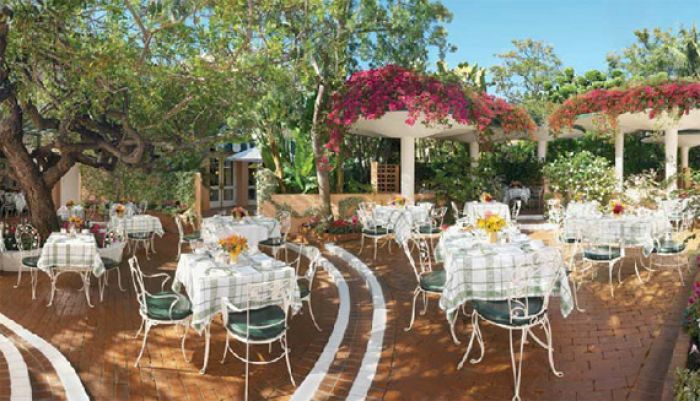 Photo Courtesy of Beverly Hills Hotel
If zip codes had a persona, Beverly Hills would look like a captivating and poised head-turning "It" girl—with sunglasses. The 92101 area is one of my favorites for luxurious let-loose fun, and on a recent jaunt, I visited some of the properties that have made this town a legend, such as The Pretty Pink Princess:
The Beverly Hills Hotel
, celebrating its 100th year in operation. The pleasantly pink fortress is tucked amid the mansions along Sunset Blvd, and is still a pretty little hot spot among locals and tourists.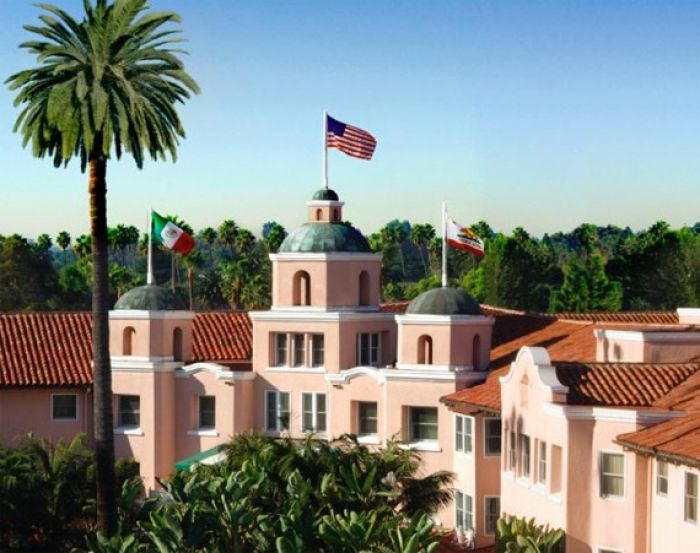 In true Hollywood fashion, a birthday at this age could only be christened with a top-to-bottom face-lift (although the five-star property is truly in impeccable shape). A three-year restoration project is currently underway. Adam Tihany, a highly respected hotel and restaurant designer leads the design team. Tihany has a cache to honor tradition, letting modern flairs unfurl.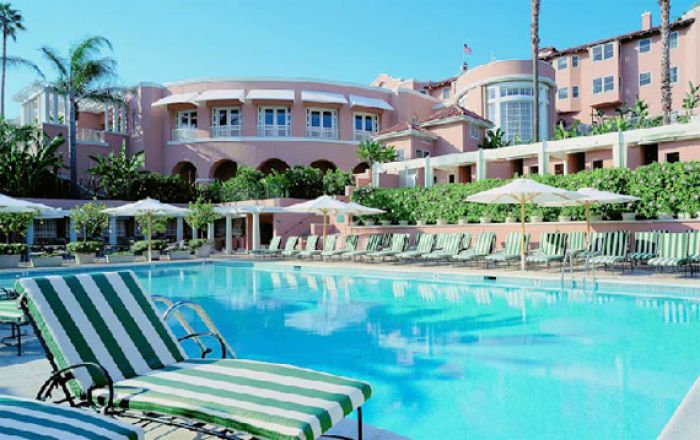 The hotel's famed red carpet entrance, classic C.W. Stockwell-designed banana leaf wallpaper, and green and white pinstripe motifs will remain, as well as the legendary pink exterior. Upon my arrival, the lobby renovation was underway and will soon showcase a limestone banana leaf centerpiece this summer. Speaking of bananas, one of my favorite touches of this hotel is its nightly snacks. Every month, the chef creates a seasonal showcase of edible goodies, delivered at turndown.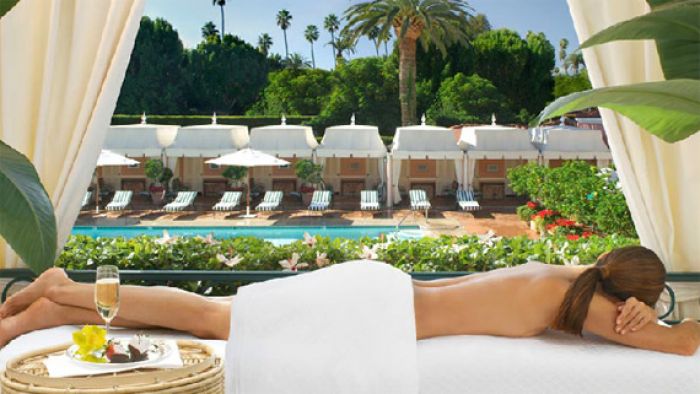 Appropriately for its Beverly Hills spa setting, La Prairie is an international leader in anti-aging concoctions and a revered brand of the Hollywood set of age-defying damsels such as Victoria Beckham and Kristin Davis. Discreetly positioned next to the poolside cabanas and lemon tree shaded cafe, the spa seems designed for one. The intimate waiting room and women's area are small, but I found this perfectly suitable, and I liked the ability to select the music genre I preferred during the treatment.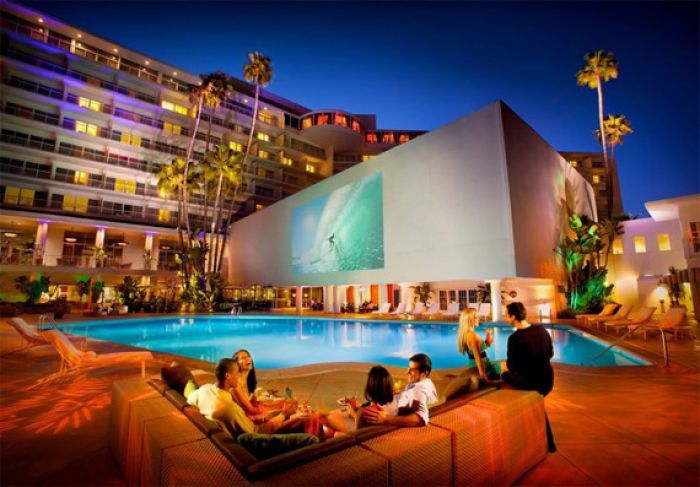 The caviar was incorporated in La Prairie's rich line of moisturizers and lotions, the Skin Caviar Luxe Body Cream, which was exquisitely applied during a fabulous Swedish massage. Also available in caviar is La Prairie's luxe manicure and pedicure. Had I stayed longer, I would have indulged in the spa's $100 birthday specials, such as the 30 minute express Diamond Anniversary Facial or the Fit and Firm. Exiting the 405 freeway, passing Westwood and the luxury condo buildings along Wilshire, the first sign of Beverly Hills, to me at least, is the
Beverly Hilton
.
(Photo Credit Beverly Hilton)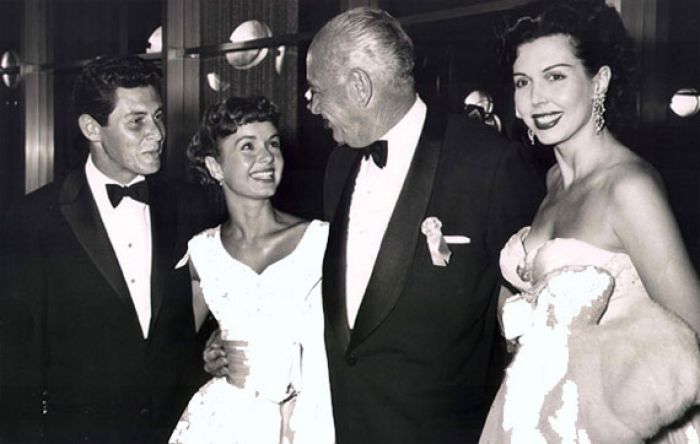 The Beverly Hilton is a 50's styled icon and an annual host of the Golden Globe awards and the Academy Awards Governor's Ball. It sits unassumingly on the "gateway" corner of Wilshire and Santa Monica Blvd. Our room, surrounded by a wrap-around patio and sundeck chairs, overlooked the 1930's built "Electric Fountain," another Beverly Hills icon, located on the opposite corner of Wilshire and Santa Monica Blvd. It's hard not to feel celeb-esque sipping an original Trader Vic's Mai Tai on the patio and watching the sun fall over the palm trees and the fountain, which is an around-the-clock dazzling kaleidoscope of colors that changes every eight minutes.
(Photo Credit Beverly Hilton)
The Beverly Hilton, like its Hollywood pedigree of guests, takes fitness seriously, and this is perhaps my favorite aspect of the hotel. The property's pool, the largest heated one in Beverly Hills, is adjacent to the Fitness Center by PRECOR. When you happen to leave your personal trainer at home, PRECOR is a nice alternative. The Beverly Hilton was the first property, worldwide, to give guests a fleet of PRECOR equipment, a highly customizable fitness experience complete with MP3/DVD/CD plugins. I love a hotel gym that has state-of-the-art options. One would think this is standard for luxury resorts, but I'm often surprised when it is not.
(Photo Credit Beverly Hilton)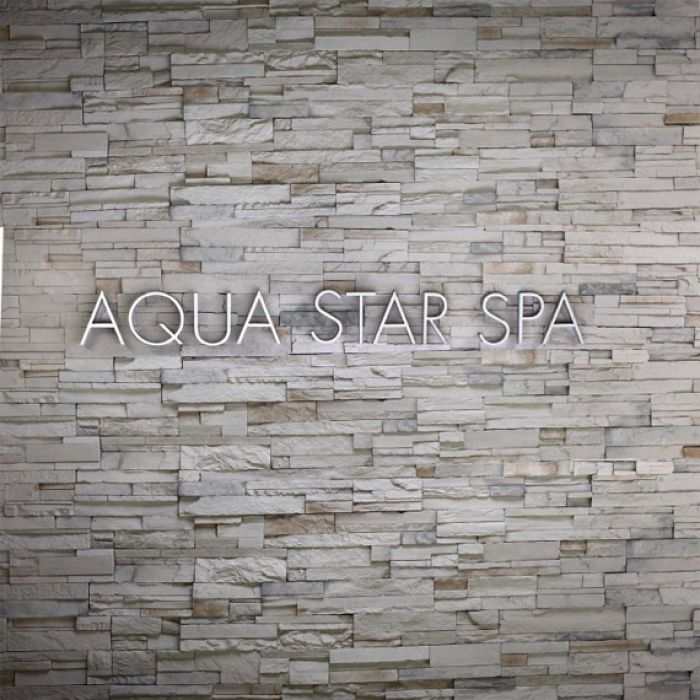 Once I had a great workout and shower, I popped next store to the Aqua Star Spa, the properties' full service spa. Although my schedule didn't allow for an indulgent service, I was pleased to see that the spa has a new A-level partnership with BABOR, one of my favorite skin care lines. One facial sure to become a hit is the Red Carpet Ready Facial, which utilizes BABOR's High Skin Refiner gels and serums. After a facial, a lovely option is to wander next to the hotel's Green Teaist shop, one of two locations in the US, for a sip of some Japanese green tea.
(Photo Credit Beverly Hilton)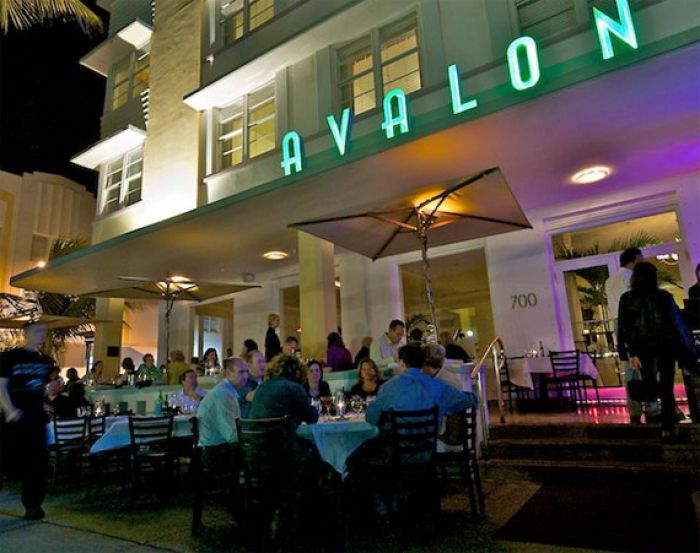 Marilyn's Manor: A bit further from the flashy streets of Rodeo and Santa Monica Blvd is the
Avalon Hotel
, a sherbet-colored 50's haunt restyled most recently by Koning Eizenberg, the architect also behind LA's downtown Standard hotel. Marilyn Monroe was a resident of the property, then known as Beverly Carlton, for three years and much of the property remains a haute homage to Monroe's taste in pool-side lounging and 1950's glam.
(Photo Credit Avalon Hotel)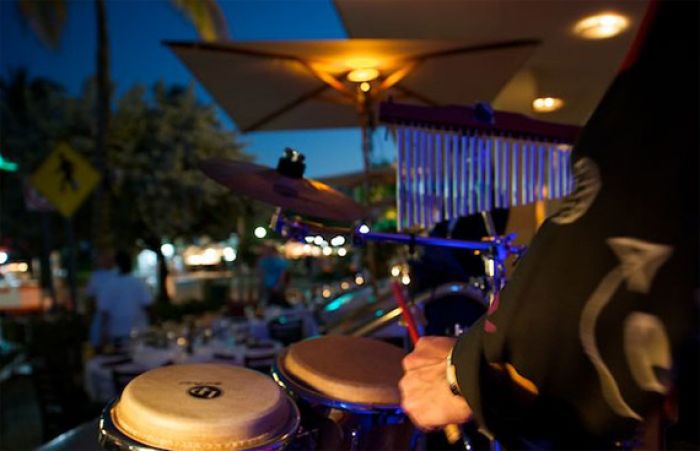 Recently added to the Avalon is Oliverio, a casually themed, contemporary Italian restaurant featuring well-regarded LA chef, Chef Andrea Cavaliere. Dining poolside in Beverly Hills is as quintessential as savoring teatime in London or tapas in Spain. Cavaliere doesn't ignore this requisite, and half of the powder blue restaurant swirls around the outdoor pool and cabanas. Flickering candles, a cozy cabana, and the calming blue pool lights made for a lovely ambiance, but Cavaliere's solid entrees made the evening.
(Photo Credit Avalon Hotel)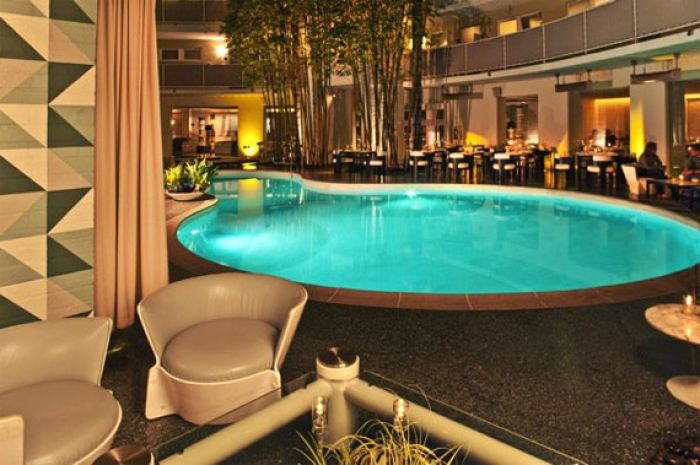 Go for the roasted heirloom beet salad, made from beets grown on the rooftop garden, and enjoy the sea bass, elegantly paired with roasted tomatoes. Also solid at Oliverio, our server, who refreshingly didn't seem like an aspiring actress with little concern for hospitality, but rather, an attentive and engaging gal with impressive knowledge of the menu and the hotel.
(Photo Credit Avalon Hotel)
Katherine Bond
Katherine Sutton Bond is a freelance travel and luxury item writer for Justluxe.com. She's traveled the world and sampled some of the leading hotels and destinations of the globe. She often covers luxury events and technology. ...(Read More)