By Eric Rosen Nov. 1st, 2012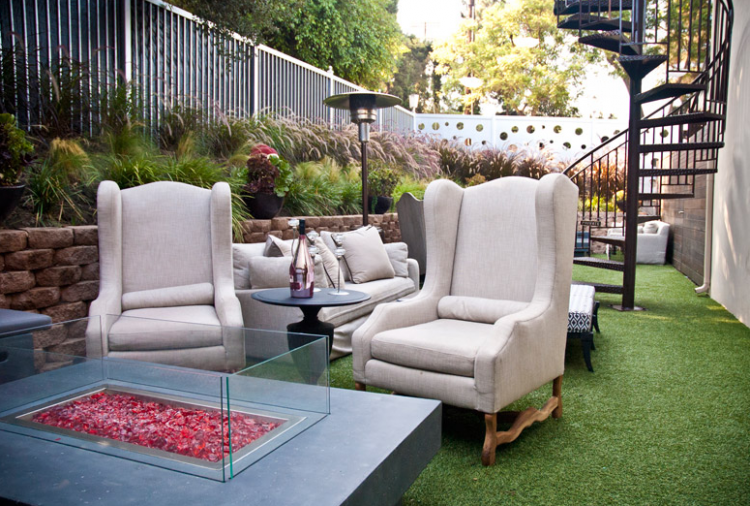 Photo Courtesy of Xen Lounge
Angelenos love their weekend rituals, especially brunch in a sunny spot. Here are five great new restaurants from all over town that have launched new brunch menus, and all the delicious dishes to try at each.
Ba Restaurant
5100 York Blvd., Los Angeles, CA
323-739-6243
RestaurantBa.com
Eastsiders can head…even farther east to Highland Park to sample the new Cali-French brunch menu at Ba courtesy of chef James Graham, who's whipping up specialties like an herb-onion omelette with Saint André cheese, another omelette with Cornish hen and chive, blueberry pancakes, peach pancakes, quiche Lorraine and more. While waiting for your main course, order a pain au chocolat to share. Ba is in a century-old brick storefront, and the dining room seats just 24 guests, so grab a group of friends and make it into your very own weekend brunch party.
Freddy Smalls
11520 W. Pico Blvd., Los Angeles, CA
310-479-3000
FreddySmalls.com
Set on an unlikely strip of pavement on the border of Los Angeles and Santa Monica, this small-plates pub from the man behind the burgeoning burger empire that is The Counter has recently begun serving the "F. Smalls Sunday Cure Brunch" from 10:00 am – 2:00 pm. The dishes on the new menu include a gooey slow egg panzanella with ultra-fresh summer ratatouille, bellwether ricotta and basil, as well as fluffy Belgian waffles topped with grilled strawberries, bacon butter and bourbon maple syrup. Also on the menu, savory corn beef and potato hash with a runny slow egg, petty pan squash and romesco sauce. Order a side of fried Brussels sprouts with smoked goat cheese and apple cider glaze. A tall, icy Bloody Mary with just the right amount of acidity and spice will set the tone for the rest of your day.
Photo Courtesy of Freddy Smalls
The Phoenix Bar
14 N. La Cienega Blvd., Beverly Hills, CA
310-289-5925
ThePhoenixLA.com
The newest venture from restaurateur Adolfo Suaya, the Dolce Group and cicerone (beermaster) Ryan Sweeney, from Verdugo Bar and Surly Goat, opened on La Cienega's restaurant row earlier this month. In addition to the steak frites and extensive beer and bourbon menu featured in the evenings (not to mention a pool table, a hand shuffleboard table and board games galore to keep diners occupied – basically the hippest rec room ever), the restaurant has also launched a Sunday Football Brunch. As morning languorously melds into afternoon, diners can drift in for the three-egg steak hash with bell peppers, roasted potatoes, arugula, salsa and skirt steak, or for a breakfast burrito with turkey sausage, egg, potatoes, peppers, sour cream and salsa, plus bottomless mimosas, Bellinis and Bloody Mary's all while watching the game. Sounds like the perfect Sunday.
Photo Courtesy of Phoenix Bar
Superba Snack Bar
533 Rose Ave., Venice, CA
310-399-6400
SuperBaSnackbar.com
Though tourists flock to the boardwalk and Abbot Kinney, real Venice Beach denizens tend to gravitate toward the laidback lanes around Rose Avenue to such mainstays as Venice Beach Wines and a spate of new restaurants including Superba Snack Bar. Here, chef Jason Neroni prepares Italian-inspired menus including house-cured charcuterie and made-to-order pasta dishes. Now the dynamic chef has also begun preparing brunch on the weekends from 10:00 am – 3:00 pm on Saturday and Sunday. Grab a seat on the sunny front patio or along the wall covered with salvaged tiles from the old Venice High School pool and enjoy new menu items including poached gggs with green chorizo fondue on pan con tomate and smoked bucatini carbonara with poached egg, pancetta, black pepper and parmesan. Try a mole meatball sandwich with Napa cabbage, cilantro and Cotija cheese, and for the health nuts out there, a quinoa pilaf with kimchi, beets and miso-sesame dressing on a basil salad. Order a glass of crisp Sancerre, or a bottle, and spend the day here.
Photo Courtesy of Superba Snack Bar
Xen Lounge
10628 Ventura Blvd, Studio City, CA
818-505-3513
XenLounge.com
Valley-dwellers gotta brunch too, so Studio City's hottest new restaurant has launched its own brunch service on Sunday's from 11:00 am – 3:00 pm. Like the dinner menu, brunch here features chef Neil Shurman's take on new American comfort cuisine and includes signature dishes like chicken and waffles with breaded chicken wrapped in grilled corn waffle and topped with rich maple cream. Breakfast flatbreads include one made with fried egg, Serrano ham, sopressata, braised kale, ricotta and parmesan, and even mouthwatering red velvet break pudding for dessert. Take your time deciding while sipping on a smoked Bloody Mary in the Sunday sunshine at a table out on the back lawn, whose whimsical seating arrangements feel a little like the Mad Hatter's Tea Party.
Photo Courtesy of Xen Lounge
Eric Rosen
Eric Rosen lives in Los Angeles and writes about food, wine, travel and adventure... usually in some combination of the four. He regularly contributes to Los Angeles Confidential Magazine, Condé Nast's HotelChatter and Jaunted, TravelAge West, Palate Press, Frontiers, Edge and Wandermelon. His work has also appeared in the L.A. Times. When he is not exploring the Los Angeles dining scene, Er...(Read More)