Oct. 2nd, 2013
Take to the Mountains with a Fall Vacation at the Four Seasons Hotel Westlake Village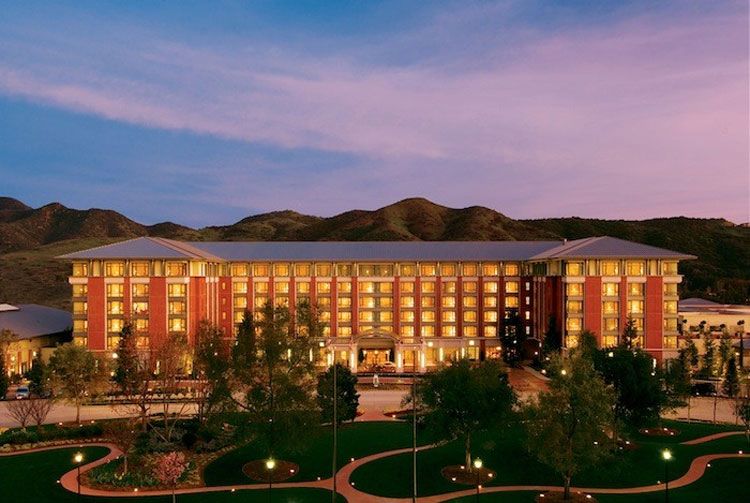 Photo Courtesy of Four Seasons Hotel Westlake Village
Sitting in the Santa Monica Mountains,
Four Seasons Hotel Westlake Village
offers a Southern California oasis for visitors and a great staycation for locals. Recently, my colleague and I took the 40-minute ride from L.A. to experience the hotel. Upon arrival, the exterior gave off a distinct business-formal feel, however, the interiors proved a more relaxed atmosphere. Accommodations come in a variety of sizes based on preference and include breathtaking views of the mountains. The spacious king suite overlooks the peaks to the east and the property's sparkling waterfall below.
Photo Courtesy of Four Seasons Hotel Westlake Village



After settling in, we spent the morning at the spa, which welcomed us in through draping orchids around an indoor pond. This year, TripAdvisor ranked the Spa at Westlake Village No. 4 among America's Top 10 Hotel Spas in the United States. The 50-minute tranquility massages were truly professional and proved the accolade to be well-deserved. Offering a whole host of rejuvenating services — from acupuncture to the DNA Exfoliating Growth Factor Facial to The Wellness Kitchen which offers classes and programs focused on healthy eating — every experience will satisfy spa guests.
Photo Courtesy of Four Seasons Hotel Westlake Village



As the morning drifted into the hot afternoon, we made our way to a poolside cabana equipped with a flat screen TV and queen-sized daybed. The pool also features two Jacuzzis and an assortment of food and drink offerings. Additionally, the Four Seasons hosts a bevy of adventures aside from poolside lounging, including jeep rides to Malibu beaches or a variety of water sports activities located only 20 minutes away.
Photo Courtesy of Four Seasons Hotel Westlake Village

Onyx, one of the several restaurants on location, serves Japanese-influenced cuisine under the supervision of Chef Masa Shimakawa. As a part of the experience, sake flights can be ordered to complement the seafood-heavy menu choices. We chose Uni which tasted sweet and briny along with seasonal sashimi that tasted so fresh it was soon forgotten that we were in the desert. The special of the night, seared Albacore served raw, played well off the crunchy cucumber salad it came with. Next, the Wagyu Hot Stone snake river striploin came accompanied by tasty house-made soy BBQ and soy sesame sauces. With it, the shrimp fried rice had us wanting even more, which included the Soft Shell Crab served with heirloom melon and Edamame-Shiso Pistou. Overall, each item suggested that the whole menu would be just as enjoyable.
Photo Courtesy of 2Sense-Los Angeles



The following morning, a jazz and Champagne brunch ended our stay inside a classy and serene dining area which led out to the expansive waterfalls. Filled with fresh fruits, salads, seafood, and more, the buffet selections were delicious and hearty. West and east coast oysters alongside king crab legs and plump shrimp are available at the raw bar. For those with a sweet tooth, made-to-order crepes and Belgian waffles decorated the pastry station. The truly impressive Bloody Mary and omelet bars were also a welcomed way to end the weekend. Four Seasons Westlake Village with its world-class spa, poolside cabanas, elegant suites, and jazz brunch of epic proportions makes for a great fall destination.
You might like :
Your Own Private Oceanfront Escape with Terranea Vacation Homes
.

Los Angeles Map

.
.

Luxury Hotels in Los Angeles

.






Eric Rosen

Eric Rosen lives in Los Angeles and writes about food, wine, travel and adventure... usually in some combination of the four. He regularly contributes to Los Angeles...