By JustLuxe Team Dec. 2nd, 2015
Photos Credit: V Palm Springs Hotel/Filament Hospitality
Early next year, the V Palm Springs Hotel will open after a $15 million remodel. The former property will be transformed into a modern 140-room property that will combine the best of a luxury resort and a secluded retreat for a perfect getaway experience. The complex, managed by Filament Hospitality, will house rooms and suites, spacious communal areas, swimming pools and hot tubs, a swim-up poolside bar, a cosmopolitan 70-seat restaurant, and a fitness facility. Surrounded by the Coachella Valley and Joshua Tree National Park, the property is far enough away from everything to really get away, but close enough to downtown Palm Springs' nightlife to still have some local fun.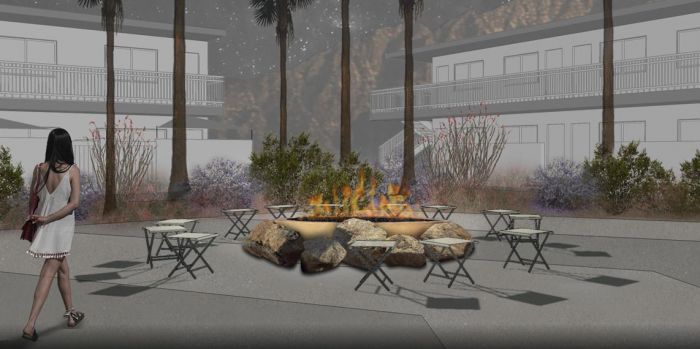 The hotel owners are celebrity lawyers Mark Geragos and Brian Kabateck, the latter of which is a Palm Springs local, excited to restore the property and bring something new to his community. "We are so pleased to be working on a project, which will bring joy to visitors of Palm Springs and be part of the continued efforts that members of this fine community have made over the last few years to renovate and improve the fabulous mid-century structures while preserving the integrity of the architecture," said Kabateck in a press release.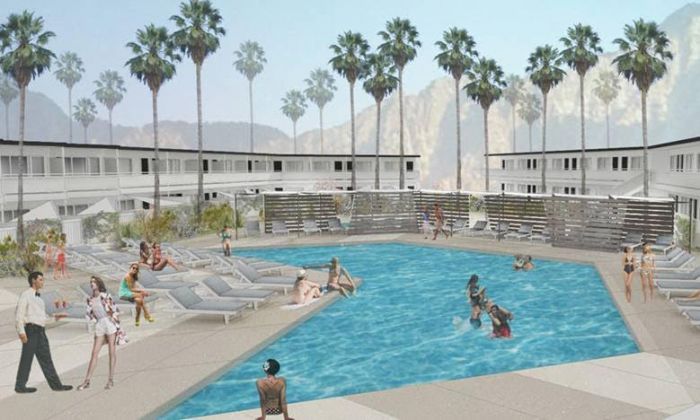 With open spacing and a décor that reflects the surrounding terrain, the hotel will bring the outdoors inside and allows guests to feel immersed in a cool, desert oasis. Designed by Len Cotsovolos the Director of Interior Design at WESTAR Architectural Group, the property will be filled with Native American influences like dreamcatchers, traditional wall hangings and macramé. Outside, guests will find four gardens, each representing a portion of the city's landscape from dramatic rock formations to indigenous succulents and cacti. A series of fun group events like yoga, live music and evening marketplaces will also be available throughout the year.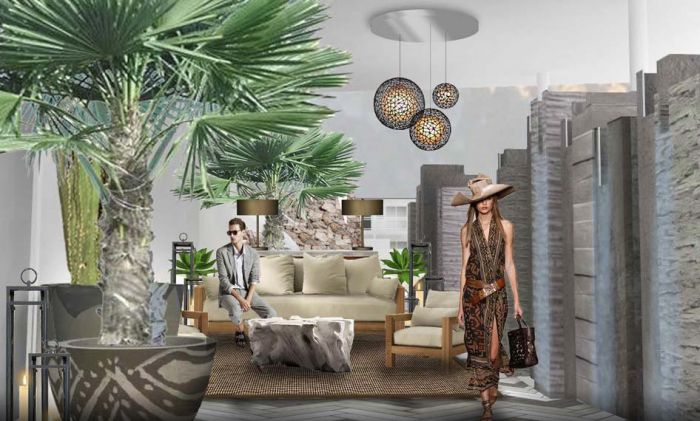 Room décor will be entirely customized for the hotel and outfitted with bone-inlaid nightstands, luxury linens and locally-crafted wall art. The bathrooms will boast glass showers, oil-rubbed bronze hardware and bespoke teak vanities with white quartz countertops. Tailor-made bath products will be formulated with eucalyptus, bergamot and lavender to reflect the fragrance of the desert. Each room will also have its own private balcony or patio with swings.Something tells us that if you're headed to Coachella Valley Music Fest or Stagecoach, you'll want to snatch up one of these rooms as soon as you can.
JustLuxe Team
The JustLuxe Team strives to bring our members and readers the very best in luxury news and conversations. We love to hear your opinions and suggestions, but most of all, we love to interact with you. ...(Read More)