By Jill Weinlein May. 29th, 2017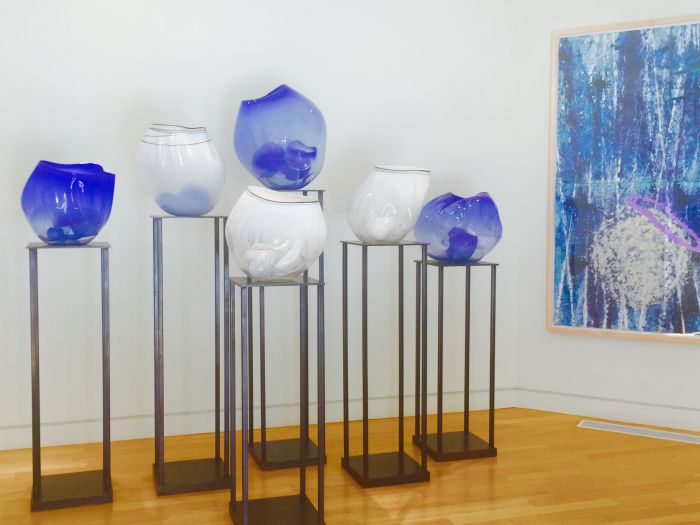 Photos Credit: Jill Weinlein
The first time I visited renowned glass blower and sculptor Dale Chihuly's large-scale sculptures was up in Seattle. I walked into his Chihuly Garden and Glass next to the Seattle Space Needle and immediately became a fan. Earlier this year while in Las Vegas, I walked into his gallery next to the Mandarin Oriental in the Crystals, Las Vegas City Center. The three room gallery displayed many of his stunning pieces. Another exquisite exhibit in Las Vegas is featured in the lobby of the Bellagio.
Now, many of Chihuly's unique pieces are in Southern California for a limited time, displayed throughout the two-story Catalina Island Museum at the Ada Blanche Wrigley Schreiner Building. The newly opened museum went from 3,000 square-feet on the ground floor of the Catalina Casino (not a gambling casino, but once a dance pavilion) to 18,000 square-feet of interior and outdoor exhibit space. The museum offers one of the most elegant cultural opportunities for tourists and locals to enjoy.
Taking a tour with Gail Fornasiere, a museum administrator for 10 years, she shared with me stories about Chihuly while showing me some of his most iconic pieces of art. The artist is known for his signature patch across one eye. In the 1970s, Chihuly was involved in a car accident and his injuries included blindness in one eye as his face was cut severely from windshield glass. After another injury a few years later, Chihuly couldn't blow glass anymore, instead he hired glass blowers to create his vision. As a conductor or choreographer, he leads a team of assistants to assemble his pieces.
Standing under an exquisite 18 foot long, blue and cream colored Blue Ridge glass chandelier, made in 2012, Fornasiere told me, "Chihuly first made these enormous chandeliers in the 1990s, and realized if you turn them upside down they make magnificent towers." Upstairs she showed me one of Chihuly's Sea Blue and Green blown glass and steel towers. In the mid-afternoon, when the sun hits the top of the tower, it radiates like a star out of the outdoor atrium. It's near his beautiful glass red reeds among landscaped gardens and views of Catalina's canyons and clear waters. "When Chihuly saw the museum, he said it was the ideal setting for his sculptures," she said.
The newly built museum is a historical journey through Catalina Island and the works of Dale Chihuly. In one room, I learned about Chihuly's melting and blowing glass technique that began in the early 1970's, starting with cylinders and baskets. He is fascinated with Native American baskets and their shapes, so he created colorful glass pieces that bend, slump, sag and curve. Using heat and gravity to make these forms, the museum displays his Coastal Blue and Cloud White Baskets pieces on high, simple black glass stands offering guests an eye-level view.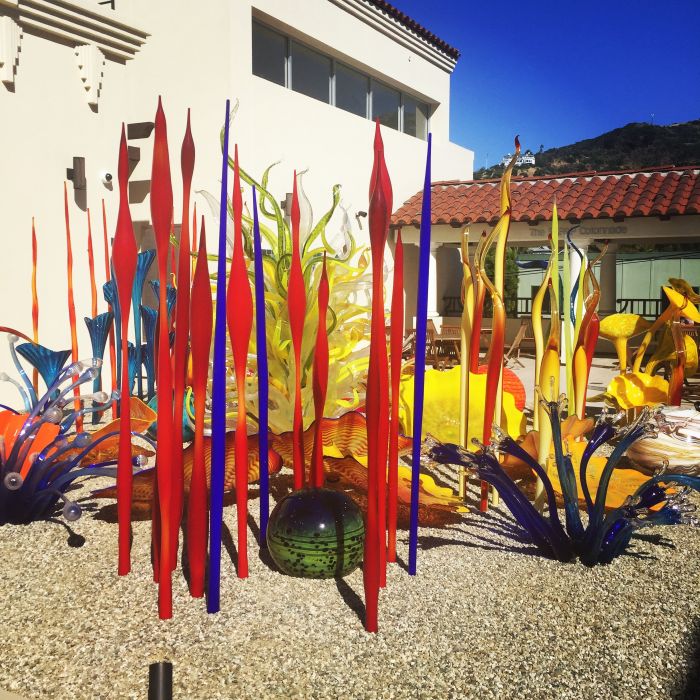 In the 1980s, Chihuly became fascinated making Seaforms after trips to the ocean and walking along the beach. He soon realized that hot glass and its natural properties can easily look like beauty from the sea. Chihuly experimented with his ribbed basket molds to create his Seaform series, and many are displayed on the ground floor of the museum.
I learned that in the '80s, Chihuly began the Macchia series with the desire to use all 300 colors in his hotshop. He named the series Macchia after asking his friend Italo Scanga the word for "spot" in Italian. Each work is speckled with color, which comes from rolling the molten glass in small shards of colored glass during the blowing process. He separates the interior and exterior colors by adding a white layer in between, known as a cloud. His globally renowned installations have beautified public spaces, museums and gardens worldwide. Come see his magical creations until December 11, 2017 at the Catalina Island Museum.
Jill Weinlein
Los Angeles based Jill Weinlein covers travel, food and lifestyle destinations for multiple newspapers, magazines and websites. Her areas of expertise include, luxury travel, culinary reviews, cruising and family travel destinations. Born in Los Angeles, Jill studied Communications and Theatre Arts at UCLA. She has a a Dine and Travel blog - www.dineandtravel.me and she writes a weekly restaur...(Read More)