By Merilee Kern Jul. 13th, 2009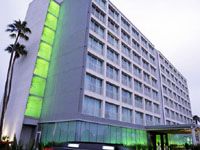 Luxury Hotels:
Those seeking a fabulous Santa Monica beach vacation with the family need look no further than
Viceroy Santa Monica
-- an incredibly chic and surprisingly kid-friendly boutique hotel offering a unique mix of urban sophistication and relaxed coastal character.
While many luxe hotels in Santa Monica are soliciting families this summer, Viceroy Santa Monica has a leg up on the competition with its fun-filled "Fete for a Family" getaway package that I and my family recently enjoyed. The stellar summer special, which runs from March through August and costs $1,845 (inclusive of tax), offers two-nights in connecting guestrooms, not to mention a lovely welcome amenity of wine (ours a 2005 Merryvale Starmont Cabernet Sauvignon) and cheese with accoutrements for Mom and Dad -- cookies and milk for the kiddos. Movies on DVD and popcorn are also delivered to your room upon request.
The "Fete for a Family" package also includes breakfast each morning either in-room or at Whist, Viceroy Santa Monica's Michelin recommended, full-service restaurant notably rated one of the "top 50 hotel restaurants" by Food & Wine magazine. Adding to the adventure, a hybrid car rental comes with the package with a plotted route to the Getty Villa in Malibu, a new educational center and museum for the study of the arts and cultures of ancient Greece, Rome and Eturia.
Book your stay at Viceroy Santa Monica Hotel >>
Ideally located on Ocean Avenue mere minutes from the beach, historic Santa Monica Pier and the ever-popular Third Street Promenade, this ultra-stylish, English-inspired retreat offers extravagant accommodations, choice amenities and superb service. All 162 of the property's rooms and suites, which start at $359 per night and with most boasting coastal views, are extraordinarily well-appointed. Molding details, custom armoires, Lucite and glass tables, warm wood bed frames and other stylish touches adorn the rooms, while the elegant bathrooms feature floor-to-ceiling marble tiles, spa-worthy hair and body products by Aromatherapy Associates and, in many, seated vanities. A "Beauty Bar" is offered, with a variety of items such as body scrubs, face and body moisturizers, and a hand-harvested sisal fiber wash cloth available for purchase.
Suite accommodations at Viceroy Santa Monica start at $559 per night. Along with a magnificent ocean view balcony, the one-bedroom, 640-square feet Empire Suites also offer a living room with coffered ceiling, sleeper sofa, 27-inch flat-screen television and a whirlpool tub. The one-bedroom Monarch suite is the penthouse accommodation and features everything in the Empire Suite along with a marble entry, living room with wet bar, convertible sleeper sofa, whirlpool tub, steam shower, and custom furniture designed solely for this space. Both suites can be expanded into two-bedroom units through adjacent rooms.
In-room amenities at Viceroy Santa Monica abound, and include luxurious Filidoro linens and bathrobes as well as cozy down comforters and pillows that implore you to sleep in. In addition to a spectacular view of the Pacific, my family's adjoining rooms on the 5th floor each boasted extremely large flat screen TVs with DVD player, clock radio with iPod dock and code-enabled safes for valuables. In-room mini-bars are also stocked with an assortment of goodies to appease the palates of adults and children, alike. While enjoying all the features and benefits provided with the "Fete for a Family" package, be sure to take advantage of other on-site services Viceroy Santa Monica offers, like valet parking, concierge assistance, same day dry cleaning and laundry and 24-hour in-room dining.
Book your stay at Viceroy Santa Monica Hotel >>
As mine did, families will also enjoy the property's two quaint plunge pools, sundeck and private cabanas surrounded by beautifully manicured landscaping. A 24-hour accessible fitness center stocked with free weights and cardiovascular equipment is also located on-site to keep the exercise buffs, well, buff. If Mom and Dad cannot escape from work even for the weekend or simply cannot resist checking e-mail (guilty as charged), all rooms on the property feature wired and wireless DSL/High-speed Internet access as do many of the public spaces. A fully-equipped business center is also available so guests can stay on top of things at work amid the fun.
The hotel also thankfully offers in-room and private pool-side spa and beauty services provided by GreenBliss Eco Spa (www.GreenBlissEcoSpa.com). Voted a "Top 10 Holistic Spa" (the only mobile spa to earn this distinction) and ostensibly L.A.'s "only eco-friendly, luxury mobile spa service," GreenBliss Eco Spa provides a myriad of Earth-conscious ways to pamper, nourish, and revitalize your self in the comfort and convenience of your Viceroy Santa Monica room or personal pool-side cabana.

The company's all-natural, organic skin and body care, non-toxic nail care and related amenities all adhere to green living and wellness trends so you may enjoy a guilt-free spa experience no matter where you are: at home, work, a resort or on a yacht -- wherever. In addition to fabulous on-site wellness, holistic living and bridal packages, GreenBliss EcoSpa also offers yoga and spa retreats at private estate settings throughout Los Angeles.

Because, for me, no vacation is complete without a massage, I did elicit GreenBliss EcoSpa's services for an in-room, side-by-side couple's massage with my husband. I opted for GreenBliss EcoSpa over other roving spa service purveyors not only because this is the Viceroy Santa Monica's official spa partner, but also for its use of natural ingredients that are far kinder and gentler to my sensitive skin. Plus, getting a sustainable spa treatment that also helps Mother Earth satisfies my body and soul.

Book your stay at Viceroy Santa Monica Hotel >>

I have to say that GreenBliss EcoSpa's therapists arrived at our room exactly on time, got set up very quickly, and executed treatments that duly met our high hopes and expectations. In all a very professional, personable and efficient operation. Given our different priorities, my husband is far less apt to patronize a spa during our quick weekend getaways, so GreenBliss EcoSpa's private, in-room approach was not only convenient, but also put him more at ease than traditional spas.

After your GreenBliss EcoSpa treatment, if your kids are old enough to leave alone and you and your companion can slip away for a cocktail, be sure to visit the hotel's Cameo Bar located just off the lobby. This sultry lounge, which has an eclectic mix of vintage and modern furnishings, is a great place for intimate conversation. Later in the evenings the Cameo Bar turns into a bona fide Santa Monica hotspot with a lively atmosphere that attracts locals and tourists, alike.


As mentioned, Viceroy Santa Monica's on-site restaurant, Whist, has received numerous honors to also include "Outstanding Outdoor Dining" by Angeleno magazine. Open for breakfast, lunch and dinner, Whist serves up steak, seafood and other New American "from farm to table" cuisine selections with style. The décor at Whist is whimsical with fully 250 pieces of English china placed around the restaurant's alcove booths, tables, and banquettes. A beautiful garden patio beckons patrons to dine outdoors at tables or in private cabanas.

Breakfast at Whist, which is included in the "Fete for a Family" package, features a bounty of natural and organic ingredients. Go light with a trio of fresh berries ($14) or a parfait of low-fat Greek yogurt, fig preserves, and kataifi ($12). Or, indulge in the heartier breakfast fare that includes classic eggs benedict with poached organic eggs, natural ham and English muffin topped with a hollandaise sauce ($16), a dish that I can personally vouch for, or chilaquiles consisting of scrambled eggs, pinto beans, corn tortillas, salsa verde, and cotija cheese ($14).

Book your stay at Viceroy Santa Monica Hotel >>

The atmosphere at Whist is also perfect for a leisurely lunch. The restaurant's starters, priced at $8-$20, feature charcuterie, roasted tomato soup, and chopped salad. Sandwiches and mains are between $14 and $24. Highlights include a turkey club or grilled chicken sandwich as well as local white fish tacos with cabbage, lime, two salsas, and pickled jicama; a lobster cobb salad with avocado, smoked bacon, and quail eggs; and steak frites.

Dinner starters range from $14 to $16 while entrees are priced from $23 to $28. Representative appetizers include prime beef sliders with aged cheddar, duck prosciutto, and burgundy snails. Standout entrees include diver scallops with early tomatoes, crisp zucchini blossom, and bacon jus; braised beef short ribs with potato puree, horseradish, and celery leaves; and lobster bolognese with hand-cut pappardelle, roasted tomato, and basil.

The desert menu by Pastry Chef Brooke Mosley is rife with temptations and innovations, such as theoney-pistachio profiteroles with Greek yogurt, saffron and market figs. Other tempting finale selections, which range in price from $10 to $12, include almond thumbprints with market strawberry jam and crème fraiche ice cream; triple chocolate bread pudding; and Elvis truffles with milk chocolate, toasted peanuts, nueske's bacon and caramelized bananas.

Sunday Brunch at Whist is a must. Inventive food is served buffet-style along with a number of specialty drinks. The Sunday Brunch (10:30 a.m.-2:30 p.m.) is $39 per person, inclusive of tax and gratuity, and comes with complimentary California sparkling wine for adults.

In all, Viceroy Santa Monica proved itself to be a perfect escape for some quality family time -- if even for a weekend. From the lavish property and rooms, to the sea of amenities, to the special care staffers take to ensure guests are thoroughly enjoying our stay, to the prime location within walking distance to the beach and other area attractions, this charming hotel will keep discriminating families like ours coming back for more.

Virtually visit Viceroy Santa Monica online at www.ViceroySantaMonica.com.

=====ALSO FOR FAMILIES: PLAYTIME AT PACIFIC PARK=====
When staying at the Viceroy Santa Monica with your kids, be sure to visit Pacific Park -- the family amusement park on the Santa Monica pier that's well within walking distance. Step onto one exciting ride after another, including the famous Ferris Wheel, play games for prizes, grab lunch and a treat, shop, play in the video game room and enjoy the sunshine while gazing at the surf. Beyond the historical significance of the Pier, which will celebrate its 100th birthday this September 9th, Pacific Park is built for family fun and should unequivocally be among the first stops on your travel-with-tots itinerary. Unlimited ride wristbands for kids and adults ages 8 and over cost $24.95, for kids 7 and under just $15.95. Visit http://www.PacPark.com for more information. ======================================================

- Merilee Kern
JustLuxé.com's "The Luxe List" Executive Review Editor

The Luxe List product, service and travel review editor Merilee Kern scours the luxury marketplace for new and captivating "musts." Submissions accepted via e-mail at Merilee@JustLuxe.com.
Merilee Kern
Branding, consumer product trends, leisure and lifestyle expert Merilee A. Kern is a good life connoisseur who keeps her finger on the pulse of the marketplace in search of new and innovative must-haves and exemplary experiences at all price points, from the affordable to the extreme. The best of the best across all product, service and travel categories–as well as noteworthy marketplace change ...(Read More)