By JustLuxe Team Nov. 25th, 2009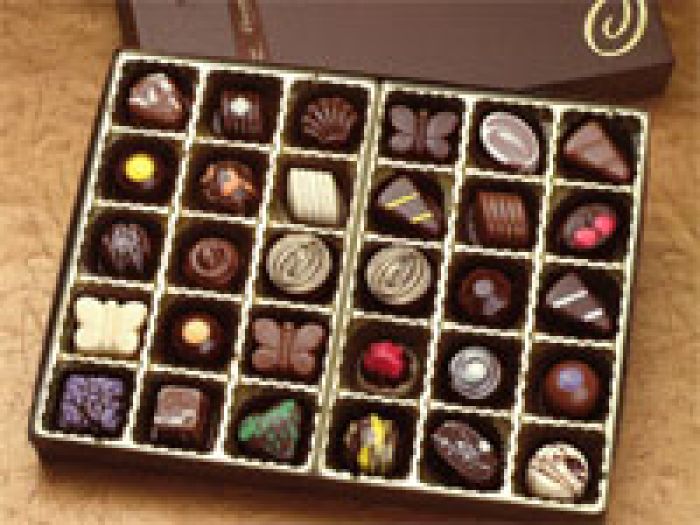 Gourmet Chocolates:
Gourmet-chocolate maker Choclatique's received eight awards at the recently held 2009 Los Angeles Luxury Chocolate Salon. The flavorful company took first place for Most Gifted Chocolate Maker along with seven other awards. The chocolatier took second place awards for Most Luxurious Chocolate Experience, Best Flavored Chocolate, Best Toffee in Salon, Best Presentation and Packaging, Best Comfort Chocolate Product, and the New Product award. Additionally, the company's founders, Ed Engoron and Joan Vieweger, received an honorable mention in the Best Truffles category.
"The Los Angeles Luxury Chocolate Salon is an amazing event and we look forward to more great experiences with them in the years to come," said Ms. Vieweger. "We are very honored to receive these awards and excited that judges and salon attendees loved our premium chocolate confections just as much as we enjoy creating and making them," said co-founder. "All of our products are made with the utmost respect to taste, quality, appearance, and creativity, all of which we feel help to contribute to our jobs as exceptional chocolatiers."
The L.A. Luxury Chocolate Salon's panel of 30 judges included food writers, chefs, and industry pundits. The third running of the event, which took place at the Pasadena Convention Center, had more than 35 top-rated chocolates confectioners on hand. The salon also featured chocolate- and wine-tasting sessions for attendees.
Choclatique seized the opportunity to show off all its sweet stuff, such as the Chocolate Almond Butter Toffee and the Elephant Chocolate. The firm also announced that it is adding two new flavors to its best-selling Holidays Assortments.
Choclatiqe has been featured on the award-winning daytime TV program, the Rachel Ray Show. Its fine chocolates are available at upscale boutiques, five-star hotels, and online. Check out Club de Choclatique, a buying club with monthly surprises, and the E-gift cards program.
For
JustLuxe
James Rothaar
JustLuxe Team
The JustLuxe Team strives to bring our members and readers the very best in luxury news and conversations. We love to hear your opinions and suggestions, but most of all, we love to interact with you. ...(Read More)