By Alexa Mangrum May. 28th, 2010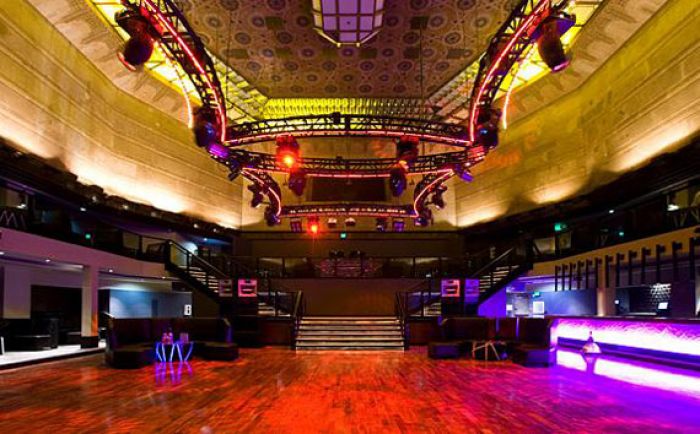 City Guides:
While dancing and the stock exchange may seem worlds apart,
Exchange LA
, Downtown's newest nightlife hub seamlessly fuses the two. Located in the former
Los Angeles
Stock Exchange Building, the cavernous 25,000 space boasts 12-foot bronze doors at the entrance weighing 1,400 pounds apiece, Art Deco decor, and a 40-foot-tall hand painted ceiling -- not to mention four stories of distinctive event spaces, each with its own bar.
On the main level, the spacious "Trading Room," or main dance floor features space to spare. The reservation-only mezzanine level offers guests reserved tables, each with a personal host. Lastly, the venue features the "Board Room" a private viewing box accessible by a secret elevator.
While the venue may sound like another Hollywood club, beyond design, what distinguishes this space from others is its reservation only policy for private events beginning on June 4 continuing through mid-June. Starting in July, the building will cater strictly to hosted nightlife or private events, so be sure to snag reservations for the month of June while available!
Open Tuesday to Sunday 618 S Spring St Los Angeles, 213-489-3877
Alexa Mangrum
Alexa Mangrum culminates her love of culture with her passion for writing as a Justluxe Editorial Team Member. An authority on the arts and design world, Mangrum frequently freelances for various publications globally. An arts and entertainment enthusiast in her local community of San Diego, Mangrum is a visual artist as well. Recently awarded as an Emerging Creative of 2013 by Google Inc. and con...(Read More)